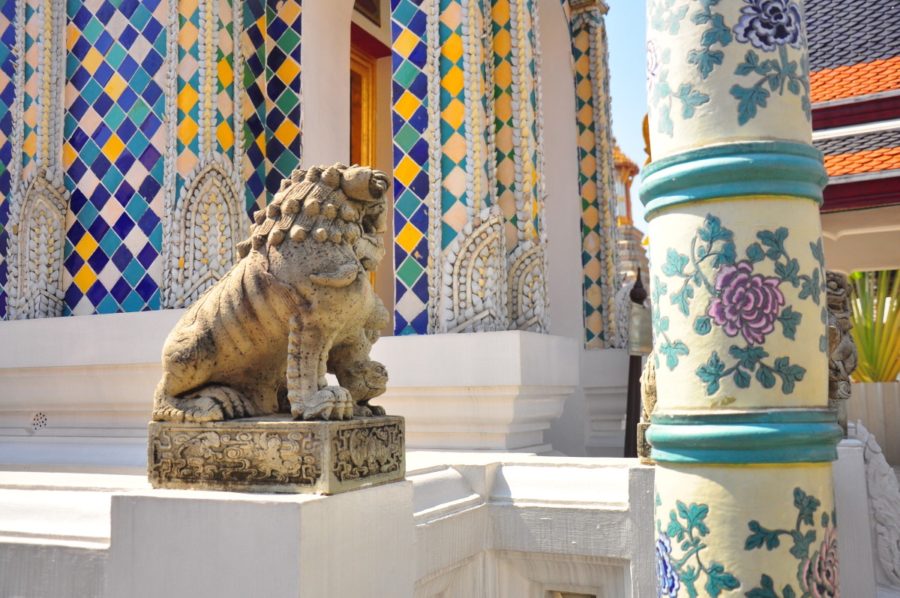 If you've been following me on Instagram, you'd have noticed that I recently visited Bangkok. Although my family was initially hoping for a laid-back vacation where they could shop and eat, I was having none of it. I was determined to make the most of my trip and visit all the significant tourist sites while stuffing myself until I was a happy 5 pounds heavier. Before going, I was constantly asking friends and bloggers alike for recommendations, so I thought I'd put together a guide to help all of you who plan on visiting this incredible city.
Where to stay: Anyone who's ever been to Thailand will know that you have your pick at hotels with service you just don't get anywhere else in the world. My family and I stayed at the Intercontinental and couldn't be happier with our decision. The staff were warm and welcoming, the rooms were beautiful, the hotel itself was as central as you could get, and the breakfast spread was to die for.
Where to go: In terms of tourism, my brothers and I visited the Grand Palace which was phenomenally beautiful. Unfortunately, we got there around noon when it was absolutely brimming with crowds, so make sure you get there earlier if you want to see the place without rubbing shoulders with the person next to you. We also went to Wat Pho which was right next to the Palace. The temple houses the largest reclining Buddha in the world and offers beautiful photo opportunities. We also visited Wat Arun at dawn which was an otherworldly experience. Normally, you have to take a boat to get to the temple, but our Tuk Tuk driver took us there directly. Again, I recommend you arrive early to make the most of your experience. Of course Bangkok is famous for its floating markets, but unfortunately I didn't have enough time to make it there. In terms of shopping, your options are endless: Central World, Siam Paragon, Central Embassy, the list goes on. However, I personally loved Siam Centre which housed a ton of local designers and had the coolest layout I've seen.
Where to eat: Bangkok's food scene is one of the best things about the city, so hold tight for this list. Eat Me was recommended to me by several friends and I was blown away by the food. Order the Tom Yum Shrimp, salmon, and do not leave without eating the Sticky Toffee Pudding which is not something I recommend you share. Erawan Tea Room for unforgettable Thai Food – virtually everything on their menu is a hit, but my favourite was the Red Curry Shrimp. Rossano's for great Italian food and a warm atmosphere. Their profiteroles are amazing. I also went to Bonchon Chicken for the first time, and couldn't get enough. If you've not had Korean Fried Chicken, you haven't lived. For dessert, After You has a killer Nutella Toast. Audrey Cafe & Bistro for their crepe cake. Bangkok is also home to a Hello Kitty Cafe, so Hello Kitty enthusiasts, this is the place for you.
How to get around: Before I went, I was warned by many to be wary of Tuk Tuk drivers who try to con you at any given opportunity. I found the best way to combat this was by settling the price beforehand. I paid roughly 200-250 baht to get from my hotel to the Grand Palace which was on the other side of town. Also, you should never agree to making any additional stops suggested by your Tuk Tuk driver as this is always a ploy to con tourists. Cab drivers will often insist on having you pay an arbitrary amount, so you should always agree to go by the meter. The Sky Train is also great for dodging traffic (and there is a ton of traffic), although I preferred to travel on Tuk Tuks as it was my first time in the city.