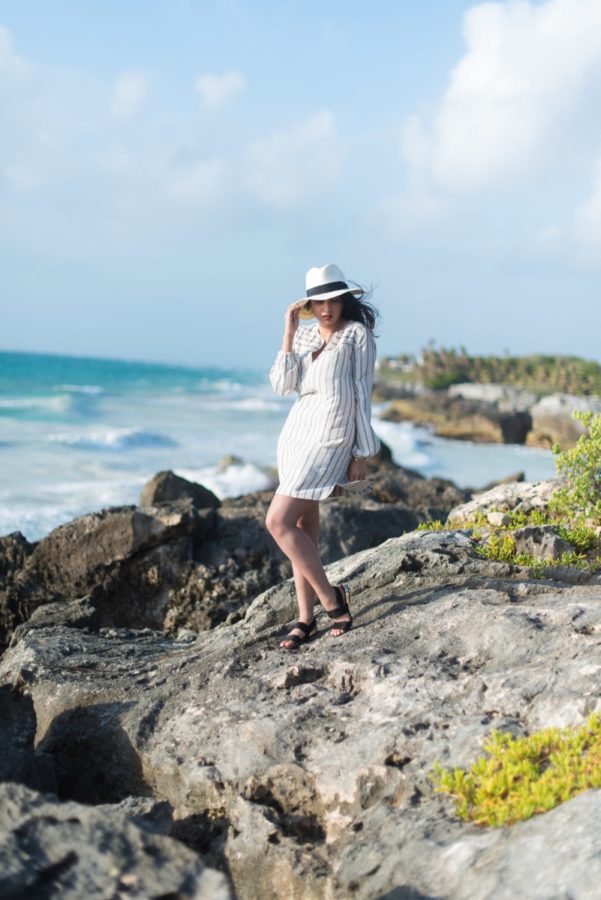 Dress: Aritzia (similar here and here); Sandals: Charles & Keith (similar here, here and here); Hat: Forever 21 (similar here and here)
If you've been following me on Instagram and Snapchat, you'll know that I was in Tulum. I just got back yesterday and am still in sort of a daze, unable to believe that I took the subway to work in sunless weather as opposed to watching the waves and gawking at pink skies. To say that Tulum was magical is an understatement, it was really a slice of paradise. My travel diary will be online soon, but for now, I wanted to share with you this outfit that I shot right outside my hotel which was perched atop rocks by the ocean.
While packing of the trip, my straightener was obviously one of the first things to go into my suitcase, however, after the very first day there, I knew that it would be of no use. The saltwater did a number on my hair and no matter what I did, it refused to fall straight. So for the 3 days that I spent there, I embraced a natural look, opting to go makeup and straightener free. I have to say, giving my skin and hair even this short break did a world of good. My skin has never felt better, and I have a newfound love for my natural hair. Tulum, why did I ever leave you?