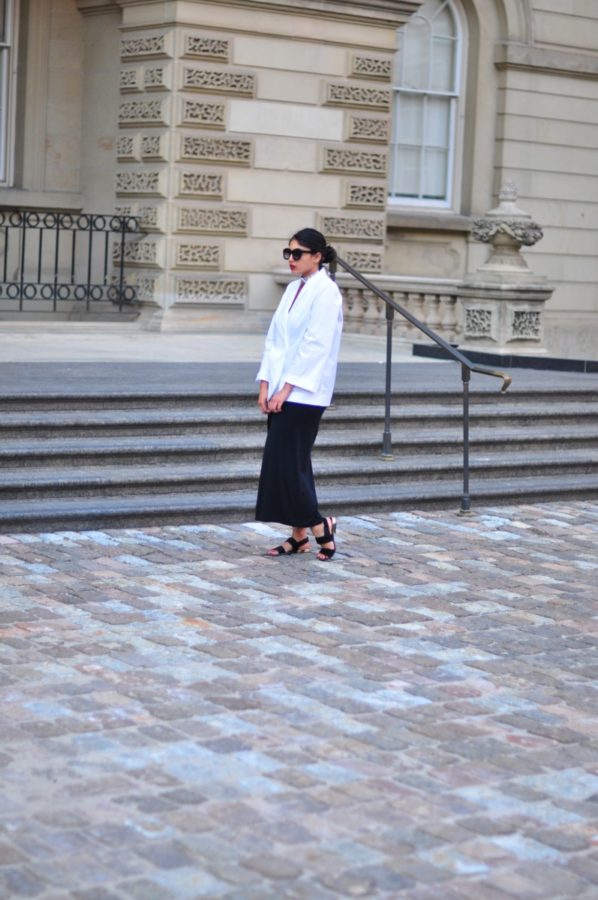 Top: Cos; Skirt: Zara (similar here and here); Sandals: Charles & Keith (similar here and here); Necklace: Jenny Bird
In today's landscape, there is a constant struggle between creativity and the need to over perform. Over the past few months, so many fashion designers have left their respective houses and spoken out about the ridiculous pace at which they have to create in order to keep up with the fashion calendar. Personally, I don't think this issue is one that exclusively plagues fashion designers, it's something that bloggers face on an everyday basis.
Most of us got into this industry because we wanted a creative outlet, and those of us who are fortunate even got to make a career out of it. However, I definitely feel like the pressure to perform can get in the way of creativity. In the past, I've written about suffering from an anxiety attack due to missing a personal deadline. Since then, I vowed to never allow myself to feel pressured to produce content at a rate where I no longer felt inspired. If necessary, I would take a step back to hit refresh.
So what do I do to stay inspired? Once in a while, I find it therapeutic to remove myself from my day-to-day routine. Going out for dinner without a camera, going somewhere I normally don't go, or even just going to get a mani-pedi helps me refresh. The most effective way for me to get my creativity back, however, is travel. There is nothing I find more enriching than exploring a new place and feeling inspired by a different culture, landscape, and sense of adventure that comes with travel.
So to my fellow creatives, I know how easy it is to get caught up in the numbers game, and how hard it is to produce solid content 24/7. This is a reminder to go back to your roots and remember why you got into this industry in the first place. Protect your authenticity and creative spark – it's what makes you special.