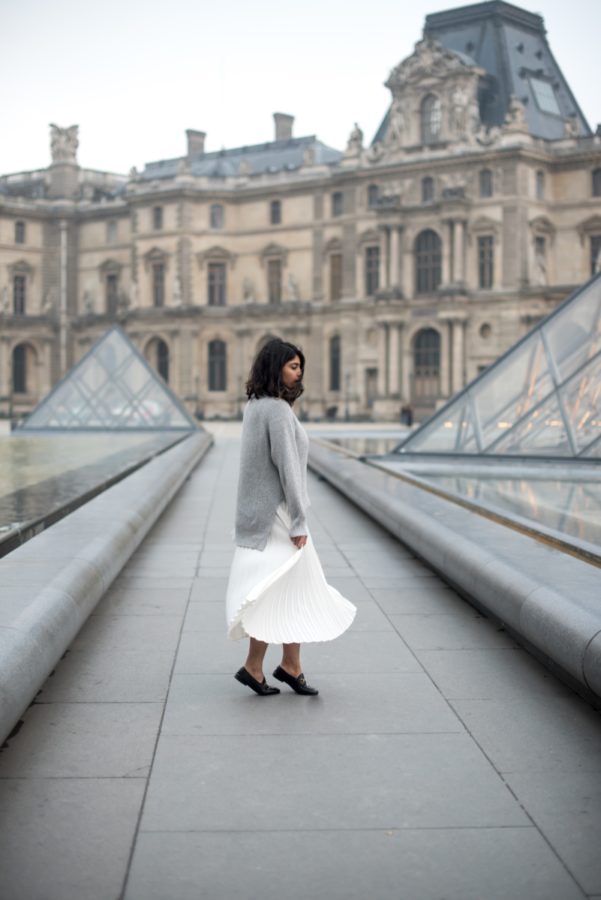 Skirt: Oak & Fort (similar here and here); Sweater: Aritzia (similar here and here); Shoes: Gucci
After a long 15 hours, I arrived back in Toronto last night, feeling recharged and brimming with inspiration. While in Paris and London, I found myself constantly looking girls up and down because I couldn't believe how fashionable they all looked. Parisian women with their effortlessly cool, rolled-out-of-bed style, and Londoners with a more eclectic look made me feel like I was constantly watching a fashion show.
While I was in both cities, I also did my best to see and eat as much as I could, which is why I can't wait to share my travel guides! I'm working on them and hope to have them published in the next week or two. You guys, I was in Paris just last year, and could not believe the number of new cafes and restaurants that have opened up. My friend who lives there calls it a Reneissance, and I could not agree more! I found myself drinking lattes (with latte art) several times a day and incredulous over the fact that the avocado toast trend was suddenly rampant in the city. More on that later, but for now, I'll leave you with these pictures from my shoot at the Louvre.
Photography by Alina Sepp