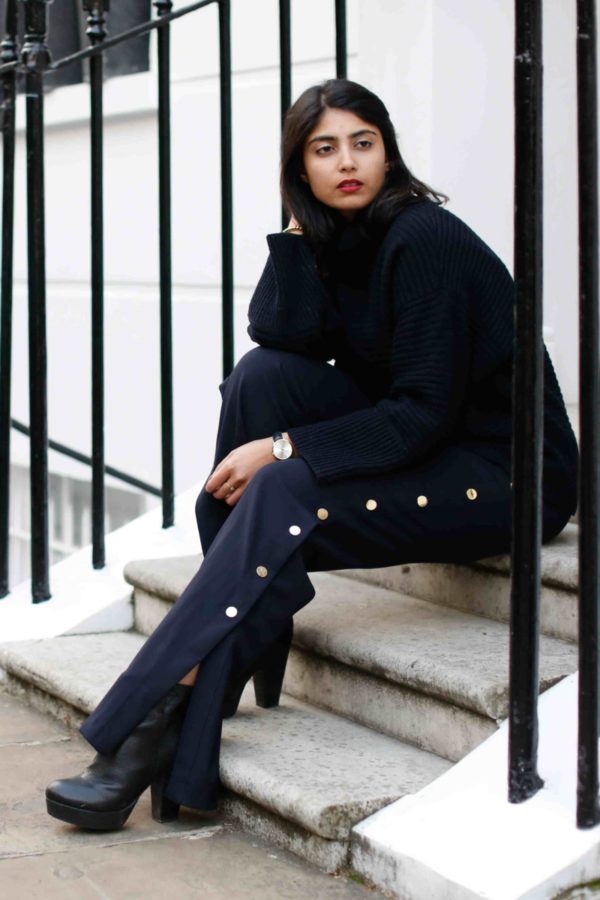 Pants: Zara (similar here and here); Sweater: Club Monaco (similar here and here); Watch: Cluse
Hands up if you've ever had an aspiration but have been too scared to pursue it because of fear.
I know I'm guilty. In fact, I wrote about why I was too afraid to launch a Facebook page just a little while back. So today, I wanted to tell you guys about how this past June, I decided to become a full-time blogger. To give you a bit of context, I got my dream job at Elle Canada last in September 2015. I've heard horror stories about working at fashion magazines, but I suppose I was one of the lucky ones who worked with a wonderful group of women doing a job that I genuinely loved. However, over time, my blog became increasingly demanding, and I realized that what I truly wanted to do was work for myself. So, in June of this year, as I was nearing the end of my contract, I decided that it was time for me to take a leap of faith and dedicate all my time and energy into my blog.
Guys, it was scary. I didn't know if I would succeed and wanted to hold off on announcing it in case I failed – which is why it took me this long to publish a blog post about it. However, after 4 months of working for myself, I realize that this was quite possibly the best decision I have ever made. As a perfectionist, I believe in giving the A version of myself to whatever I'm working on, as opposed to being stretched thin and giving a B version of myself to several different things.
A lot of people have asked me how I knew that it was the right time. Truth is, I don't think you suddenly know it's the right time and stop feeling fear. Thankfully, I have extremely supportive parents who pushed me and assured that they would be my safety net in case it didn't work out, but that was the last thing I wanted. I decided it was time for me to pursue my blog as a business because I evaluated my opportunities. I was making enough money to support myself, and knew (or rather hoped), that it would grow over time. More than anything, I felt like it was a now or never sort of situation. I was no longer at the point where I wanted to slave away at a job while slaving away on my blog and having no time for an actual life.
Since I started blogging full-time, I have been the happiest I've been in my life. I have been so lucky to have opportunities come my way that I could never even dream of, and most importantly, I have the privilege of working on my own schedule. I can work from essentially anywhere in the world, I have a hands-on job that doesn't just require me to sit behind a desk for 9 hours a day; and as the saying goes 'as you sow so shall you reap', meaning that there is no glass ceiling of how far I can take my own brand. The hard work I put in pays me in kind and the opportunities are boundless.
To those of you considering whether to take your blog full-time, you are the best judge of your situation, but if it's fear that's holding you back, I highly suggest you tackle it head on. Bet on yourself, you'd be surprised where you can go.
Photography by Victoria Metaxas