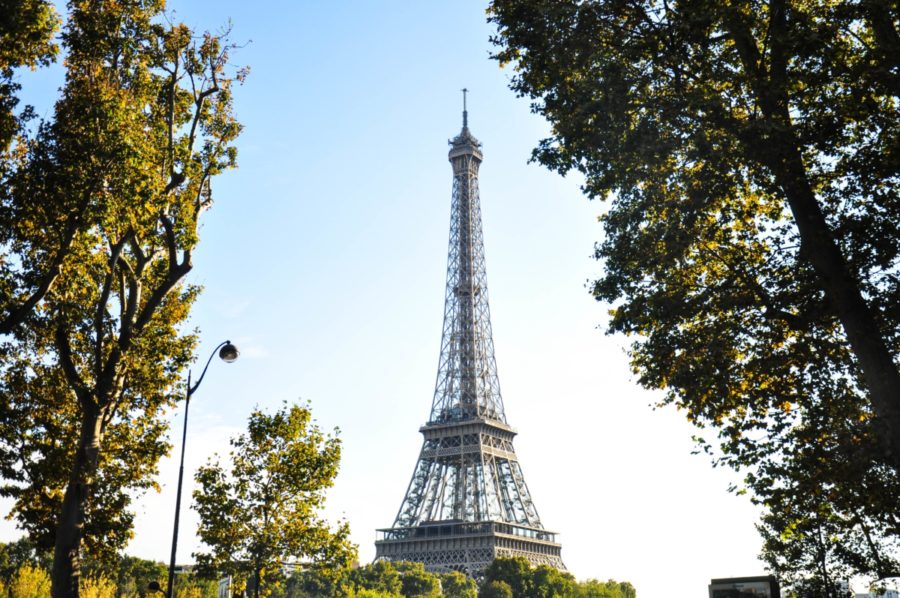 No matter how many times I visit Paris, I never tire of it. I didn't expect to return there this year, but as chance would have it, I ended up going after all. While I'd previously visited Paris during spring and summer, I'd never been experienced it during fall, and was so happy I got the opportunity to, because I think it's the best time of year to go! I enjoyed day after day of sunny, crisp fall weather, which was such a stark contrast to the dreary weather we've been getting in Toronto. I also found that the city was much less crowded than in the summer which also made the experience a lot more pleasant.
Where to stay: I personally love living in boutique hotels in Paris because I find they have a lot more character and charm than larger hotels. I also find that they allow one to have a more authentic experience in the city as they are often tucked away in less touristy areas. During my time in the city, I stayed in three wonderful boutique hotels, for each of which I've written a mini review for below.
The first was Grand Pigalle Hotel which was located in the 9th arrondissement, just steps from the Pigalle metro. Before I went to Paris, I'd spoken to a couple of friends who'd stayed at this hotel and I'd heard nothing but great things, so I was quite excited to visit. Words don't do justice to how beautiful it is. I fell in love with the decor in my room, the beautiful tiles, and the flakey croissants they served at breakfast. My friends and I hung out at the lobby bar before dinner one night, and I truly felt like I'd entered another era, there was something so Gatsby-esque about it. The service here was top notch as well – the staff were friendly and so helpful with everything I needed.
The next hotel I stayed at was Hotel Monsieur. Out of all the places I stayed at, this had the most interesting story. The decor was inspired by Sacha Guitry, a prominent figure in the theatre scene in Paris in the early 1900s. The hotel, as you can probably tell from the name, had a masculine, yet luxe decor to it. There are 5 different kinds of rooms, all taking inspiration from the life of Sacha Guitry and the theatre scene in Paris. My room was lovely, it was warm and homey, and I loved that I had a balcony attached to it. The staff here were wonderful. They went out of their way to help me and were very knowledgeable about where to go and what to do in the city.
I spent my last night at Hotel Adele & Jules, a beautiful, Pinterest-worthy hotel also located in the 9th arrondissement. I loved this hotel right from the get-go because I was greeted by a bowl of candy as I was checking in, which truth be told, is the way to my heart. The room was absolutely stunning with a balcony that made me feel very Parisian indeed. It was also a few steps away from the Grand Boulevards metro, and was surrounded by great restaurants and cafes.
Where to eat: Ob-la-di for beautiful floors and avocado toast that gives North American ones a run for their money. Nomad's for a quick lunch between shopping (get the tomato salad with burrata) in Saint Honore. Profiterole Cherie for profiteroles that'll put everything else to shame (I mean it). Spring for their tasting menu – a little expensive but totally worth it. Boot Cafe for lattes. Tea at Le Lobby at The Peninsula for the best dessert – during October, it is pink themed to support Breast Cancer Awareness, also, their scones are unreal. Cafe Oberkampf for brunch – they have delicious avo toast, granola bowls, latte, and super friendly staff who I absolutely adored – basically I love the place. KB CafeShop for beautiful latte art and great coffee. Richer for dinner – I loved their fish and dessert. The Broken Arm for salmon toast, latte and people watching. Jacques Genin for dessert you'll never forget. Cafe Kitsune for beautiful latte art and conversations with the friendly baristas.
What to do: I know I always say this, but walk everywhere, it's the best way to see the city! I love Le Marais, it's where you'll find the coolest cafes, boutiques, and people. While wandering there, I'd always manage to stumble upon brands that I'd never even heard of but that had the coolest things. Make sure you check out Merci, it's the iconic concept store with the red car out front. I also made my first trip to Colette during this trip – it is truly one of the coolest shops I've been to, a must-visit if you're into fashion. For a beautiful view of the city go to Deli-Cieux at Printemps, it's their rooftop restaurant and it truly has the most gorgeous panoramic view of the city. Thanks to my friend who lives in the city, I was also able to experience a very Parisian evening where we went from shop to shop buying cheese, bread, fruits, and everything else needed for a simple, yet delicious dinner in her beautiful apartment. Even if you don't know someone in the city, I think it's something you must do – I mean who doesn't love fresh bread and cheese?