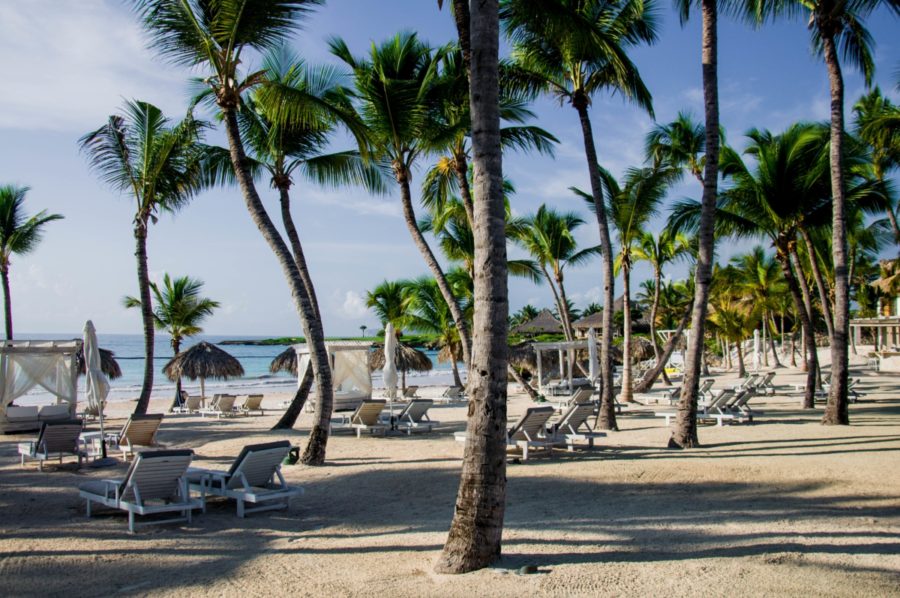 White top: BC by Blesse'd Are The Meek (similar here and here); Pink dress: For Love & Lemons; White sandals: Charles & Keith (similar here)
For years I thought that all Punta Cana had to offer was low budget all-inclusive experiences, however, when I looked into it a little, I found that it was so much more than that. So when I had the opportunity to stay at Eden Roc at Cap Cana for 2 days, I was thrilled. The hotel is a Relais & Chateaux property, which, in my mind, is synonymous with the best and most luxurious. I had extremely high expectations which were surpassed. It was an incredibly relaxing getaway during which I spent my days basking in the sun, eating, and in a constant state of awe at the pristine sand and water in the hotel's beach club.
The property is comprised of several different suites and villas, all of which are designed as individual houses. Guests each get a golf cart to explore the massive grounds. I stayed in the junior suite with a private pool which was a massive, beautiful house with high ceilings and a bathroom larger than most living rooms. The staff totally went out of their way to make sure I was happy. To give you guys a little context, one night two bugs got inside my suite and I freaked out and called the reception. They immediately sent someone over to remove the bugs (which had wings and moved pretty fucking fast), which was such a relief. Another night, one of the staff who cleaned my room heard me talking about how much I loved the chocolates they left in my room, and he brought me a handful of them. It was gestures like that that made my experience so special.
If you are in the Dominican Republic and are looking for somewhere to decompress and bask in luxury, I could not recommend this hotel more.
A huge thank you to Eden Roc at Cap Cana for hosting me, it was truly an unforgettable experience.