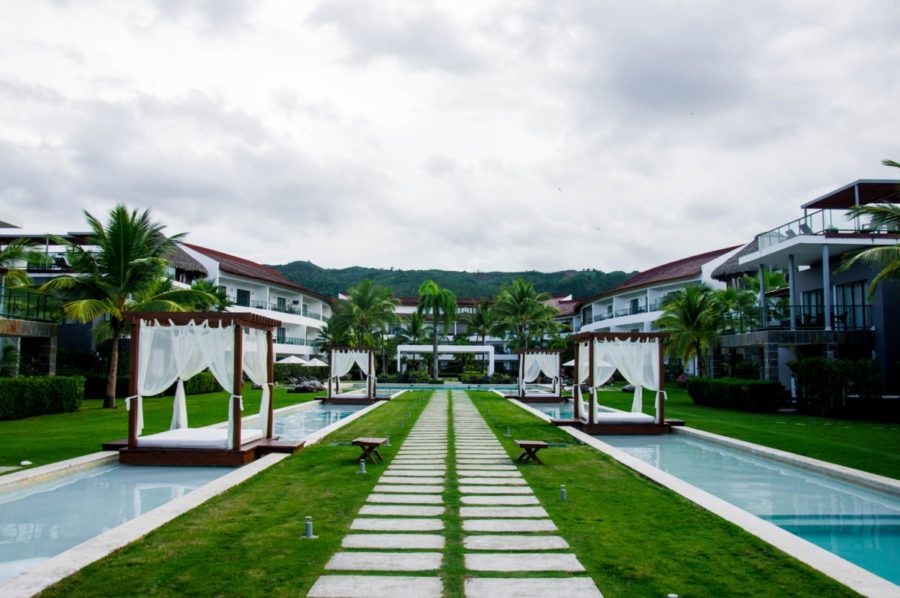 Black dress: Elliatt
My most memorable travel experiences are always those that I've been hesitant to do. While in the Dominican Republic, my plan was to spend two days in Punta Cana, and then move on to Las Terrenas for a day to check out Sublime Samana. The only issue was that whenever I told a local this, they kept telling me the drive was much longer than the 3.5 hours I'd anticipated. To be honest, I was a little nervous, but decided to go through with it. I'm happy to say that not only was the drive just under 3.5 hours, it was also the unbelievably beautiful. So if you go to the Dominican Republic, please drive from Punta Cana to Las Terrenas, it will absolutely blow you away. However, if you're short on time, you have the option of flying into El Catey airport. My point is, you absolutely must visit Las Terrenas when in the Dominican Republic.
I arrived at Sublime Samana, greeted by the warm staff. Since I was told this was a boutique hotel, I was expecting a small property. Guys, it was massive. The hotel is comprised of several rooms, villas, and private residences, with two restaurants, a tennis and basketball court, and a private beach. Need I go on? You can also do a plethora of water sports like snorkelling and windsurfing, none of which I could do because unfortunately it began to rain within a few hours of my arrival.
My room was vast and spacious, perfect for an extended stay since it even had a kitchen. My favourite part however, was the food. The octopus and ceviche were to die for. My one recommendation is that when you plan your trip here, go between January to March. Las Terrenas is known for whale watching during those months and I was told by the staff there that since the whales are used to seeing people, they are incredibly friendly and put on a bit of a show. Just another excuse for me to go back!