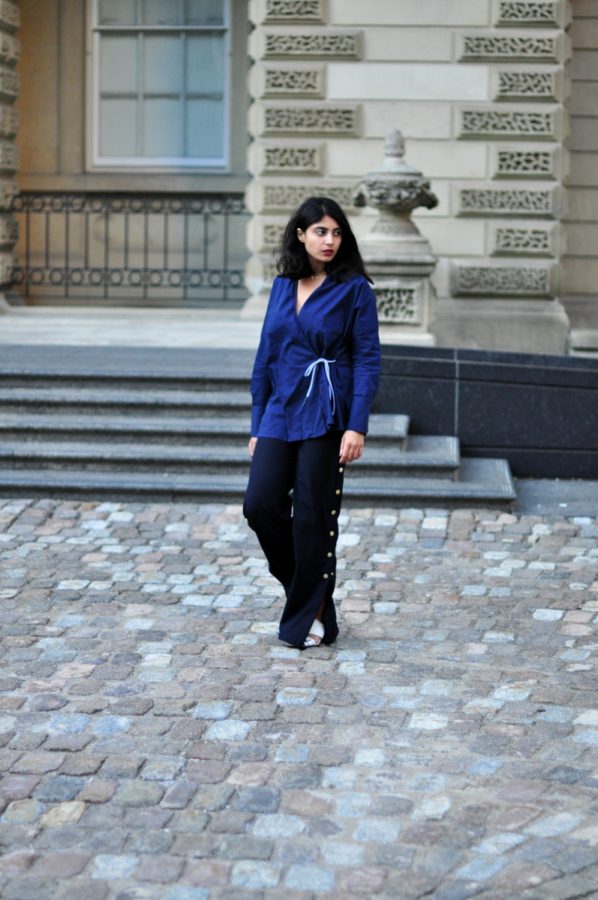 Pants: Zara (similar here and here); Top: Dezzal; Jacket: thrifted (similar here and here)
The other day while watching Friends, I stumbled upon an episode where Phoebe discusses how weird and grown-up it is to see Ross and Rachel with a baby. It was something I could totally relate to because there are so many things I find myself discussing or thinking about, that when I stop and reflect, seem so grown up, when I don't really feel like an adult at all! The fact of the matter is, I don't really think there's a magical, coming-of-age moment where one suddenly feels grown up.
So what does being a grown-up really mean? I don't think it's losing the essence of one's youth, but rather life lessons you learn through the years. So while reflecting on this, I thought about the 5 lessons I've learned that have shaped me to be the person that I am at 25, someone slightly different from who I was at 16:
1. Stop caring about what other people think.
I've always been a fairly headstrong person, but as with all teenagers, I wanted to fit in. Now I realize it's the things that make me different that I love most about myself. Screw fitting in, how is that interesting?
2. Cut out toxic people.
The saying 'birds of a feather flock together' doesn't come out of nowhere. I truly believe that you, and the state of your existence is highly influenced by who you surround yourself with. If those people are positive and lift you up, then you will be infinitely happier. Cutting out toxic people, those who have nothing good to say, have little or no ambition, and have an overall negative disposition will only hold you back in life. Surround yourself with the people that push you to be the best version of yourself.
3. Respect and treasure your parents, they are infinitely wise.
To me, this is the most important lesson of all. I still remember the first moment I thought, 'wow, my mom was right about this'. It was during my first year of university, and over time, those moments have occurred more frequently than I'd like to admit. It's made me realize that, although I didn't see it in high school, my parents have been right 99% of the time, and most importantly, they are my greatest allies. They will always be my rocks.
4. Be kind.
It takes no talent guys. None, and it will take you the furthest of all. And don't dole out kindness based on someone's position in the world, because then you're just an asshole. Treat people, all people, the way you'd like to be treated.
5. Network, network, network.
While I was in Conde Nast College, one of the editors from Vogue came to speak to us. She told us about how she met Mario Testino in her 20s, and decades later they're still friends. At the time, I remember being so impressed at this unlikely connection. However, over the last two years, I've seen how often that happens. Think about the people you know; when you're starting out your careers, you're all in the same place, but years from now, people will be doing all sorts of cool things. When I think about my personal circle, I have friends who work in the film industry, in fashion houses, and in big PR agencies, who just a few years ago had absolutely no idea what they were doing. And from a professional standpoint, what do you think get's the job? A resume coming into a general inbox or a personal connection?