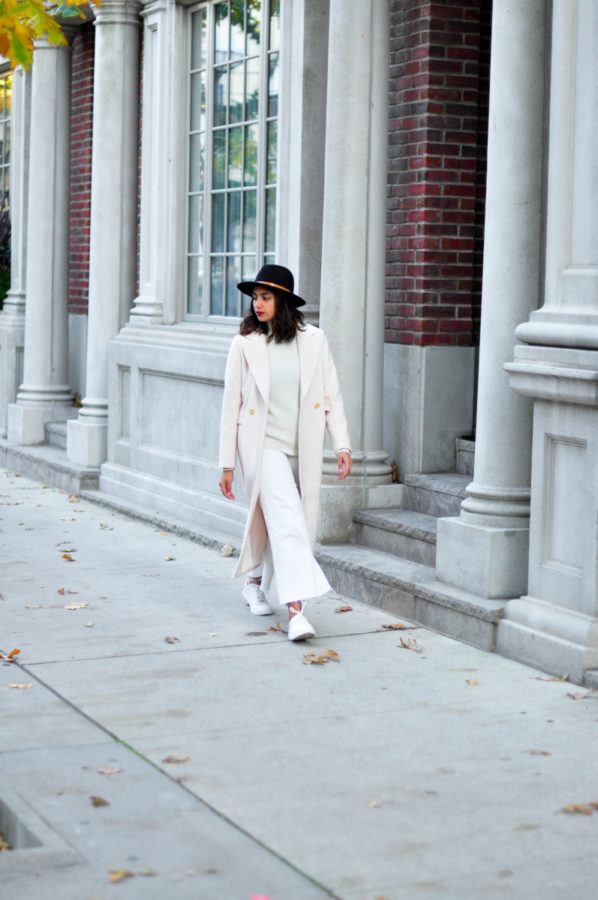 Coat: Jolly Chic; Sweater: Banana Republic (similar here and here); Pants: Citizens of Humanity (similar here and here); Shoes: Jolly Chic; Hat: Club Monaco
Let's be honest, even as a blogger, I don't have an endless wardrobe. I don't have a different piece of clothing for each day of the year, and my my week is punctuated by the 'I have nothing to wear' dilemma. So for those of you who are plagued by the same issue, I'd like to share my tips on how to make the most of your wardrobe.
Over the years, I've learned that shopping smart is the biggest favour you can do for yourself. I firmly believe in investing in quality pieces that I can wear to death (literally). As a blogger, I think we're held to pretty high standards to constantly provide inspiration and produce new outfits, so my philosophy has always been to keep it simple and real. I'm not going to sit here and pretend like I have unlimited closet space to buy dresses I'm only going to wear once. So I have no shame in repeating my favourite pieces, just so long as they're worn a little differently each time.
Take these pants for example. They were an investment piece from Citizens of Humanity, but given their versatility, I've styled them in so many different ways. My turtleneck, too, is a piece that I bought a year and a half back, but given how simple it is, I can pair it with anything.
How do you make the most of your wardrobe?