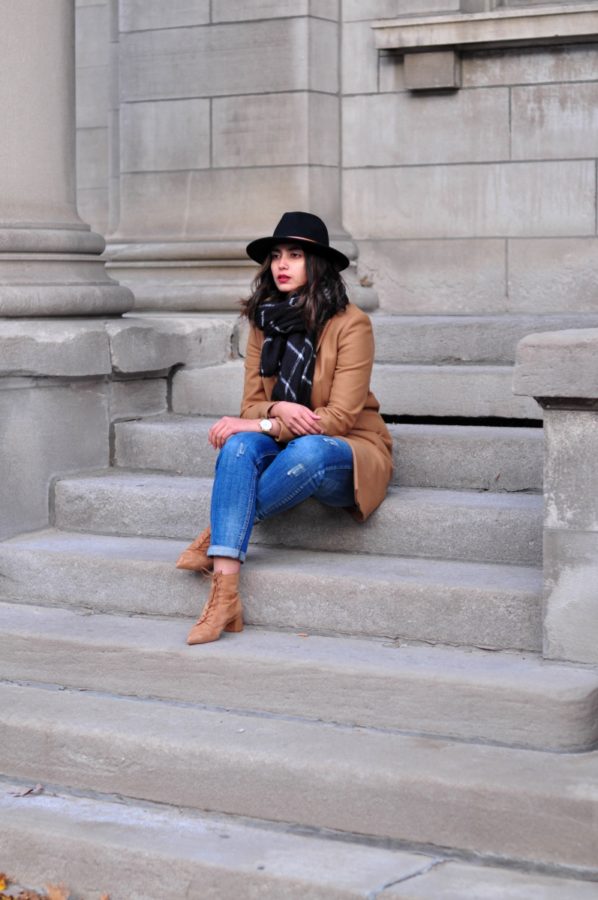 Jeans: One Teaspoon (similar here and here); Coat: Zara (similar here and here); Hat: Club Monaco; Shoes: Free People
This past May, I went out for coffee with my dad to ask him for some advice on a contract I had coming up. To give you some background, I come from an entrepreneurial family and my dad runs his own business, so needless to say I constantly run every business move I make by him. While talking to him, he said something to me that I thought was very valuable: don't undersell yourself. While my dad's business has nothing to do with fashion or blogging, I think it's a lesson that can be applied to any career. So today, I want to talk about how to negotiate and why it's so important to assert your self-worth.
I've read in two different books, Lean In by Sheryl Sandberg and The Defining Decade by Meg Jay, that the two groups of people that are most likely to undersell and hold themselves back are women and people in their 20s. As a woman in her 20s, I can admit firsthand that I've been guilty of underselling myself in the past because I've been afraid of other people's perception of me. I've been told over and over again that milennials are entitled, not to mention the ridiculous double standard whereby a driven man is perceived as a leader and their female counterpart is perceived as 'angry' or 'bossy'. However, over time, I've come to realize that knowing my worth realistically isn't being entitled, and aggressively pursuing my goals doesn't make me a 'nasty woman'.
I've always been uncomfortable with negotiation. I hate confrontational situations and and pushing for things, but after this talk with my dad, I've made it a personal goal to never settle for less than my worth. The thing is in order to run a successful business, you can't sit on your ass and take whatever is handed to you. You need to assert your self worth and ask for what you think you deserve. And frankly, if you position yourself as someone who is willing to settle, then that is what you will get. So below are my 3 tips for negotiating 101:
1. Don't be rude
There is absolutely no need to be abrasive. I've said it before and I'll say it again: kindness goes a long way, so always be polite, even in a situation where you're negotiating.
2. If you are offering a service, explain your worth
Why are you worth what you are saying you're worth? What value do you provide?
3. Don't get discouraged
Sometimes things go your way, and sometimes they don't. If it doesn't work out, dust yourself off and take it as a learning experience.
Do you guys have any tips for negotiating?