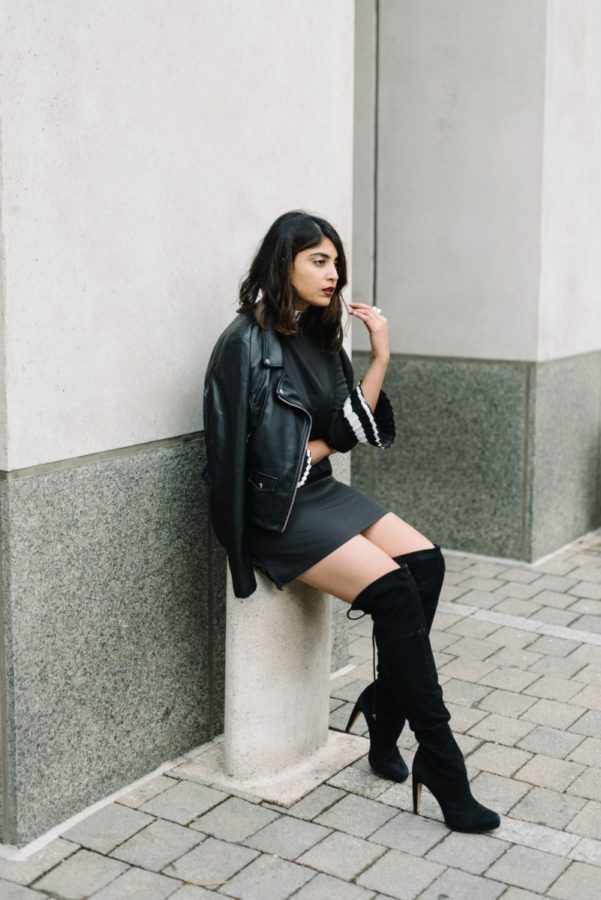 Dress: JollyChic; Boots: Sam Edelman (similar here and here); Jacket: Zara (similar here and here)
Warning: this post is going to get personal and rant-y. A few days back, my friend Camilla sent myself and Didier an article on Bloomberg. In it, one of its authors conducts an experiment and works with a marketing agency to rise to social media stardom. Much to our chagrin, here was yet another article calling into question the authenticity of influencers.
I encourage you to read it yourself, but in essence, it paints a picture whereby it's totally possible to rise to social media stardom by spending some quick cash. This involves buying stock images from photographers (latte art, avocado toast, etc), buying followers, and buying likes. As the author correctly pointed out, it is possible to gain a following through these means. However, just because it's possible doesn't mean it's how the industry works!
I am so tired of people putting bloggers down. I'm so tired of hearing how trivial our work is. I'm so tired of hearing how easy it is, because you know what – it's not. Just to give you an idea, here is a small list of the things we do on a regular basis, and none of it involves us spending money:
The world doesn't stop because of daylight savings time. So if the lighting isn't right, we have to spend the entire day trying to get the perfect picture. One of my gift guides took 5 hours to style and shoot.
A lot of my friends juggle blogging with their full-time jobs. That means that because of DST, they have to spend their entire weekends shooting pictures, which means they get no weekend at all.
Understanding SEO is no picnic. It's time-consuming and frustrating.
Yesterday, I had to venture out into the freezing cold to shoot an outfit. This entailed shedding my scarf and coat, and pretending to look like my face wasn't about to fall off from the biting wind.
When I went to Thailand on vacation, I had to wake up at sunrise every single day to ensure I had enough time to photograph the hotel grounds as a part of my contract before heading out to explore.
Warm food? Such a thing exists?
Editing photos is not a walk in the park.
The bottom line is that in order for us to stay at the top of our game, we work incredibly hard to create fresh and interesting content. Content that has to catch the attention of a generation that wants their information at a hyper-accelerated rate. Of course it's possible to get there with shortcuts (like in so many other professions), but that doesn't mean that the entire industry is a farce. Nor does it mean that every influencer out there uses these means.
Now, to address the superficiality issue: a picture of avocado toast or a latte may seem incredibly trivial, but it's not. It's called personalized recommendation and is what's keeping a lot of restaurants and cafes afloat. A flatlay may seem stupid, but it's how brands get the word out about a new product.
Whether it's Vogue or Bloomberg questioning the validity of blogging as a profession, at the end of the day it comes down to the same supermodel vs. Kendall and Gigi debate. This 'elite' industry has become a democracy. You no longer need to have qualifications or connections or 5+ years of experience to make it in the industry – you can make a career for yourself.
What upsets me is that I truly believe traditional publications and bloggers can work in tandem. There is a place in the world for both. And just because blogging is democratized doesn't make it any less authentic. Bloggers still work just as hard as people in publishing – believe me, I've done both. I think it's time to stop putting each other down, live and let leave, and move the fuck on.
Photography by Erin Leydon