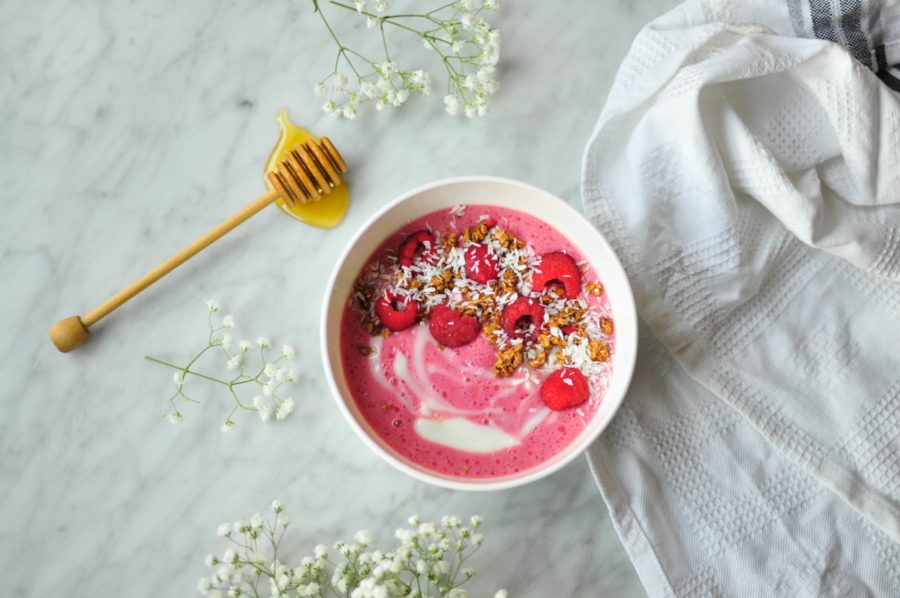 To kickstart my fitness goal for next year, I've partnered with Iogo to share with you my go-to recipe for an afternoon snack. Iogo recently redesigned their packaging to reflect the modern on-the-go lifestyle of its consumers, myself included. Personally, my favourite snacks are those that are quick and easy to make and are healthy, which is why I love smoothies so much. I start my day off with a banana smoothie and love this raspberry smoothie bowl as a mid-afternoon pick me up. I like to add a few spoonfuls of vanilla Iogo to my smoothie bowl (and sneak in a few spoonfuls) because it adds sweetness and a velvet-y texture. So, without further ado, here is the recipe:
Ingredients
1/2 cup frozen raspberries
1/2 cup milk of choice
2 tsp honey (or however much else you need)
2 tbsp Iogo vanilla yoghurt
1 additional tbsp Iogo vanilla yoghurt
5-6 fresh raspberries
1 tsp unsweetened coconut flakes
1 tbsp granola
Instructions
Throw the first 4 ingredients into a magic bullet and blend until smooth. Put it into a bowl, swirl in the remaining tbsp of yoghurt. Top with raspberries, granola and coconut flakes. Enjoy your guilt-free snack!