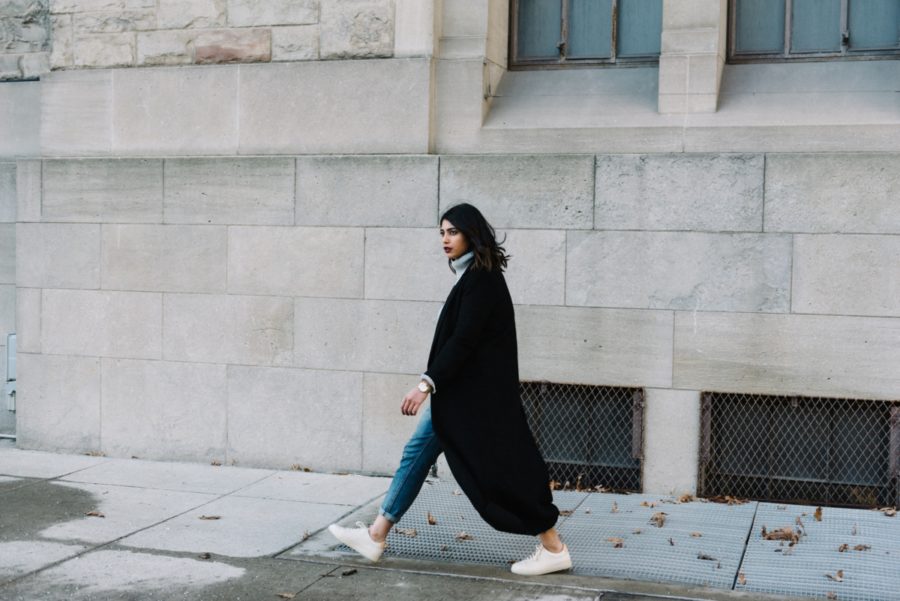 Coat: Zara (similar here and here); Sweater: Aritzia (similar here and here); Jeans: One Teaspoon (similar here and here); Shoes: Pairs in Paris; Watch: Cluse
As much as I love the holidays, we all know that the winter months are not the most inspiring time of the year. The fairy lights and sales may be pretty, but as soon as the gloom and cold set in, it starts to get miserable. As tempting as it may be, no one can put their lives on hold and watch Netflix until the snow starts to thaw, so I thought I'd share with you my tips on how to feel inspired in the winter. First of all, I want to start by saying that feeling lethargic and uninspired is totally normal. I've spoken to so many of my friends and other content creators, and we're all in the same boat, so don't feel discouraged! This is what I like to do to lift my spirits:
1. Get out of the house
If you're a freelancer, it's tempting to work from home and never get out of your PJs. While this may be great on occasion, I highly advise against it. It's so easy to fall into the sweatpants rut, so even on days where I'm feeling particularly lazy, I like to work out of a cafe. And for those of you who have full-time jobs, use the weekends to go cafes, restaurants, etc. People watching always raises my spirits!
2. Browse through Pinterest, Instagram, or your favourite website
As a visual person, I love going through accounts and websites that I love when I'm feeling uninspired. Sometimes, looking at my friends' content has given me the surge of motivation that I need to plan really great content. Expose yourself to things that bring you joy and you will automatically feel inspired.
3. Light a candle and read
We live in an age of technology and are so exposed to it that our senses are constantly overstimulated. A few weeks back, I wasn't being able to sleep properly, so after feeling like a zombie for about a week, I decided to change up my pre-bedtime routine. Instead of catching up on emails and Instagram, I decided to light a candle and read Bloom. There's something about reading a great, positive book that put me in such a great mood that I slept like a baby and woke up feeling fresh and bursting with ideas.
4. Redecorate
During the winter months, we naturally tend to spend a lot of time indoors. If you take the time to organize your home and add cozy touches, it makes it a pleasant space to hang out in. I find that when my apartment is a mess, my mind is scattered. I recently took the time to clean it and begin redecorating, and it made the world of difference.
5. Get creative in the kitchen
Since it's so cold out, I'm finding myself spending an increasing amount of time in the kitchen. It's a different way for me to release creative energy which I love. There's also something very rewarding about making a great meal for yourself.
Photography by Erin Leydon