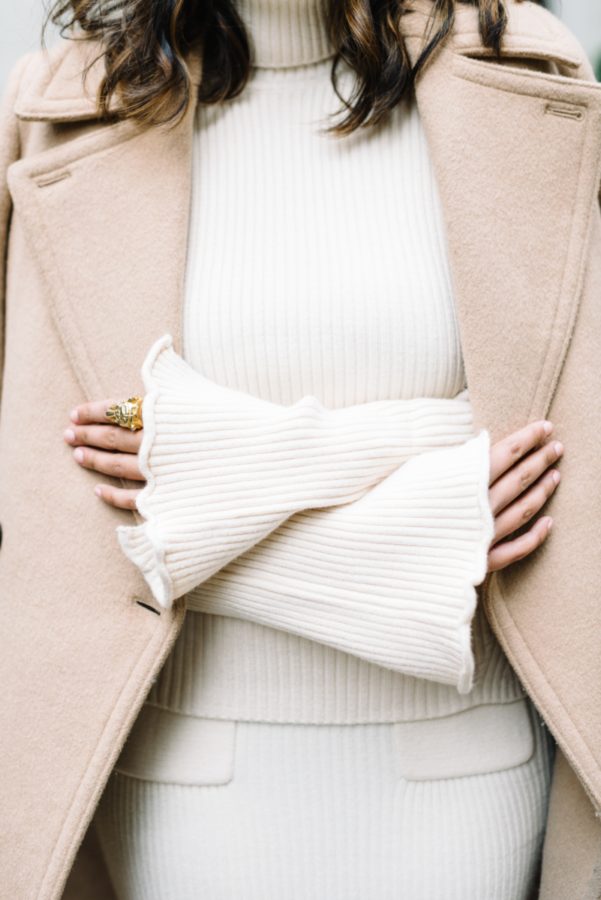 Sweater: Zara (similar here and here); Skirt: Zara (similar here and here); Coat: Club Monaco; Shoes: Alexander Wang
Now that Christmas is over, we can all start looking forward to the next big yearly milestone: the coming of 2017. I always look forward to the new year. It's like the first page in a brand new book full of challenges and achievements to come. So in the spirit of starting fresh, I wanted to share my top 5 tips to increase productivity:
1.  Set goals
Setting goals is a great way to  set yourself up for a tangible achievement. When I'm embarking on a long-lead project for work, I make mini goals for myself on my calendar so I don't leave everything for the last moment. It also makes me feel like I achieve something small every day.
2. Declutter your workspace
Every notice how easy it is to get distracted when there's a pile of papers or shit all over your desk? That's because a cluttered space results in a cluttered mind. When you're about to dive into a project, spend 10 minutes clearing out your workspace.
3. Put your phone away
We all know how easy it is to fall into the rabbit hole of mindlessly scrolling through Pinterest, Buzzfeed, or stalking various people on Facebook. I like to put my iPhone in another room altogether so I can dedicate my full attention to my work. That way, I'm not interrupted by my friends telling me about the latest online sale or the videos exchanged in my family Whatsapp group.
4. Use a timer
I'm not great at focusing for long periods of time without getting distracted. So on the days where I'm having trouble concentrating, I like to set myself a timer for 20 minute increments. During those 20 minutes, I focus all my energy on my work, and reward myself with a 5 minute break afterwards.
5. Make lists
You guys, I rival Monica Gellar at list-making. I make them for everything! Not only does it help me remember the tasks I have to accomplish, there is also something very satisfying about ticking it off. It feels like a mini-achievement!
Do you have any tips or tricks of your own to increase productivity?