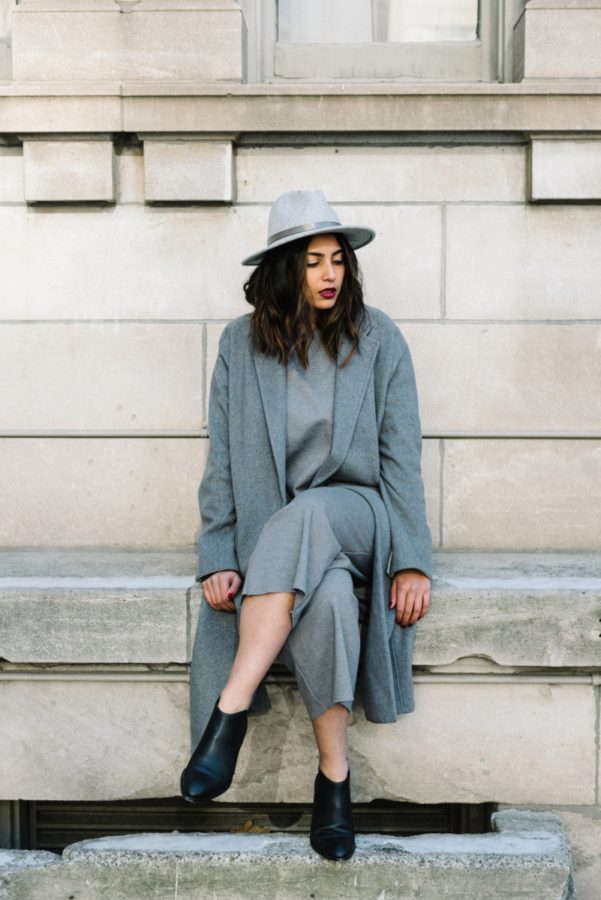 Pant + Top set: Oak & Fort (similar); Coat: Dawn Levy Design (similar here and here); Boots: Alexander Wang; Hat: Club Monaco (similar)
Happy New Year everyone! Hope you all rang 2017 in with your loved ones! I personally enjoyed a night in watching Netflix and hanging out with my family, you know, grandma style. Although 2016 was a year filled with controversial political decisions and celebrity deaths, it was a great year for me personally. I hit so many personal milestones and quit my full-time job to focus on my business. So with the new year upon us, I wanted to share with you guys the 5 things I learned in 2016.
How to say no
You'd think this one was easy, but it took me 25 years to figure it out. In 2016, my blog began to grow, and while at first I was keen to please brands, I realized that I had to do what was right for me. This meant finding the courage to state my worth and sticking to it. I also realized that I don't have to kill myself to try to be at every event, every single time I'm invited or take on something I'm not super passionate about.
Dream big and work for it
I have always believed that the sky is the limit. While setting goals for myself last year, I dreamed big. I made a list of brands I wanted to work with, and where I wanted my blog to be by the end of the year. Sure I didn't get everything I wanted, but I worked my ass off and got pretty damn close!
Rejection is a part of life
As a blogger, I've had to become comfortable with putting myself out there. That means approaching brands, sending proposals, and really chasing what I want. While this comes with many triumphs, it also comes with its fair share of rejection. As a Leo, I hate the feeling of rejection because it hurts my pride, but I've come to terms with the fact that it's nothing personal. Brands that have previously said no to me come around when the time is right. Most importantly, rejection doesn't equate to failure.
Admit when I'm tired
Like any other human being, I have my days. Everyone gets overwhelmed sometimes, and I've learned to admit it when I am. There was a point in my life where I took no days off from my work, which I realized is incredibly unhealthy. This year, I learned to admit when I'm tired and take a break when I need it. The world won't crumble if I don't answer emails for a day.
Give structure to my life
In my initial days was a full-time blogger, I wouldn't change out of my PJs. I would do the dishes in the middle of the day and switch on the TV when I felt like it. While I still do that on the odd occasion, I've learned to give my life a little more structure. That means changing out of my PJs as soon as I wake up, and heading to a cafe to work.
So, while 2016 was a memorable year, I intend on learning and achieving even more this year. Here's to 2017!
Photography by Erin Leydon