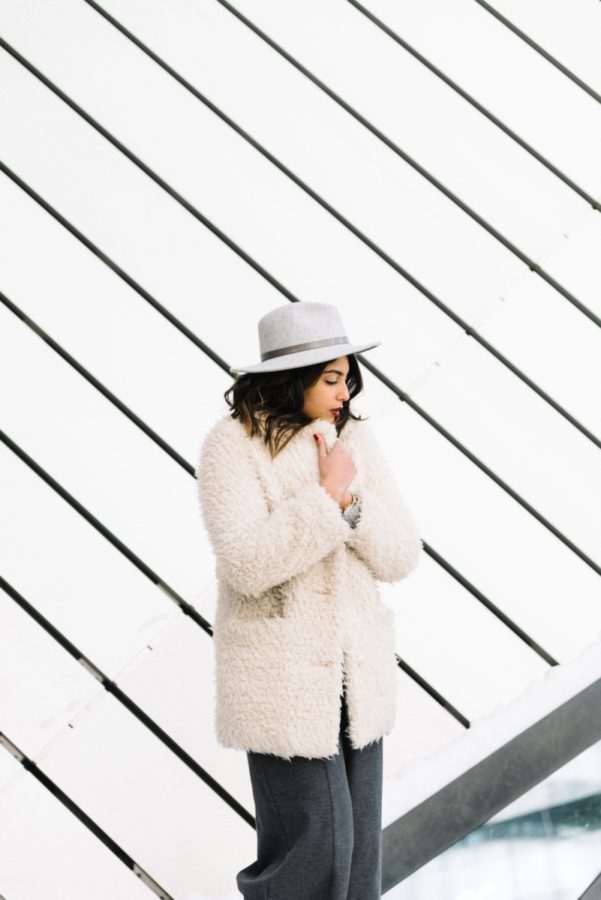 Coat: Topshop (similar here and here); Pants: Uniqlo (similar here and here); Shoes: Pairs in Paris; Hat: Club Monaco (similar here and here)
Anyone who knows me will tell you that my two younger brothers are my best friends. However, being 5 and 6 years older than them is also a reminder of how much I've grown up and how much I've stopped giving a shit. Like remember in high school and college, when you had to go to a party because everyone was going to be there? Or how you used to be pressured into doing things because all your friends were doing it? Well now, it just doesn't feel like the world will come to an end if I decide to stay in. And saying no to something I don't want to do doesn't seem as daunting anymore. Having reflected on this, I decided to come up with a list of things to stop caring about.
1. Going to an event or party because of FOMO
If you don't feel like changing out of your sweats and caking your face with makeup, then don't. You don't have to be a slave to societal pressures. Plus, there will be plenty of other occasions to go out and see someone make a fool of themselves (or you know, make the occasional fool of yourself). What's the point of killing yourself to have fun? Doesn't that defy the whole point of having fun in the first place?
2. Working all the time
This is something that took me forever to figure out, but you need to give yourself time off. No one can be productive all the time, at one point you reach diminishing returns. Give yourself a day off and bask in the glory of vegging out on your couch, ordering takeout, and doing absolutely nothing.
3. Other people's opinion of you
Be true to yourself and have a thick skin. There is no point in changing yourself to make other people like you because at the end of the day, your own opinion of yourself is the one that matters most.
4. Wondering what your exes are up to
Why bother? No good can come of stalking them on Facebook and accidentally liking their picture and then wondering if they'd notice if you unliked it. Move on.
5. Buying into a trend because everyone else is
Wear what makes you feel beautiful. Trends are fleeting, and you should never buy into them unless they make you feel like the best version of yourself.
What are some things you stopped caring about with age?
Photography by Erin Leydon