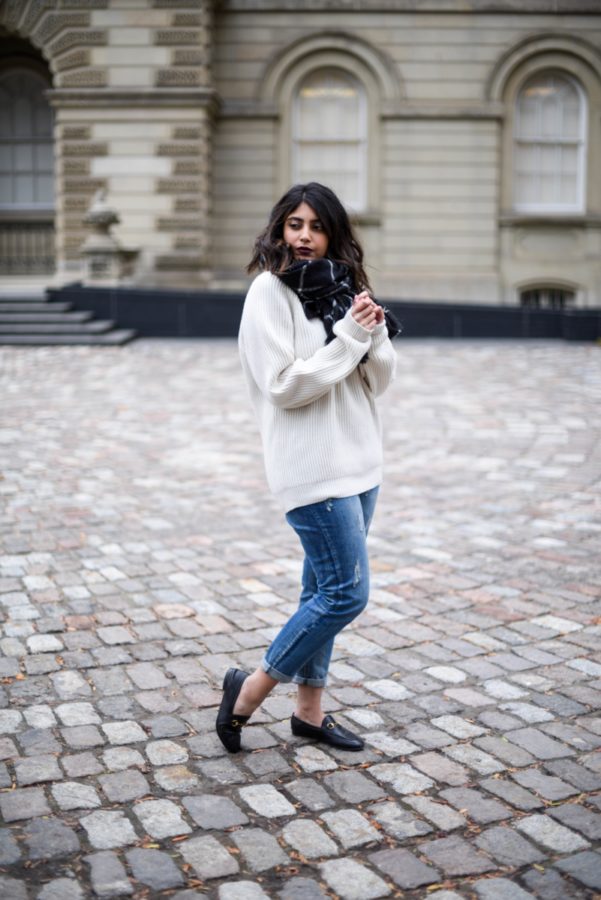 Sweater: Uniqlo (similar here and here); Jeans: One Teaspoon (similar here and here); Shoes: Gucci; Scarf: Zara (similar here and here)
If you've been following me for a few months, you'll know that I was in Singapore and Thailand this summer. The first leg of my trip was Thailand, where I went with my brothers. Towards the end of our trip, I remember saying how nice it would be if we could do another trip around South Asia, preferably Bali. I didn't give it much thought, until just a month or two later when, serendipitously, an opportunity came up to go to Bali. Long story short, I'm so excited to tell you that I'm headed there in 3 days!
Bali has been on my travel bucket list for ages. Although I'm sure the beaches are wonderful, I'm more interested in the natural beauty it has to offer. I've heard so much about its waterfalls and lush paddy fields that I can barely contain myself.  I'm also reeling with excitement at the thought of all the food I'm going to eat!
It is in this same breath that I want to take a moment to thank you guys. My readers are like my family, and I am so grateful for your ongoing support. I'm so happy you enjoy reading what I have to say and appreciate my pictures! I hope I can continue to inspire you this year, and can't wait to begin doing so with this trip to Bali!