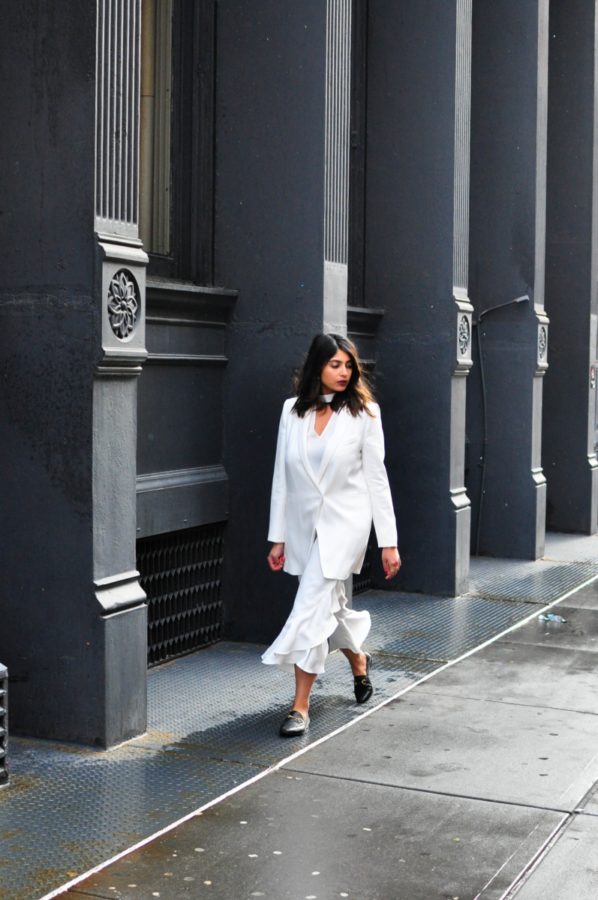 Pants: Zara; Blazer: Zara; Shoes: Gucci
One of the most valuable lessons I've learned while discovering my personal style is balance. After going on a Zara diet for over a year, I recently started shopping there again. To recap for my new readers, in 2015, I went on a Zara diet after the one closest to me shut down for renovations. Although horrified at first, this turned out to be a blessing in disguise. It helped me really pinpoint my personal style and appreciate quality over quantity.
After over a year away from Zara, I have to admit I was incredibly critical of the brand. While I still believe the quality you get is what you pay for, I've come to a place where I'm comfortable buying the odd few pieces from Zara. As much as I love my high-quality basics, I also love picking up some on-trend pieces – something Zara is great for. So after giving it much thought, I decided that the best kind of wardrobe is a mixture of high-street and high-end. While picking outfits for NYFW, I fell in love with this blazer and pants, both of which are from Zara. However, I thought the best way to add a luxe touch to it was with my Gucci loafers. See? It's all about balance.