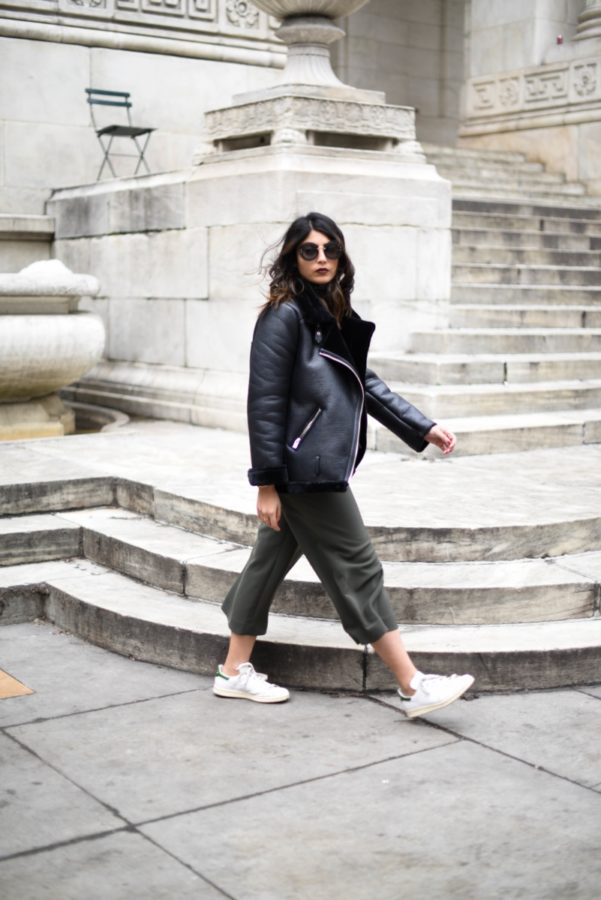 Pants: COS; Jacket: Zara; Watch: Henry London; Scarf: J.Crew (similar); Shoes: Adidas
Little known fact: for a few months last year, I could count the number of clothing items I bought using less than all my fingers. During that time, I felt incredibly uninspired by fashion. I toyed with the idea of taking a break from posting outfit pictures altogether. Basically, I felt like I'd hit a brick wall when it came to style.
People strive to identify their personal style, but once you do, then what? What exactly happens when you're able to pinpoint things that are 'you' and that aren't? Truth is, I wasn't sure. I knew I was a minimalist, but to what degree? Last year, I saw a bomber jacket which I fell in love with, but refused to buy because it had the slightest hint of colour. I felt like I would be betraying my aesthetic. My minimal aesthetic that not only reigned supreme in my closet, but also my apartment, Instagram, and everything in between.
Then I went to Bali…
Initially, I was determined to keep my colourless aesthetic while on vacation. But as I admired the lush green jungles and endless blue ocean, I realized I wanted to share it with you guys. Moreover, I didn't want to just wear black and white. I wanted to incorporate prints into my style (while staying true to my style). So when it came to Instagram, I decided to add some colour colour into my feed while keeping my editing the same. When it came to my personal style, it was kind of a break through. I decided that I wanted to branch out a little.
I realized that wanting to experiment doesn't mean I'm betraying my personal style at all. It's a way to keep things fresh and interesting. While figuring out outfits for NYFW, I picked out these pants from COS. They're a khaki colour, which is muted enough to be considered a 'minimal' piece, but was exactly the sort of variation my closet needed. Going to New York totally reaffirmed this. I was so inspired by other minimalists adding unexpected accents to their outfits.
I hope this post has inspired you to stop pigeonholing yourselves, and not be afraid to branch out. Sometimes, it's exactly what the doctor ordered for a fresh dose of inspiration.