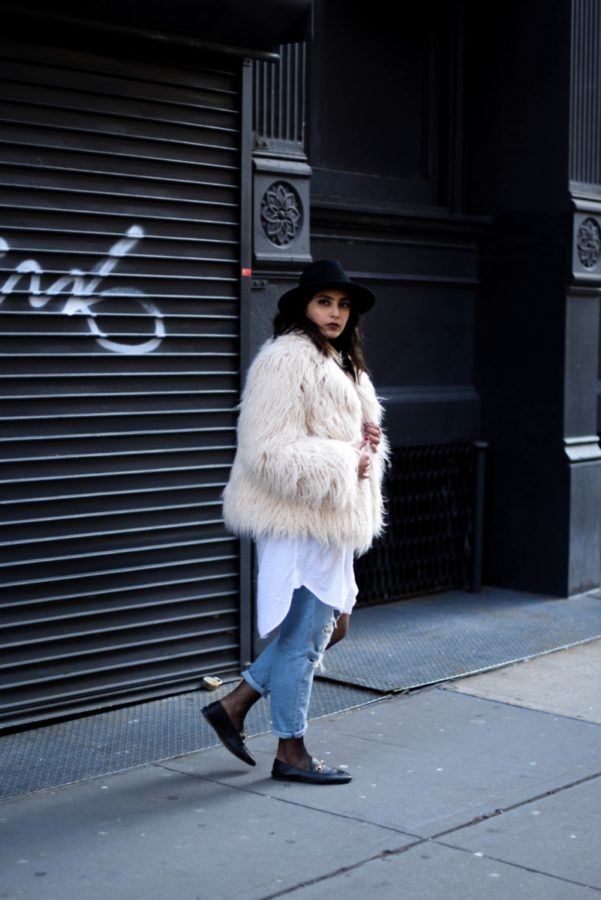 Jeans: Topshop (similar here and here); Coat: Revolve (similar here and here); Shoes: Gucci; Hat: Club Monaco (identical)
So I wanted to start today's post by thanking all of you for reading my last one! I was so happy to hear how so many of you found it helpful. I've also been pleasantly surprised by the number of questions I've received following my post. So since so many of you had similar questions, I thought I'd put it into an article.
What's this about working with an agency?
As I stated in my last post, I do work with an agency. Any time a brand is looking to work with me, they handle negotiations which includes the financial aspect of things along with deliverables. I had a lot of you asking how I found my agency, and truth is, they found me. They contacted me when they launched their influencer agency, and I've been with them since. I think the reason it works is because I have a great relationship with my manager, Amy. She is an absolutely superstar, who always listens to exactly what I'm looking for, and delivers. I also make sure I follow up, and clearly communicate what I want. Just because you have an agency doesn't mean you should sit on your ass and expect them to do all the work. If you want something, make it clear.
Do you buy followers?
Absolutely not. No hate for people that do, but I just don't think it's smart business sensibility, at least not for myself. If I have to buy my influence, then I'm not really all that influential.
How do you deal with losing contracts to people who bought followers?
It's never easy. But you know what, I know who I am. Sure, numbers matter, but that isn't why I got into this in the first place, and it isn't how I'm going to determine my worth. If a brand works with me, they know that I'm going to hustle and produce content I'm proud of. If they decide to go with someone else, it's really none of my business. My job is to focus on producing the best possible content, stay original, and be easy to work with.
Do you ever work for free?
I'm often gifted things by brands or given goodie bags events. If I love a brand or a product, then I post about it, but if not, I don't. If a brand reaches out to me to work for free, most of the time I say no. I'll break this rule if I see prospect of developing a longterm relationship with the brand, or if it's young brand that needs support.
I got so many good questions, but these were the ones I could touch on for now. If you have more questions, please feel free to email them to me, leave a comment or DM me on Instagram. I love hearing your feedback!