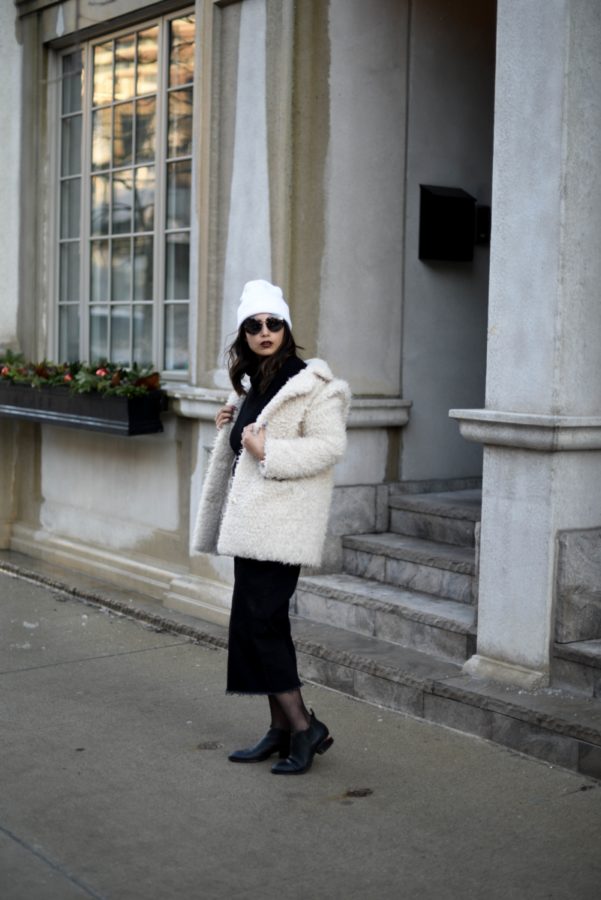 Jeans: SIWY (similar here and here); Jacket: Topshop (similar here and here); Boots: Alexander Wang; Watch: Henry London
Earlier this week, I was out for dinner with Anna when we got on the subject of positivity. Have you ever noticed that people who are positive tend to have 'good luck'? More importantly, have you noticed that negative people are always victims of unfortunate events? It's a vicious cycle that I've seen so many people fall into.
A couple of years back, my mom told me to read The Secret. Now this isn't the first time I've brought it up, but I love this book. I'm a big believer in energy. You get what you put out into the universe, so if you're positive and believe good things will happen, they generally do. So I wanted to share what how to stay positive.
Expose yourself to things that make you happy
A little vague, but allow me to elaborate. I can't be the only one who feels inspired when I look at beautiful pictures on social media. Or physically happy when I watch a funny TV show. Or go for a walk in a pretty neighbourhood. The other day, I called my mom crying about something, and she told me to take a deep breath, drop what was bothering me, and watch an episode of Friends. I shit you not, I felt instantly happier. Proof that exposing yourself to happy things will lift your mood (and that moms are wise).
Get enough sleep
The busier we get, the more likely we are to sacrifice on sleep, which is a huge mistake. Getting enough sleep rests and refreshes our bodies and minds. When I get my 8 hours, I wake up feeling energized, happy and ready to take on the day.
Work out
Roll your eyes at me all you want, but in the wise words of Elle Woods "Exercise gives you endorphins. Endorphins make you happy. Happy people just don't shoot their husbands, they just don't". Since I've started working out regularly again, I can feel myself being in a good mood 95% of the time.
Positive affirmations
If you want something, tell yourself it's going to happen for you. Literally wish it and make it your mantra. Work hard for your goals, but also truly believe in them. So many things, crazy opportunities have come my way because I believed they would.
Surround yourself with positive people
I cannot say this enough. Happiness is contagious, spend time with people who uplift you.
What are some things you guys do to stay positive?