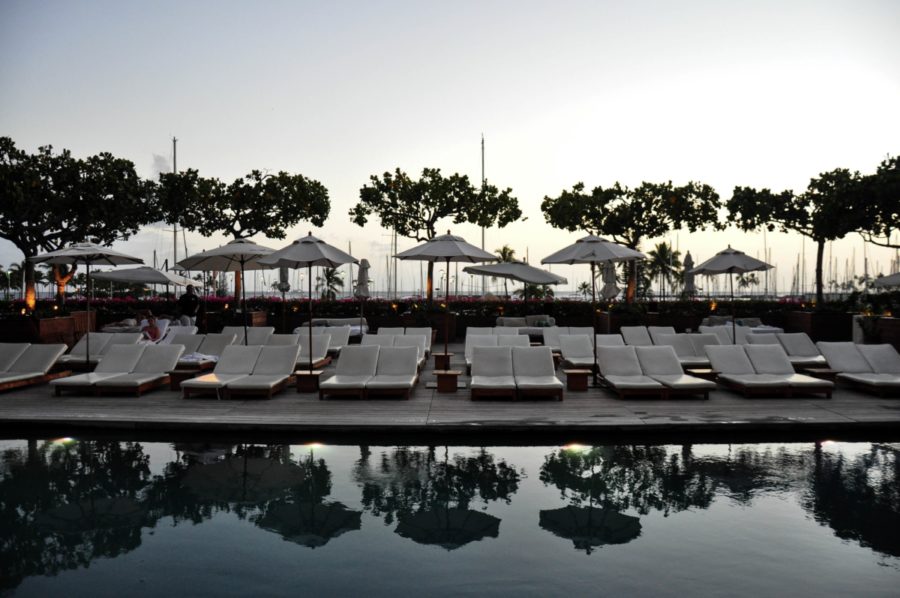 Aloha from Honolulu! I'm currently sitting on a daybed by the pool at The Modern and writing this blog post. I wanted to kick off my Hawaii content with a post on The Modern. Those of you who follow me on Instagram will know that I arrived in Honolulu a few days back. Since Honolulu has been on my bucket list for years, I wanted every aspect of it to be perfect, which includes the hotel I stay in.
I found The Modern on Instagram while doing research on hotels in Hawaii. I loved their sleek and minimalistic interior, so you can imagine my excitement when I was able to partner with them for this trip. As soon as Ashley and I checked into the hotel, we knew we were in good hands. Every aspect of the hotel embodies its name. Not to mention, the service is impeccable.
The property is located right in the middle of Waikiki. It's a stone throw away from Ala Moana, which makes impromptu trips to the mall very easy (bloggers gotta do what bloggers gotta do). It has two restaurants, Ravish and The Grove, both of which we loved. In fact, I just polished off a plate of buttermilk pancakes from The Grove while relaxing on our daybed.
To my fellow foodies, if nothing else, you must visit Ravish. The food here is quite possibly some of the best in Waikiki. The sushi rolls were delicious, and the fish was super fresh. Also, leaving without trying the chocolate mousse dessert would be a crime.
As much as I love Honolulu, there are only a handful of chic, Instagram-worthy hotels. The Modern is definitely at the top of the list. So if you're looking for a hotel with a gorgeous interior, unbeatable location, and hospitable staff, then I highly recommend The Modern.