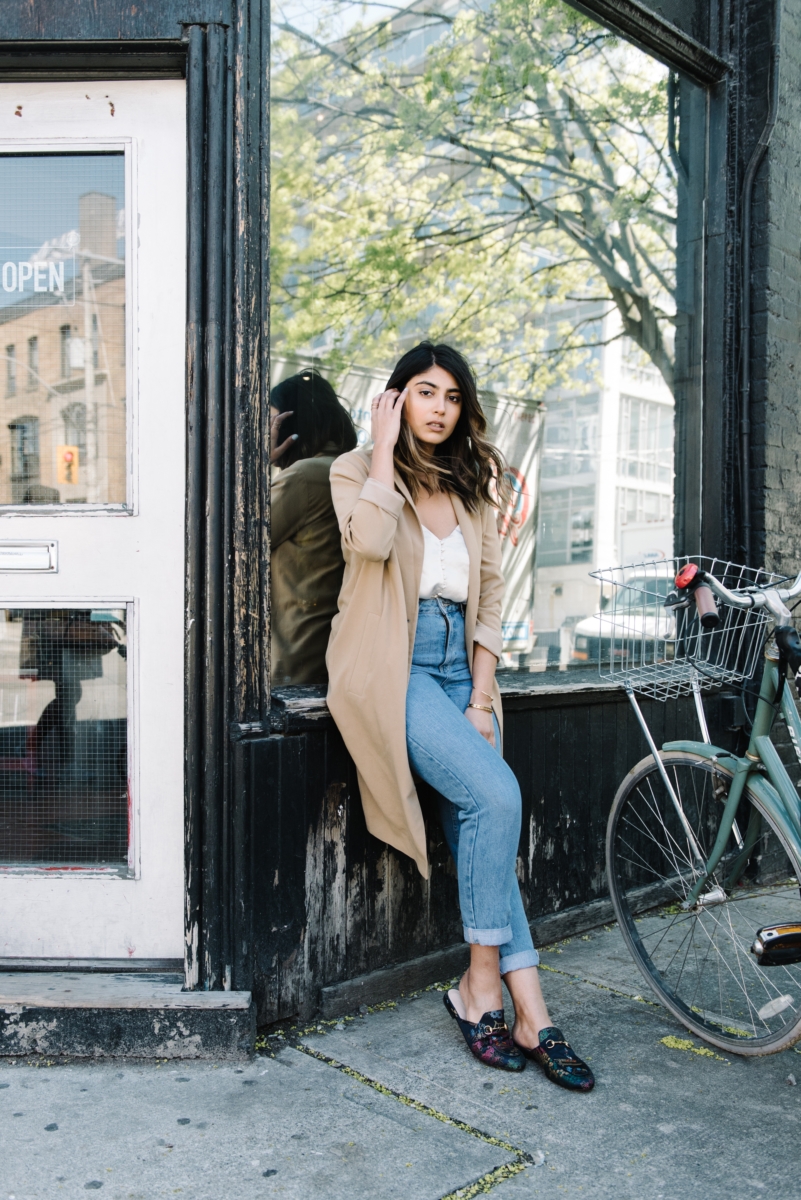 Jeans: Topshop; Top: Aritzia (similar here and here); Jacket: Oak & Fort (similar here and here); Shoes: Gucci
For all 4 years of college, I was notorious for never scheduling a class before noon because I would never make it on time. Fast forward to today, and you'd be hard pressed to find me sleeping passed 7:30am on a weekday. I didn't become a morning person overnight. It was a gradual change that happened over time. However, as someone who's been on both ends of the spectrum, I certainly have some wisdom to impart.
Make tiny changes
Like anything else in life, build up to your goals. No one shows up, expecting to run a marathon without any prior experience. If you're not an early riser, don't suddenly set your alarm for 6am and expect to be full of energy. Start setting your alarm 5-10 minutes earlier every morning so your body doesn't go into shock.
Schedule a workout
Before you think to yourself 'Oh, she's one of those', and close your browser, hear me out. I know working out in the morning is one of the hardest things to do. Believe me, I tried for years and failed miserably. However, the secret is scheduling in a class that forces you out of bed. If nothing else, the penalty fee you'll pay for missing the class will get you out the door.
Reward yourself
I always spend my mornings in a cafe. On days I work out, I go to a cafe an hour before my class starts. This way, I get to collect my thoughts and answer emails first thing in the morning over a great cup of coffee. It's my way of rewarding myself for waking up early.
Give yourself something to look forward to
King Fu Panda is my favourite movie for so many reasons. One of them is the fact that Po is my spirit animal. Like him, I'm also willing to go through any length for good food. A good breakfast will get me out of bed because it's something to look forward to in the morning. I usually start my day with a coffee banana smoothie, which tastes like a milkshake. It's also super quick and easy to whip up. If food isn't your thing, find what is and schedule that in for the morning. Perhaps it's music or catching up with a friend, but make sure you schedule it in for the morning so you have a reason to be excited.
Get enough sleep
I know it seems obvious, but it's something we don't prioritize enough. Make your pre-bedtime routine relaxing and give your body the rest it needs.
Photography by Erin Leydon