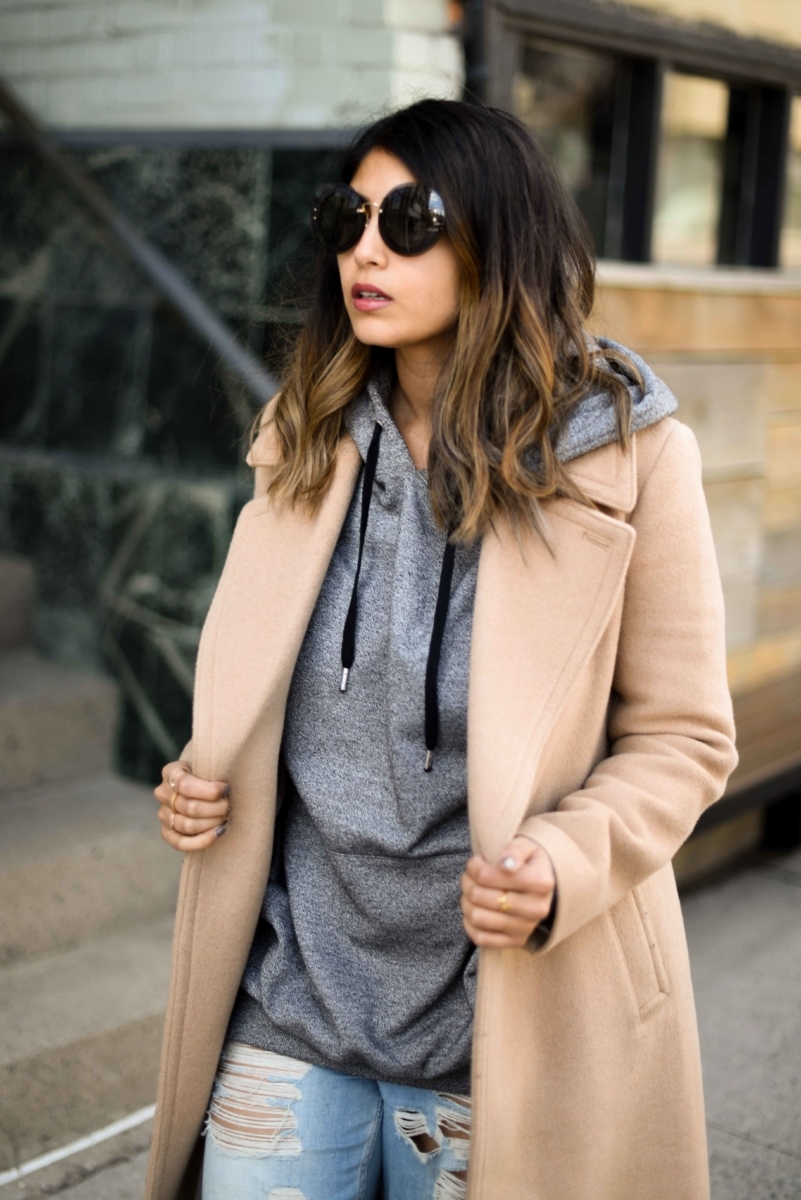 Jeans: Topshop (similar here and here); Hoodie: H&M (similar here and here); Coat: Club Monaco (similar here and here); Shoes: Gucci
This is a blog post that's been on my mind for a while. It's going to be long and slightly rant-y, but I wanted to share it anyway because I believe in being candid with you guys. A few weeks ago, I started feeling really stuck. I was fed up and frustrated with the blogging/Instagram industry.
Blogging and Instagram started off as a creative platform, but has morphed into something which is unrecognizable. Everything is about fighting the algorithm, posting the same kind of pictures, and selling out. What happened to individuality? What happened to staying true to ourselves? I know that we all have to worry about paying our bills, but seeing people work on the most ridiculous campaigns? Like guys, we are better than this. That was never what it was about! Why are we selling out?! It's like we're on a self-destruct mission to prove everyone who has accused bloggers of being unauthentic right. And I say 'we' because this is OUR industry which WE collectively need to protect. I'm not hating on anyone, I'm just calling it like it is.
Now I've touched on this topic before, but it feels like the entire industry is enslaved by the algorithm. I catch myself obsessing over how my pictures are doing and feeling deflated when I compare the engagement to last year. I almost have to slap myself to remind myself how stupid I sound. What used to be a platform that brought people together has become a competition. With the overriding belief being that our worth is determined by a bunch of numbers. I could draw parallels to high school, but the sad part is we're all adults and know better. Lately, I've grown so disenchanted with it all. I'm changing things up and basically posting whatever I feel fit instead of worrying about how many likes I get.
From a creative perspective, I stopped feeling stimulated. For months, I kept shooting pictures at the same locations because they felt safe. So I've been experimenting with different locations to find that spark again. I've also been taking more risks with my style. Things began to feel monotonous, so I started pushing my own boundaries (which are totally different from someone else's).
In a way, I feel like I've been finding myself again. So instead of continuing to write blog posts for the sake of it, I wanted to take a step back and hit refresh. I've been spending my time brainstorming instead of creating. Thinking about what it is I want to achieve. Bottom line is I want to inspire you guys. Inspire you to travel, to find your style, get your dream careers, and do the things that bring you joy. I have some exciting projects planned which have been the result of this bubbling frustration.
I suppose what you can take away from this is that if you do feel stuck creatively, the best way is to change things up. Comfort is a sign of plateau, so do things that challenge you. And most importantly, if you're feeling frustrated, do whatever you need to do to let it out! Writing this post was something I needed to do in order to move on and share positive, exciting content.
And I'm #SorryNotSorry if I ruffled some feathers along the way.