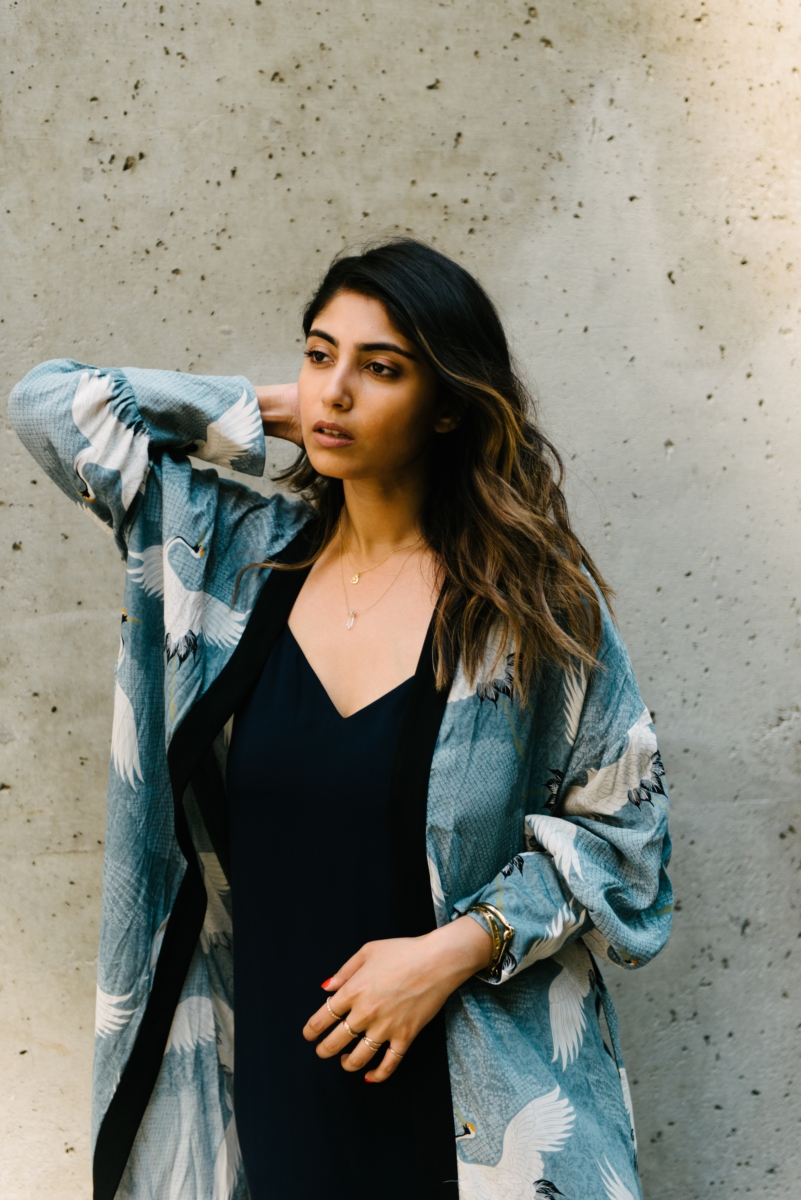 Dress: Aritzia (similar here and here); Kimono: Zara (similar here and here); Bag: J.W. Anderson; Shoes: Gucci
Fear and self-doubt are two things that most people deal with throughout their lives. No one is born with the ability to feel confident all the time. Over the years, I've come to realize the importance of fearlessness. I don't think fearlessness is synonymous to confidence, rather, I think it's the path to achieving confidence. Fearlessness, to me, is being aware of the risks and chance of failure associated with a decision, but choosing to make it anyway. It's a quality that I work actively to cultivate in both, my personal life and business every single day. So today, I wanted to share with you guys my 5 best tips for becoming more fearless:
Set goals
Never be afraid of setting big goals for yourself. Hard work, grit, and belief in oneself can allow you to achieve anything you want.
Take risks
Fearlessness goes hand-in-hand with being able to step outside your comfort zone. So many times in my life, I've hesitated or put off pursuing something because I was afraid of failing. After graduating from university, I remember being scared of applying for jobs that I didn't think I was qualified enough for. Then I was too scared to launch my blog out of fear of why people would say. And at the beginning stages of my blog, I was afraid to reach out to PR agencies out of fear of being told no. Over time, I realized that I would never get anywhere unless I broke free from the shackles of fear. I became comfortable with the idea of being told no, and life has been much easier since. At least now if I fail at something, or am told no, I know that I tried!
The ability to take risks extends beyond work as well. Put yourself in situations you're not necessarily the most comfortable in, you'll be surprised at what you'll find. This could mean anything from going to an event where you don't know anyone, or traveling alone. Taking risks is what allows you to grow as a person.
Surround yourself with positive people
So much of who we are is impacted by who we surround ourselves with. I've said it over and over again, but if your friends are positive, go-getters, then their attitude will automatically bring out the best in you. Your friends are also the ones who encourage you to pursue your dreams and give you the encouragement you need when you're unsure about something.
Don't compare your hustle to someone else's highlight reel
I heard this on Sophia Amoruso's Girlboss podcast, and it really resonated with me. What we see on social media is the best, shiniest, most curated part of peoples' lives. Comparing your life to someone else's won't get you anywhere. Instead, focus on achieving your goals and celebrating your triumphs.
Learn to say no
I think most people have an innate need to please others. This can lead to us agreeing to do something we may not want to. Learning to say no is so simple, but so powerful. Before you agree to something, whether it be a social commitment or an extra work commitment, ask yourself 'does this bring me joy?' If the answer is no, then don't agree to it just to please someone else.
Photography by Erin Leydon