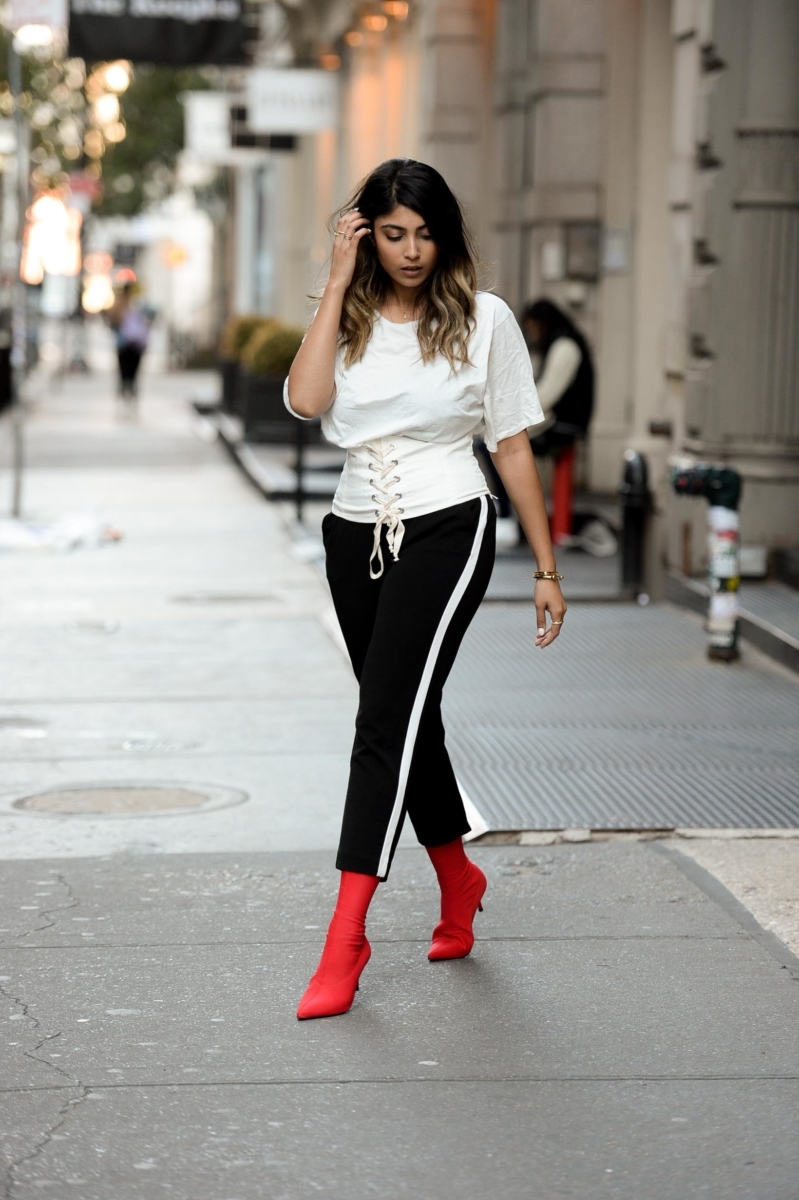 Top: Zara (similar here and here); Pants: Zara (similar here and here); Shoes: Zara (similar here and here)
After spending 3 whirlwind days in New York for fashion week, I'm back at home in Toronto, in my PJs and ready to sleep for a whole 12 hours tonight. This was my second time attending NYFW, so I thought it would be fun to round up the 7 things I learned from my second season.
There's a lot of waiting
Shows almost always start at least 30 minutes late, so don't sweat it if you're running a little behind. Last season, I arrived at all of my shows about 30 minutes early, which meant I didn't have to wait in line to check in. But it also meant that I had to wait longer for the shows to start.
You'll miss a few shows
And that's okay. Considering how packed the days are and how spread apart the shows are, this is bound to happen.
Celebrities are people too
I've never been someone who's easily starstruck. It just seems awkward to go ask someone for a picture and fangirl when they're just another person. So seeing people lose their minds over a celebrity has never really made sense to me. What's nice about fashion week is that celebrities are treated like people. Of course, they are photographed incessantly both inside and outside the shows, but for the most part, attendees of the shows leave them alone and mind their own business.
Don't say yes to everything
Last season, as a rookie, I RSVPed yes to every show I was invited to. This was a big mistake because I felt like I was spread too thin and was spending most of my day running around in a frenzy. This season, I decided to only say yes to a few shows and use the rest of the time to work and explore the city.
You'll meet new people
The world of fashion has a very Devil Wears Prada reputation. However, from my experience, this isn't always the case. Granted there are mean girls and guys out there, but I've always believed in kindness attracting kindness. People fly in from every part of the world for fashion week, so you'd be surprised at how easy it is to strike up a conversation with the person next to you. It's a great opportunity to meet new people.
You will be equal parts exhausted and excited the whole time
Fashion week is a time like no other. I felt myself in a strange territory between exhaustion and excitement the whole time I was there. The exhaustion from early mornings and all the waiting was almost perfectly balanced out by the excitement of the actual events. I was running on adrenaline the whole time I was there.
Overheard at Fashion Week
I heard some of the most entertaining and/or appalling conversations before shows. You'll hear everything from how difficult someone is to work with, to things like, "yea it was my grandma's funeral, but I couldn't just miss fashion week".
You'll leave feeling inspired
If you peel back all the layers showmanship, the fact of the matter is that fashion week is a time when people with a deep appreciation for clothing come together to celebrate it. It's a really wonderful time to visit any of the fashion capitals because they come alive. You'll leave feeling inspired by the street style, the beautiful shows you watch, and the contagious go-getter energy.
Photography by Andrew Morales