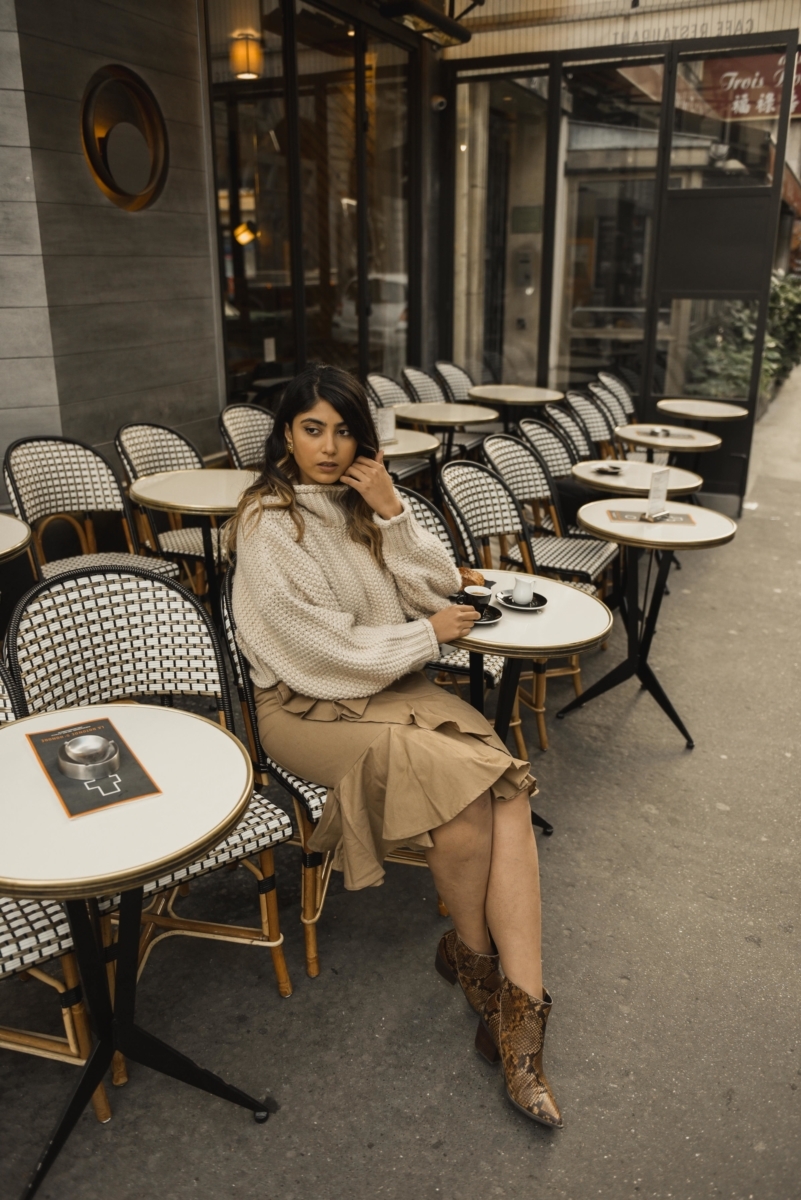 Sweater: H&M (similar here and here); Skirt: ASOS; Boots: Aldo (similar here and here); Earrings: vintage Givenchy (similar here and here)
When was the last time you didn't check your phone first thing in the morning? Yea, I don't remember either. I've been stumbling across articles and Instagram posts again and again which talk about how 'being busy' is a chronic problem that our generation has. Yes, it's great to be ambitious and hard-working, but constantly working isn't a sign of winning at life. I'm not saying I'm perfect, I'm definitely guilty of doing this, but I'm learning the subtle art of balance. So today, I wanted to do a post on self-care. I think self-care is as important as hard-work. In order to be wholesome human beings, we need to focus our energy equal parts on work and wellbeing. Here are my favourite (and easy) ways to indulge myself so I can feel refreshed:
Reading at a cafe
While I usually work out of cafes, once a week on either Saturday or Sunday, I go to my favourite cafe in the morning with a good book in hand, and just relax.
Candles, candles, candles
Is there anything more relaxing than lighting candles? Light them when you're at home reading, watching Netflix or hanging out with friends or a S/O.
Mani-pedi
Never underestimate the power of a manicure and/or pedicure. It's one of those things that not only forces you to disconnect, but really allows you to indulge yourself. And you come out looking so much more polished (no pun intended).
Try a new workout class
Yes, it will kick your ass, but it is also self-care. Plus, it's only through trial and error that you find a class/activity that really speaks to you.
At-home spa night
You don't need to drop a fortune at a spa to feel relaxed. After a long week, take a few hours on Sunday to really go all out on your skincare at home. Exfoliate, mask, moisturize. Do everything you need to feel rejuvenated!
Plan your next getaway
You guys already know I love to do this. Head over to Pinterest to get inspired and compile a list of places you want to go. If you have an upcoming trip, really get into the planning process – it's half the fun!
Cook a homemade meal
Fall is such a great time to cook at home. Buy a new cook book and try one of the recipes. Soups and stews are great for the colder months. This is also a really great date night idea.
What are your favourite ways to practice self-care?
Photography by Alina Sepp