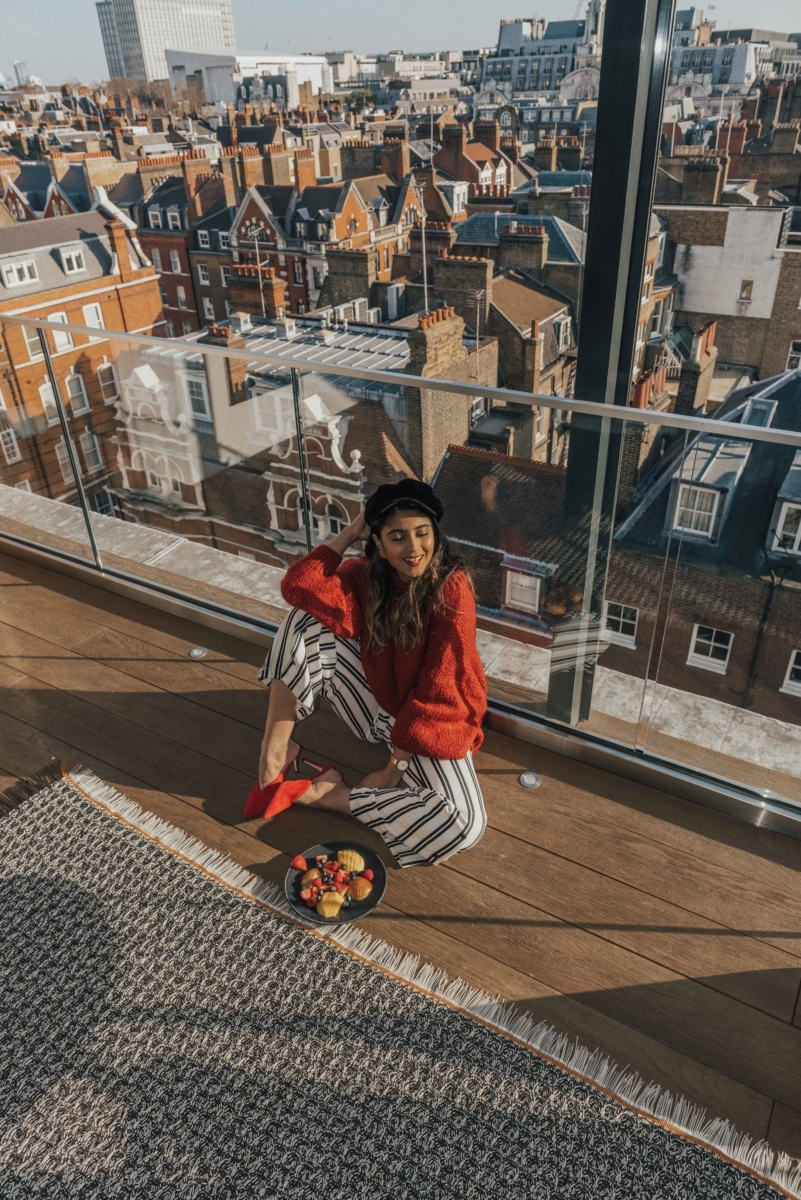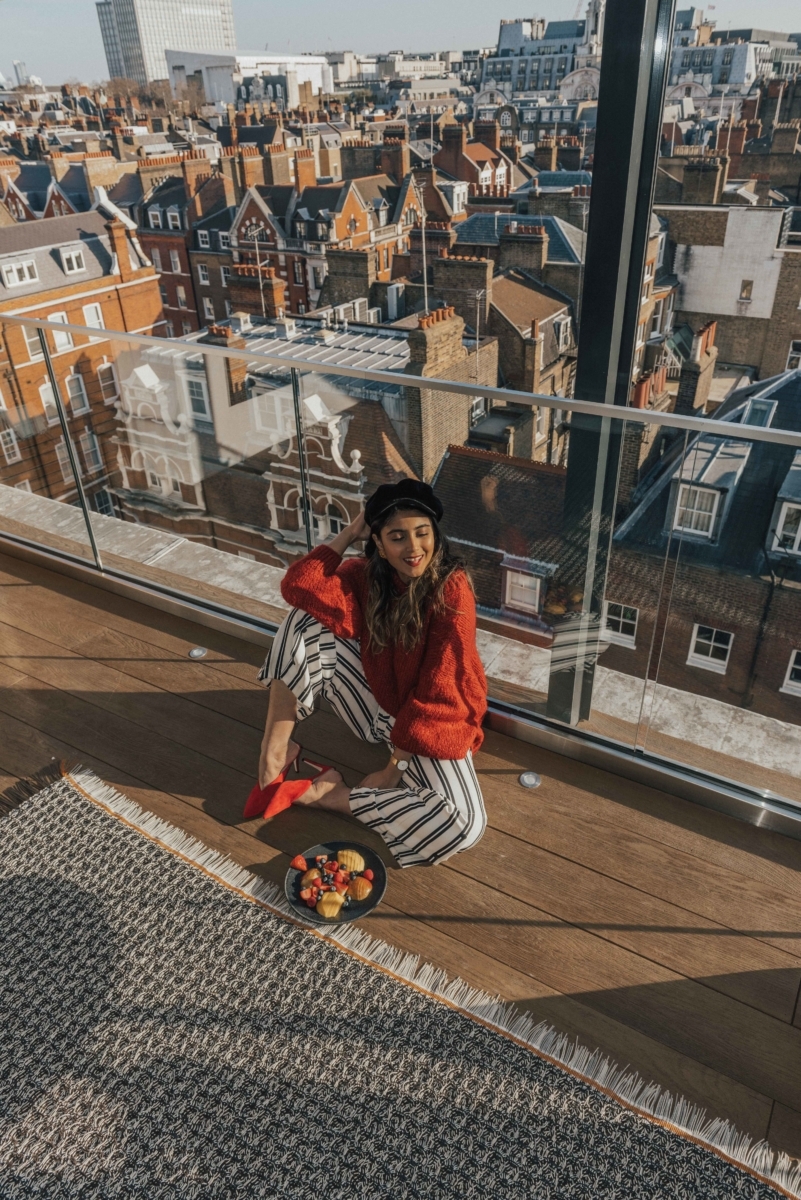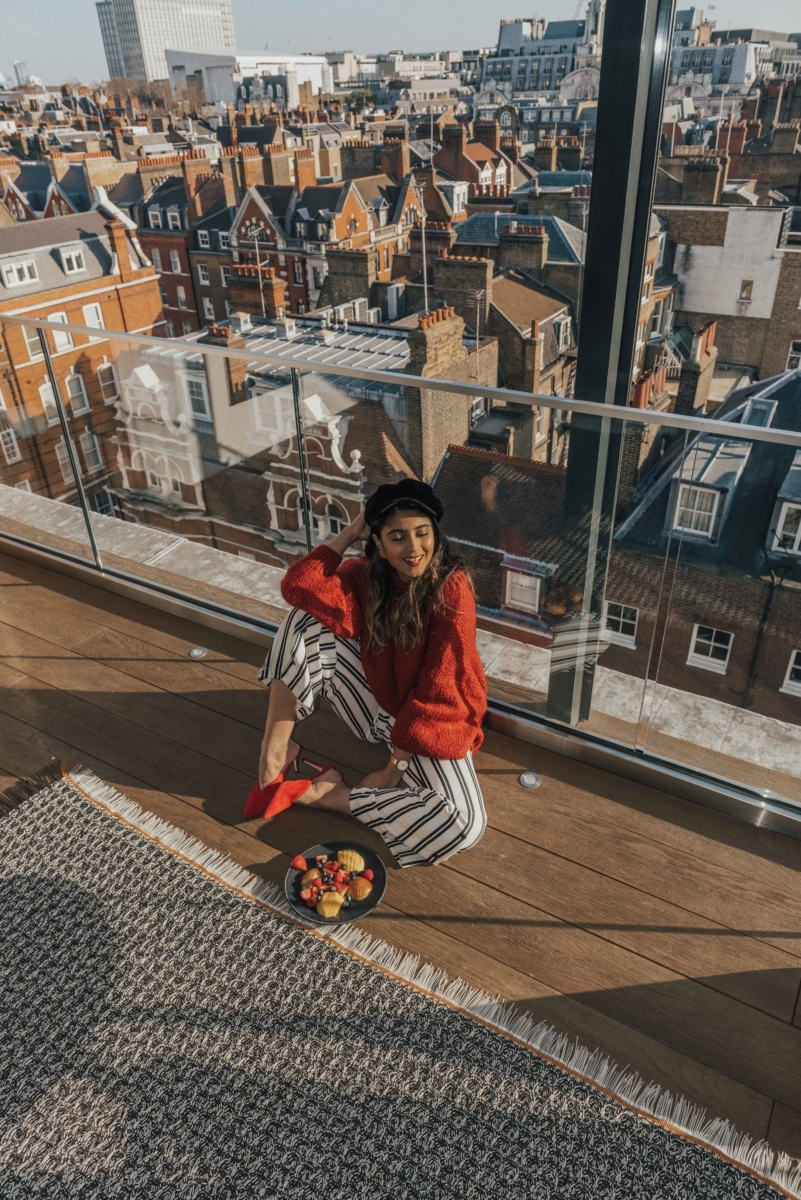 Sweater: Zara (similar here and here); Pants: Zara (similar here and here); Shoes: Raye
London is a city that I never tire of. Everything from it's charming buildings to its cosmopolitan lifestyle tugs at my heartstrings. As a result, I find myself spending an increasing amount of time there. This is when it occurred to me that I should create a specialized London hotel guide.
The London Hotel Edit is a guide which I hope to continuously add to, making it a resource for those who appreciate design, service, and basically, a badass hotel experience as much as I do. So now that you know what to expect, let's get started!
The Marylebone
Tucked away in Marylebone, this hotel is one of the most beautiful properties I've stayed in in London. While most hotels in London are small, I was quite taken aback by the sheer size of the hotel's lobby upon walking in. When it comes to aesthetics, The Marylebone has it down to a science. As soon as you enter the hotel, you're greeted by a beautiful lobby, beside which is a bar reminiscent of the 1920's. The hotel made an incredible first impression, but what sealed the deal was my room… or rather apartment.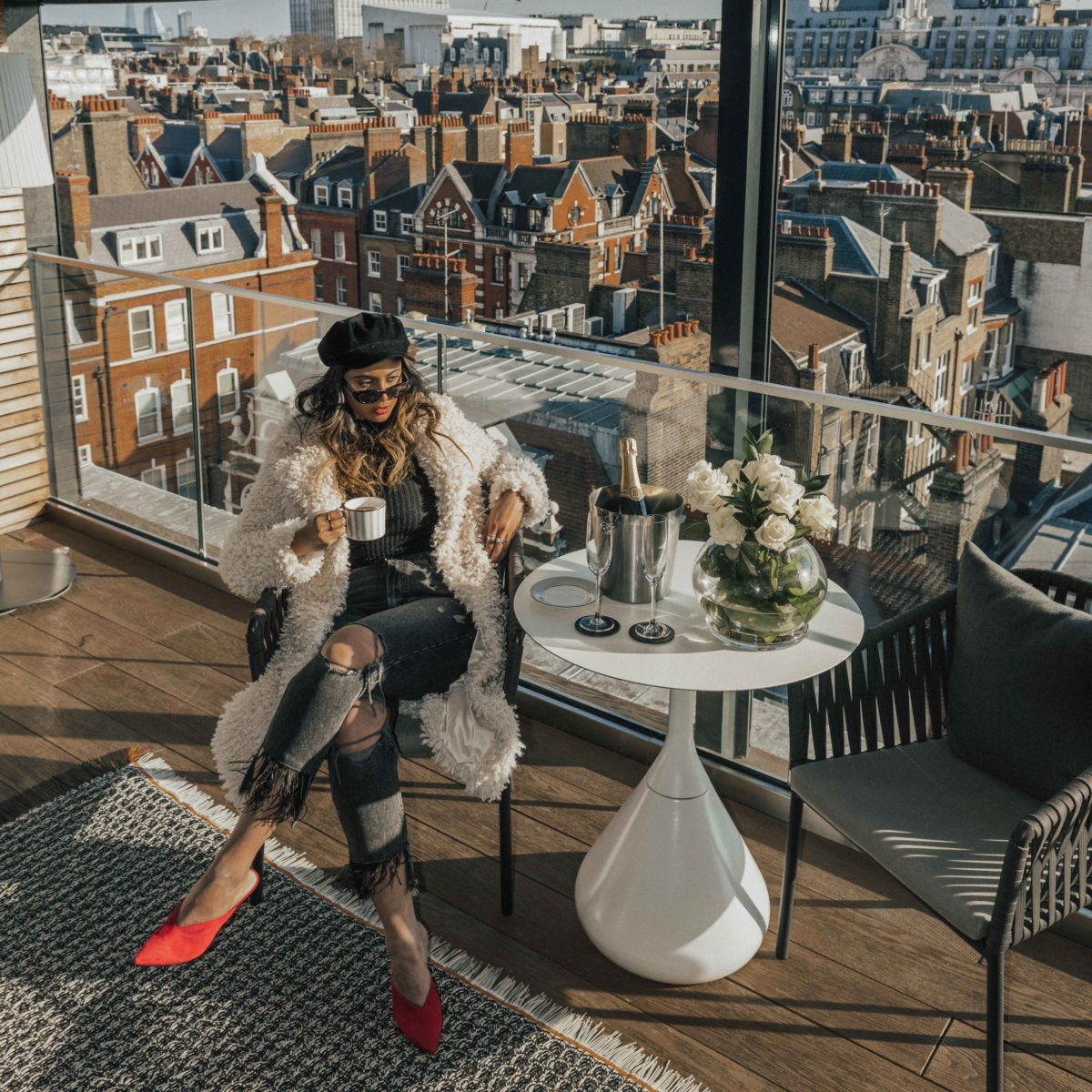 Coat: Eaves; Jeans: Zara (similar here and here); Shoes: Raye; Hat: Zara (similar)
Upon being escorted into my suite, I had a Carrie-Bradshaw-enters-heaven-on-5th like reaction. I had never seen a hotel room so big in London! The best part was that it came with a private terrace which offered a sprawling view of the city. But this terrace was no ordinary terrace, oh no. It had a cover which could be opened or closed depending on one's mood. Plus a fireplace, dining table, and a couch. The hotel did a fantastic job of making the suite feel chic yet very homey. Perfect for a night in with a book, or to entertain friends.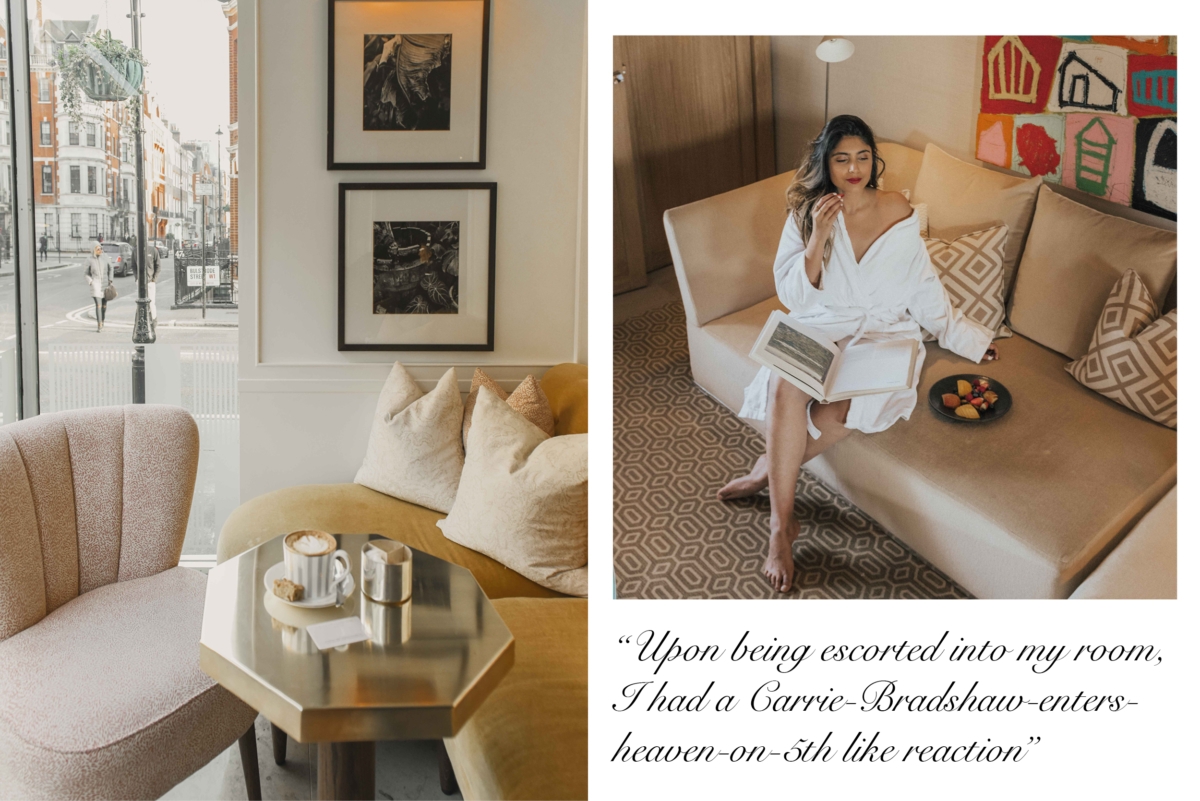 If you're someone who enjoys being a stonethrow away from the hustle and bustle of a city without having to deal with the noise and tourists, I highly recommend The Marylebone. It's located a short 5 minute walk away from Oxford Circus, but its location is such that there are no tourists nearby. It's also very close to a ton of cool restaurants and bars, and walking distance to the tube.
The service at The Marylebone is definitely something to write home about. When I say the staff went above and beyond I truly mean it. To give you a small example, I had to leave to catch a flight very early in the morning and was going to miss breakfast by about 15 minutes. The staff at hotel kept a to-go breakfast bag ready for me, which I thought was just so incredibly kind and thoughtful. It's gestures like this that totally won me over.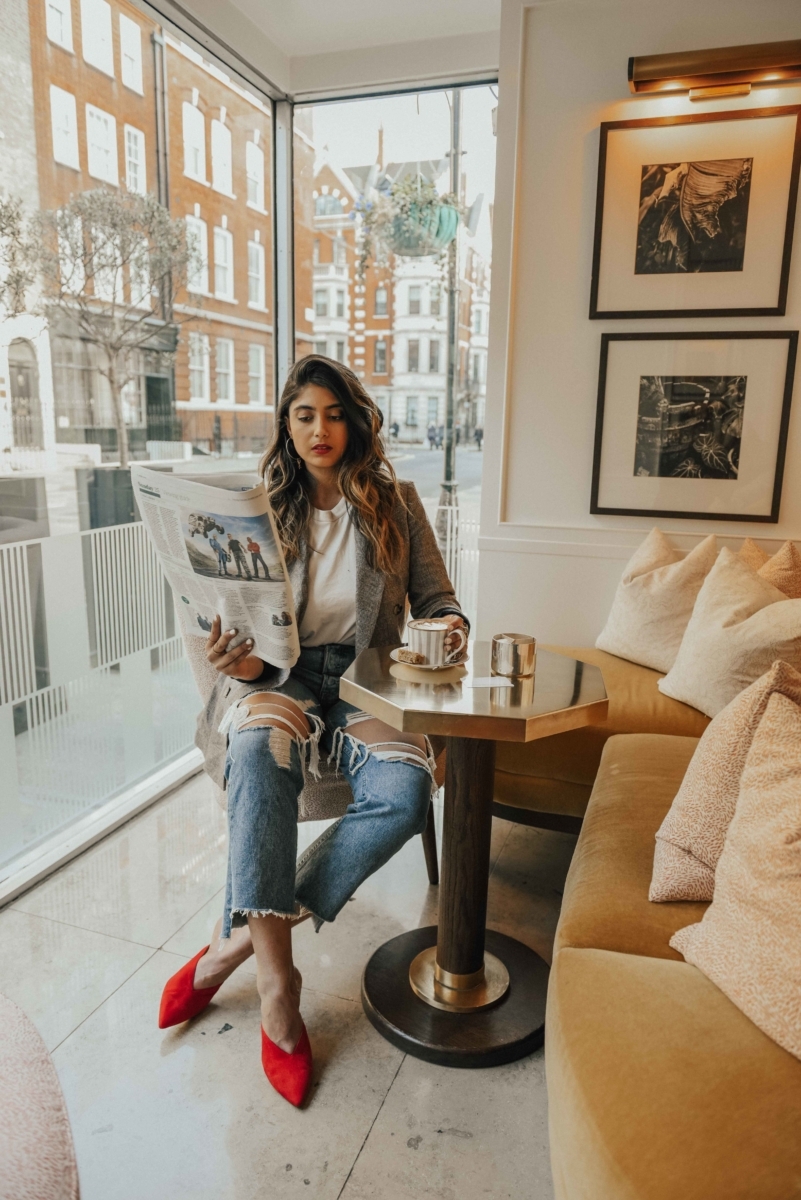 Blazer: Zara (similar here and here); Jeans: GRLFRND; Shoes: Raye
During my stay at The Marylebone, I was able to try their in-house restaurant, 108 Brasserie. The food was delicious with a great ambiance to accompany it. It's one of those restaurants that makes you feel like you have privacy amidst a sea of people – a great choice for date night!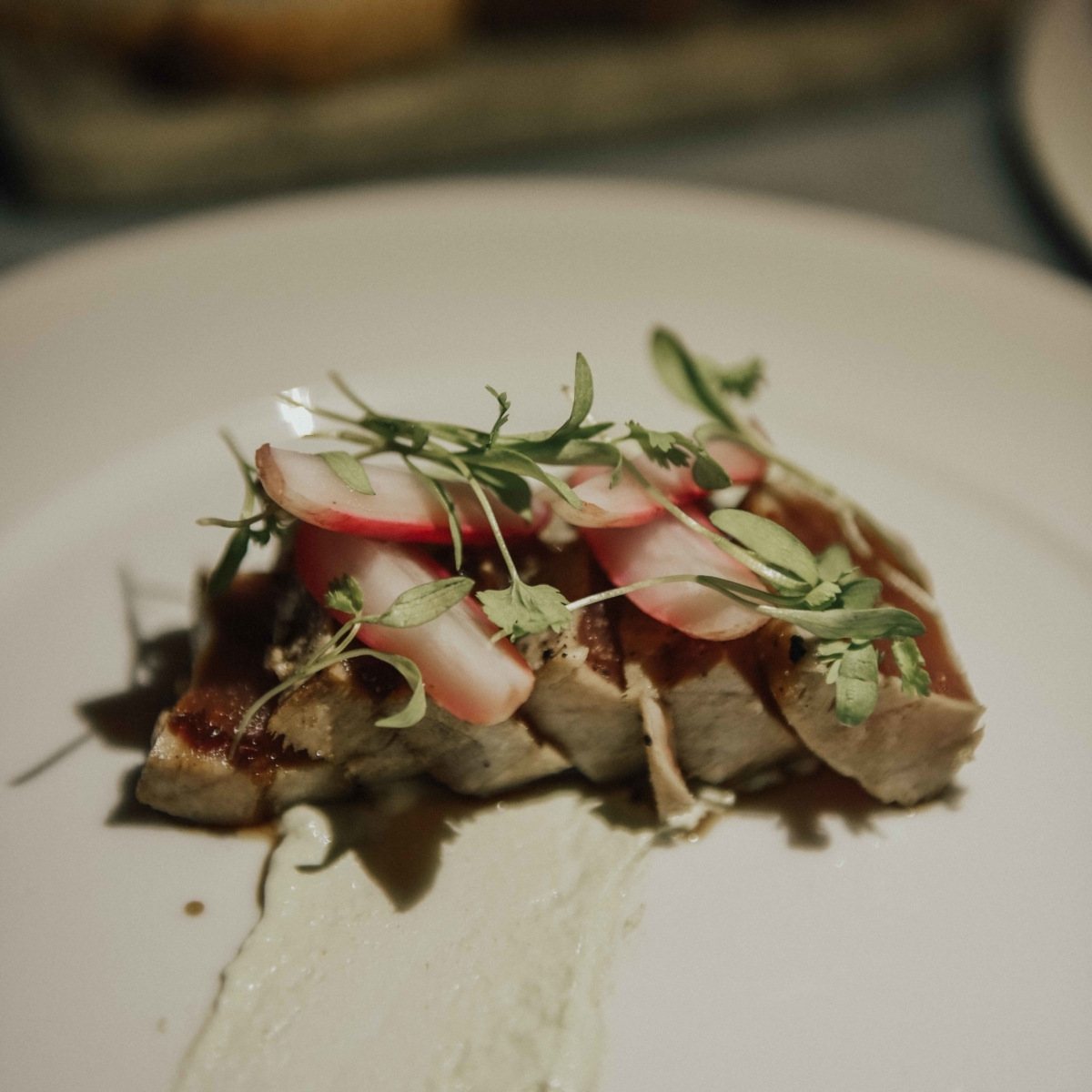 I honestly cannot say enough good things about this hotel. It's a hotel where luxury meets coziness and I'm here for it!
One Aldwych
One Aldwych, located a short 5 minutes away from Covent Garden, brought back a ton of memories for me. When I attended Conde Nast College in 2014, I used to walk through this area to get to school everyday. As a result, not only does the neighbourhood have a very special place in my heart, it's also one that I know very well and love. Sure, Covent Garden is a touristy area, but its charm and centrality are undeniable. And One Aldwych is just a stone throw away from it all.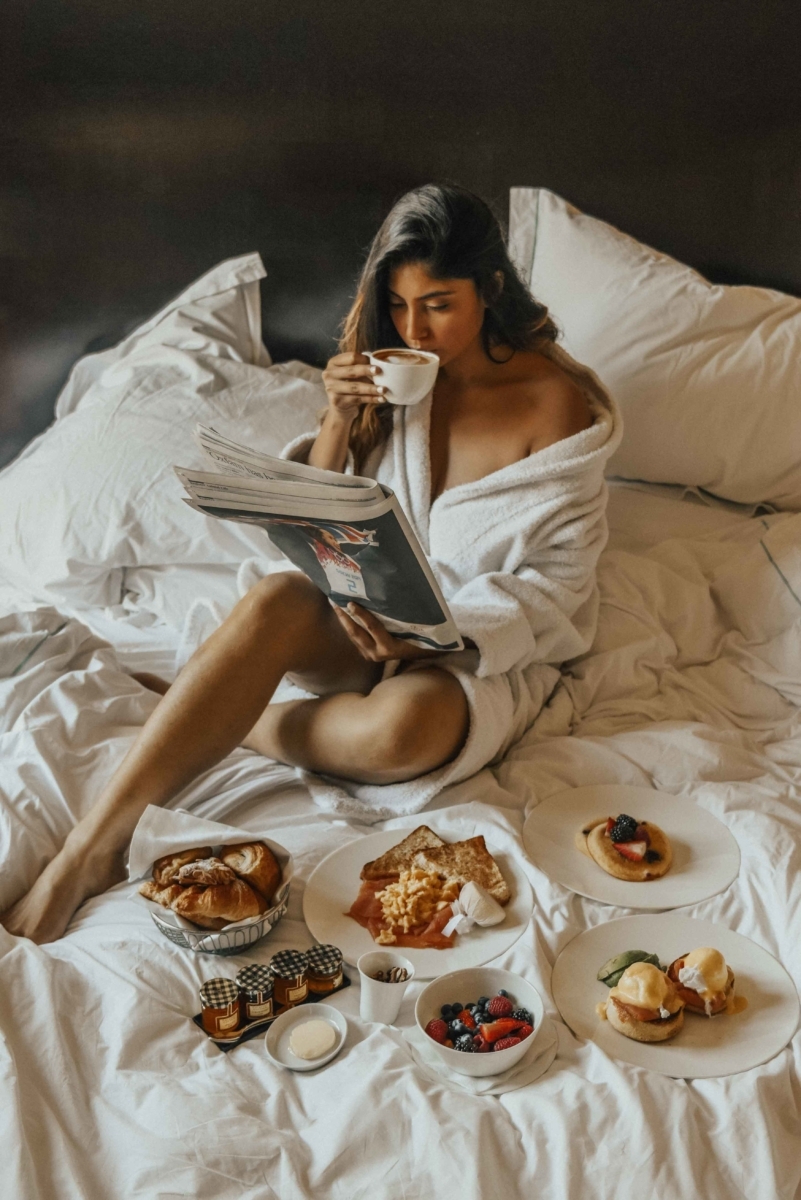 Located in the heart of the theatre district, directly across from the Lyceum Theatre, One Aldwych has an exterior that is quite iconic. It is reminiscent of the Flatiron building in New York. The lobby is decorated with a number of contemporary artworks, all equally unique. I was later informed that the hotel has, I believe, 300 pieces of contemporary art within its walls. The hotel's chic Lobby Bar is located within the lobby and serves an array of delicious cocktails and mocktails.
The rooms are incredibly spacious for London – comparable to hotel room sizes in Asia. Sleek and simple with a focus on comfort. This is a hotel in which one could happily spend several days, without feeling cramped. Oh, and did I mention the breakfast is fantastic?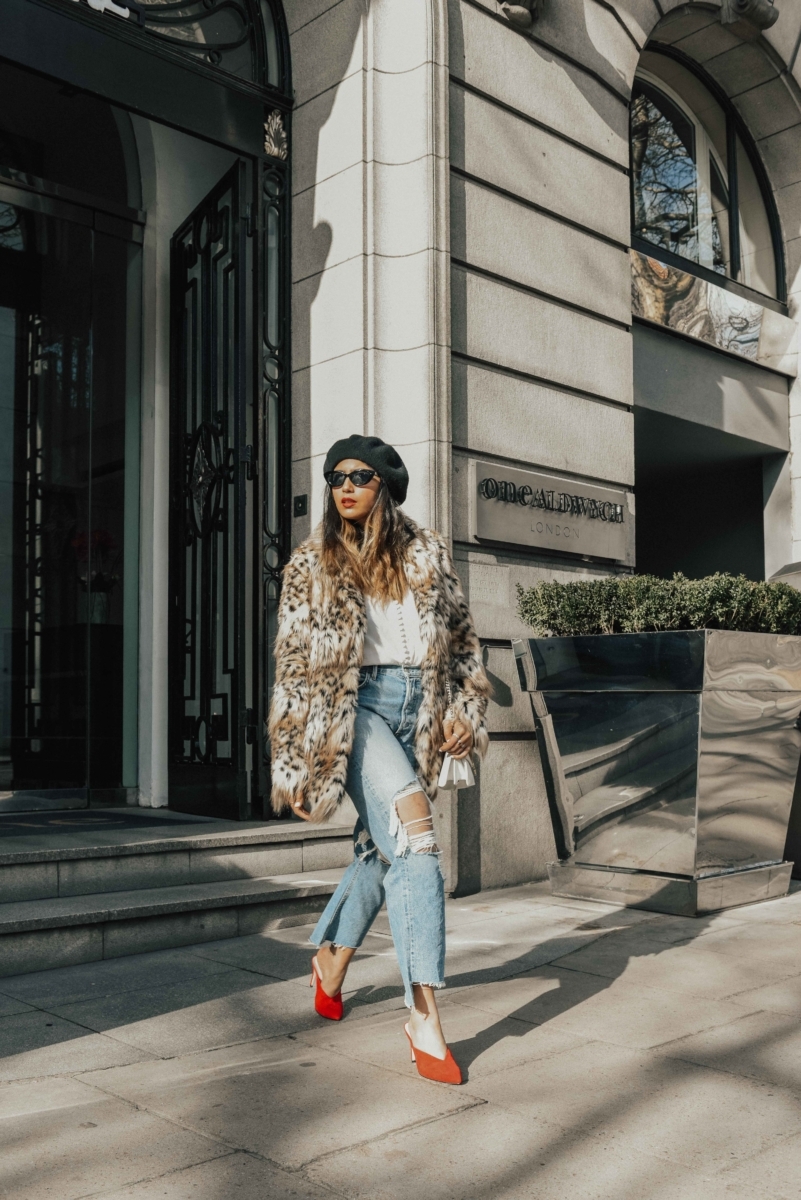 Jeans: GRLFRND; Shoes: Raye; Coat: Majorelle (similar here and here)
If the size of the rooms and impeccable service isn't reason enough to book a stay here, the location is. It's a 5 minute walk from Covent Garden, which offers an abundance of different cafes, restaurants, and bars. Not to mention, it's literally across the street from the Lyceum Theatre which home to the Lion King.
I also had the pleasure of trying the hotel's in-house restaurant, Eneko, for dinner one night. Guys, you can't miss out on it. It's helmed by Michelin star chef Eneko Atxa and offers a delicious tapas style menu with a twist on traditional dishes from the Basque region. One word: delicious.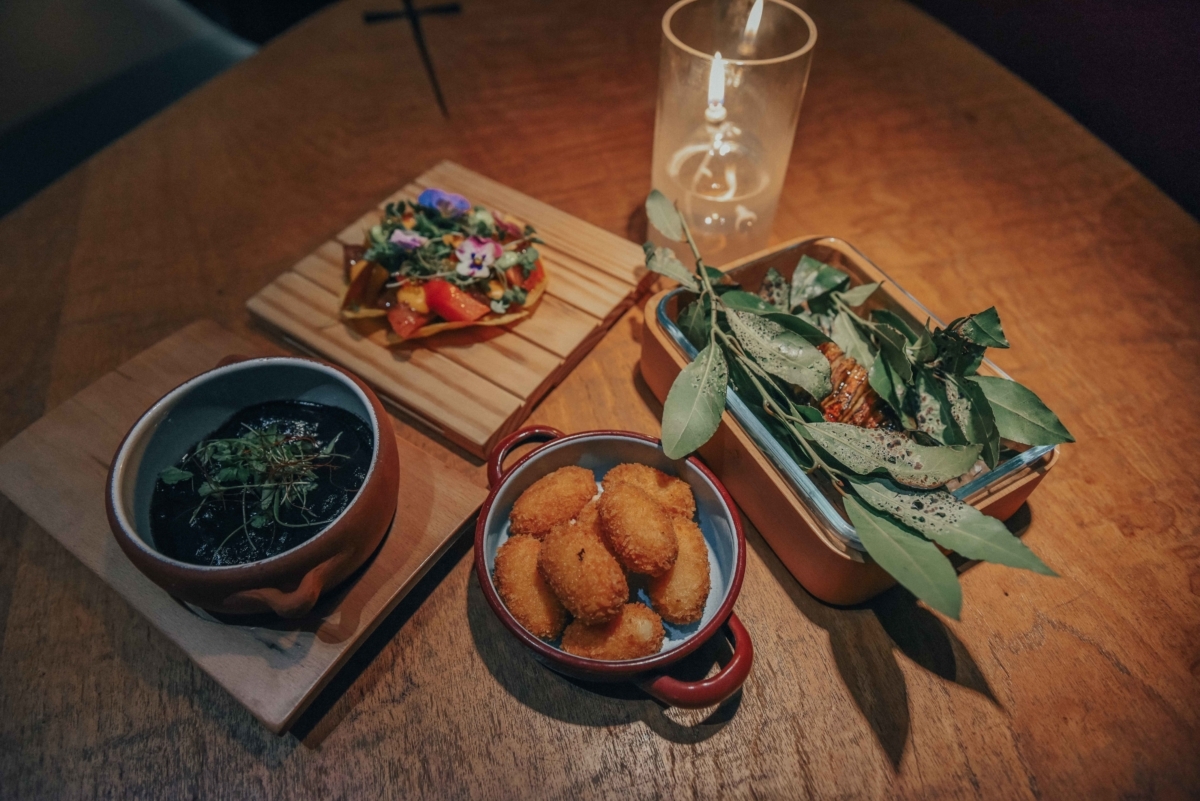 If you're looking for a luxury hotel for an extended stay, and to be in the heart of the city, One Aldwych is the one for you.
The Hoxton Shoreditch
If you're familiar with The Hoxton brand of hotels, you'll know that they have a reputation for being extremely trendy. As a result, I expected nothing less from The Hoxton Shoreditch.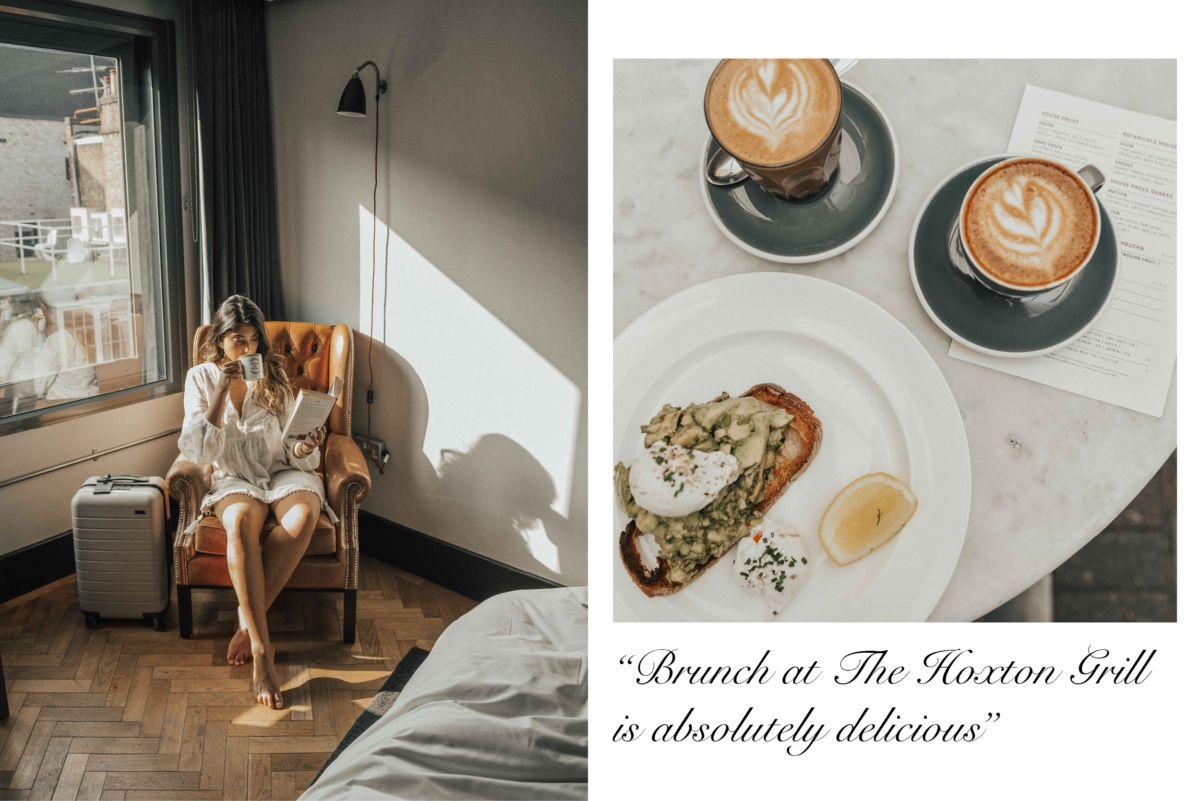 I arrived at The Hoxton late at night, after a flight from Marrakech. Upon entering the hotel lobby, I was greeted by the buzz of the Friday night crowd that The Hoxton Shoreditch plays host to. I believe that people feed off the energy of other people, so despite how tired I was after my flight, I immediately felt a jolt of energy and excitement upon entering the hotel.
The rooms at The Hoxton are on the smaller side, but very eclectic. The hotel has four kinds of rooms available – shoebox, cozy, roomy and concept (which can't be booked, only requested). I stayed in the Cozy room, and it was comfortable enough to stay with one other person. What's great about The Hoxton Shoreditch is that it's a lot more affordable than other hotels in London, and prides itself on its no bullshit policy. For example. they have a 'rip-off free' mini bar which is stocked with free water and fresh milk.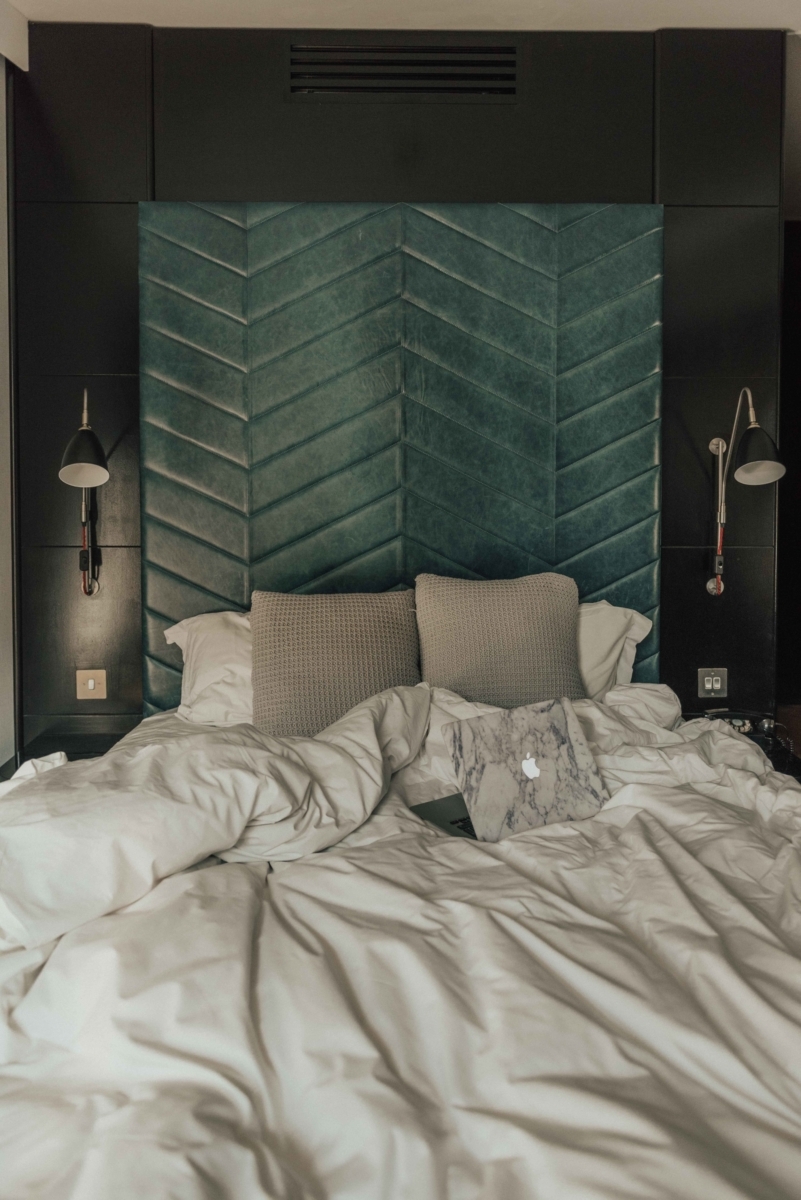 The hotel provides guests with a simple breakfast bag every morning, which includes yogurt and a banana. However, if you're in the room for something a little more elaborate, head downstairs to The Hoxton Grill to have the brunch of a lifetime. Not being one for simplicity when it comes to food, I chose the latter option. Brunch at The Hoxton Grill is incredible – you can't go wrong with anything on the menu. But what I found truly noteworthy was their croissant. I cannot rave enough about this croissant. It was flakey, buttery, and basically transported me back to Paris.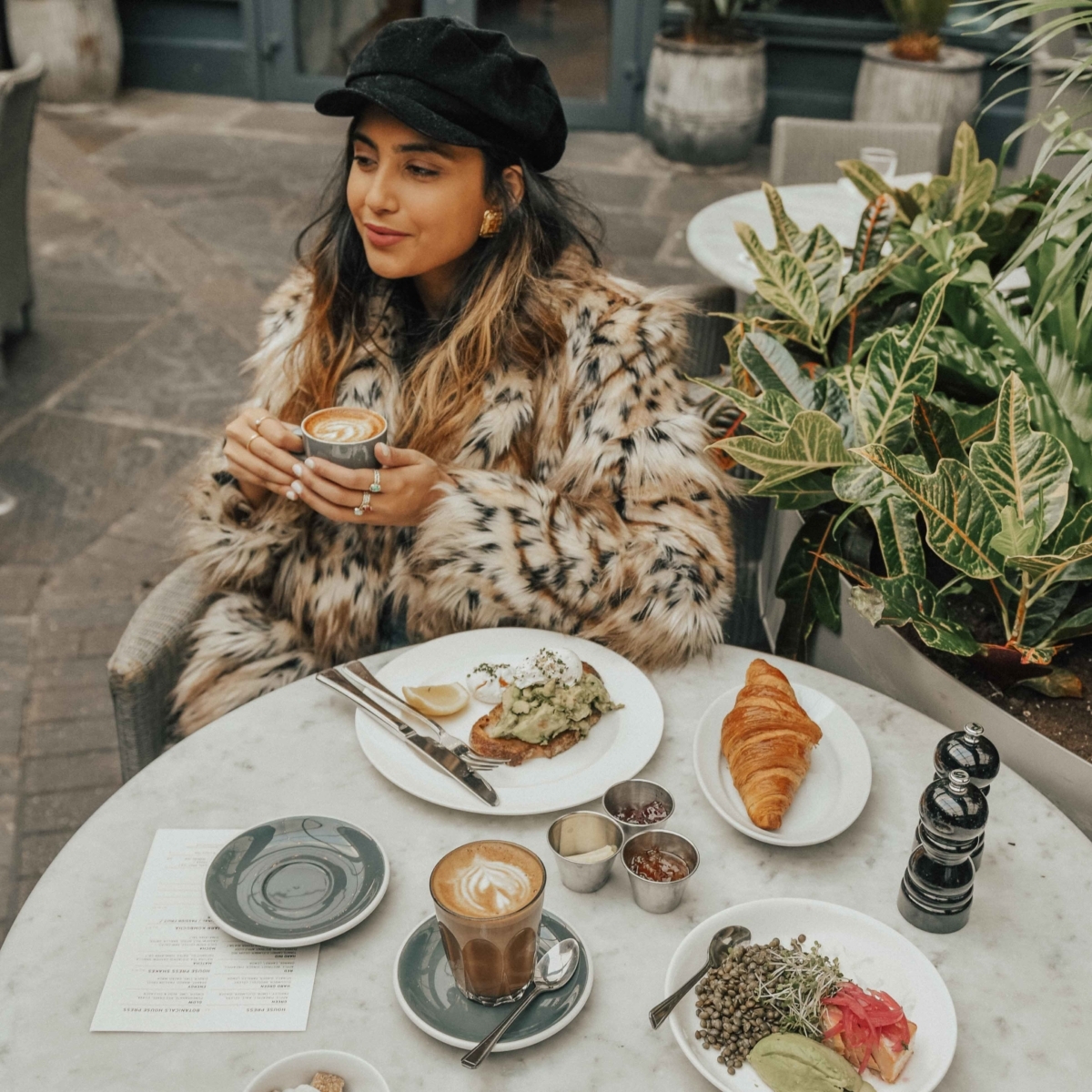 In terms of design, The Hoxton Shoreditch has a beautiful lobby with exposed brick walls and an industrial vibe. It's one of those places where you want to grab a coffee (and croissant, of course), and just hang out. But if you're in the mood to explore, the hotel is right at the heart of Shoreditch, which has no shortage of things to do. East London is like that unpretentious yet cool friend who always knows what's going on. The neighbourhood is home to some of my favourite cafes and restaurants in the city – Shoreditch Grind and The Attendant, to name a few.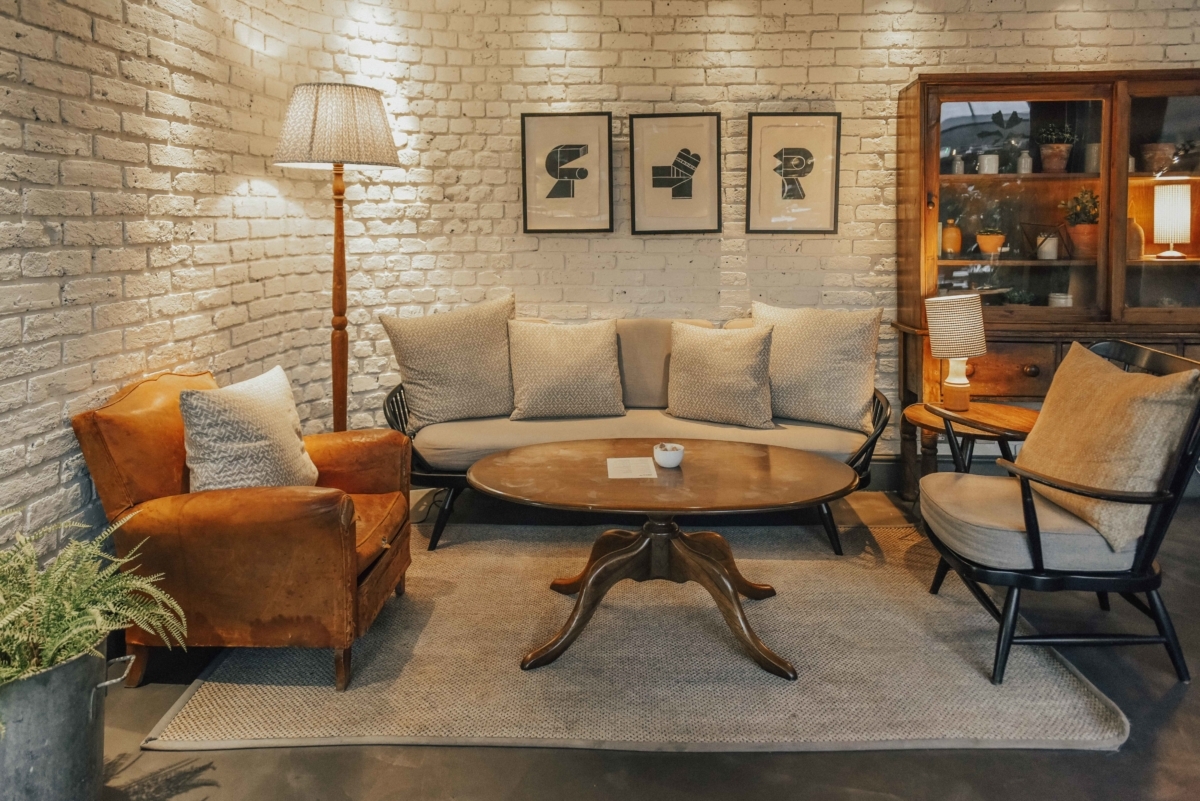 Overall, if you're looking for a cool, no-frills hotel, The Hoxton Shoreditch is for you.
Jumeirah Lowndes Hotel
Yes, Jumeirah, as in one of Dubai's famous luxury hotel brands. So it shouldn't come as a surprise that Jumeirah Lowndes is located in Knightsbridge, London's poshest neighbourhood. If you enjoy luxury shopping, I should add that Harrods, Harvey Nichols, and every luxury designer you can list is practically at Jumeirah Lowndes's doorstep. The Jumeirah Lowndes is a few streets away from Sloane Street, so although it's walking distance from everything your heart desires, you still get the quiet and privacy you'd want while staying at a luxury hotel.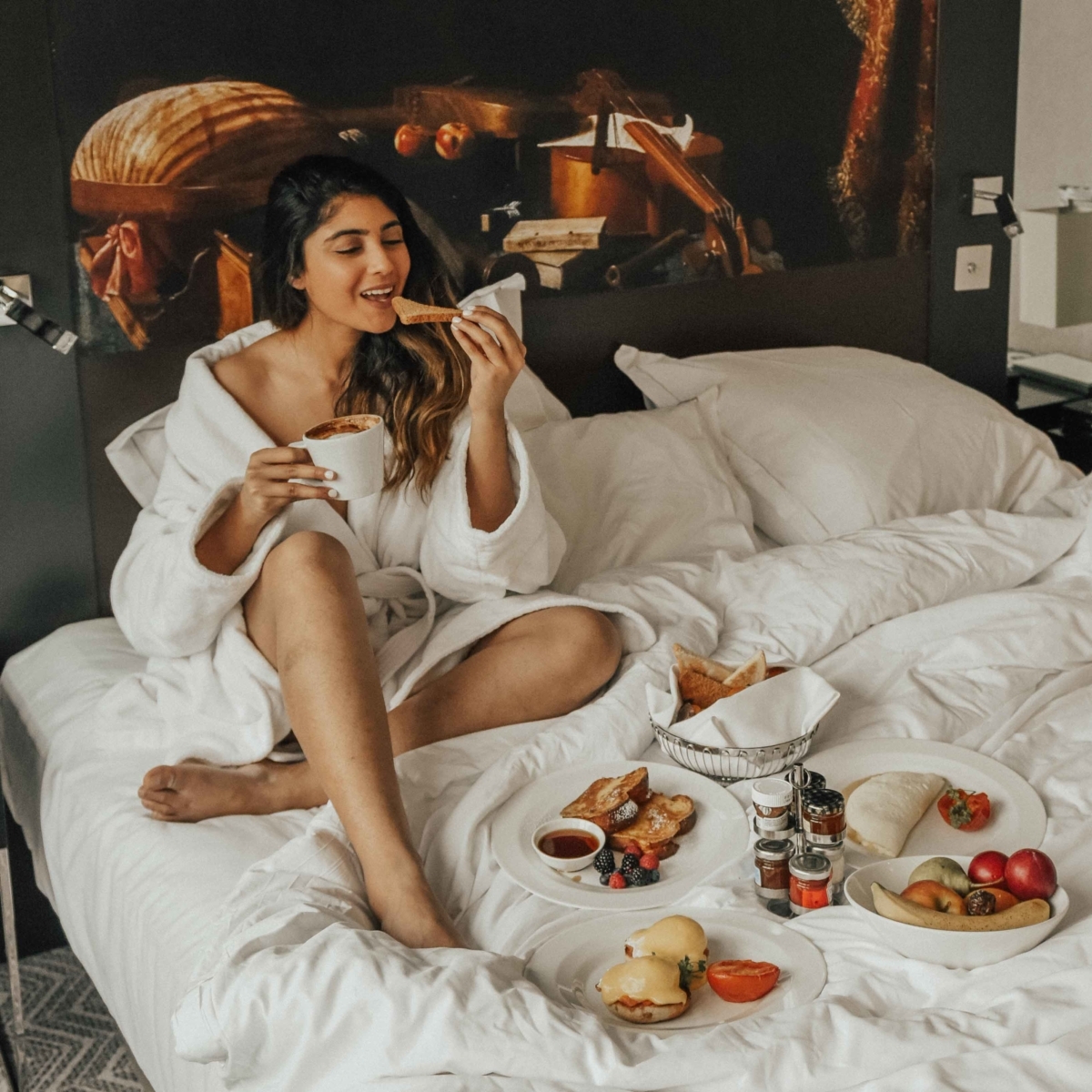 Service gets a new definition at Jumeirah Lowndes. The staff truly did everything and more to make my stay as comfortable as possible. No request I had was too big for them to accommodate. This is probably the most notable thing about the hotel.
The rooms are huge. As in, there's space for a bed, a couch, a coffee table, and then some. My room had a beautiful view of the surrounding neighbourhood. A highlight for me was being able to enjoy a cup of coffee on the windowsill while watching the world go by.
The breakfast at Jumeirah Lowndes is elaborate, to say the least. It has anything and everything you could possibly want. You can have it at the restaurant downstairs, but I'm personally more of a room service girl.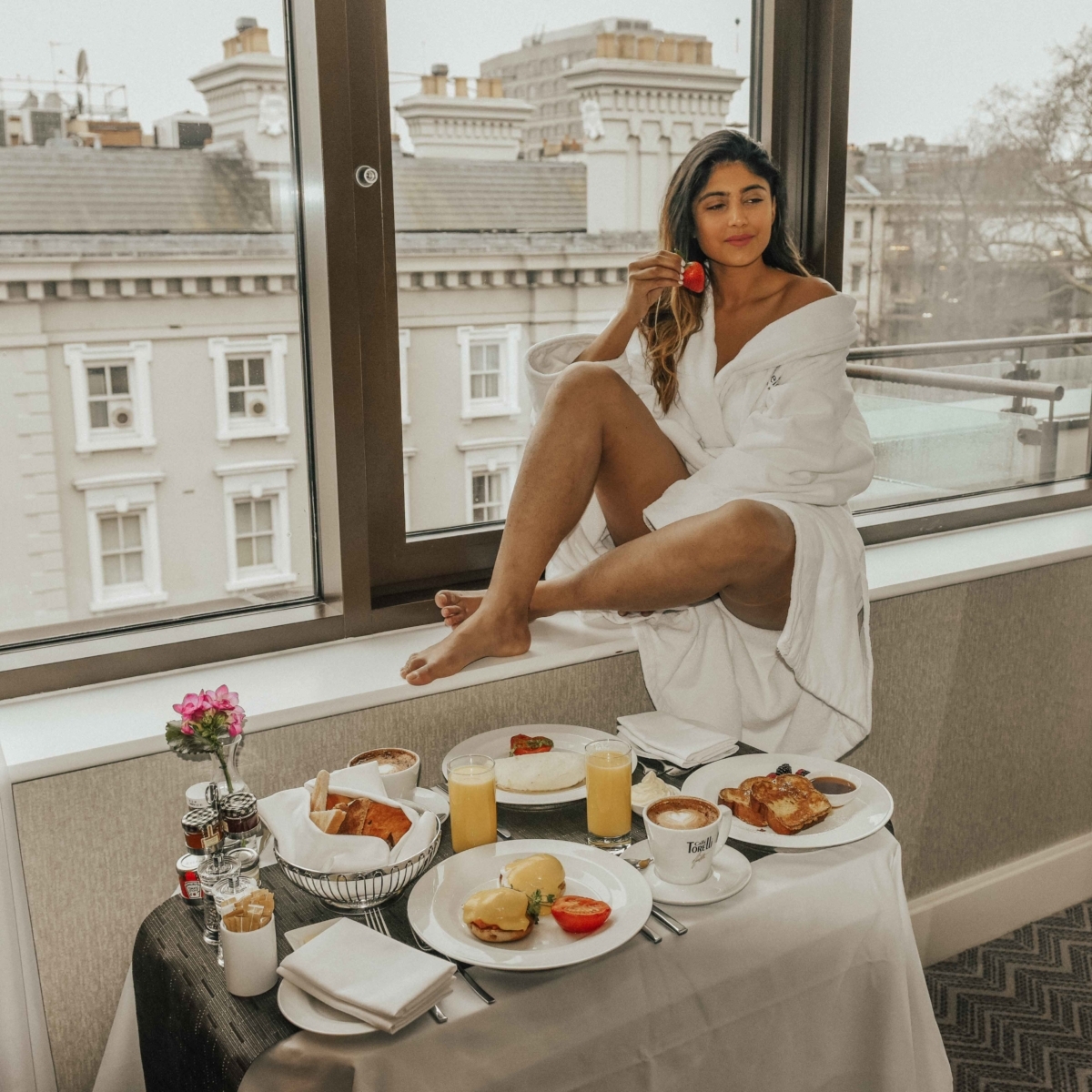 Basically Jumeirah Lowndes is the hotel for you if you enjoy the finer things in life, and let's face it, who doesn't?
St. Martin's Lane
Although I included my review of St. Martin's Lane in my Best of London guide, I figured this guide would not be complete without mention of it. If you want to read an in-depth review, head over to my other post, but in short, it's been one of my favourite hotel experiences to date. If possible, you should definitely book a stay here!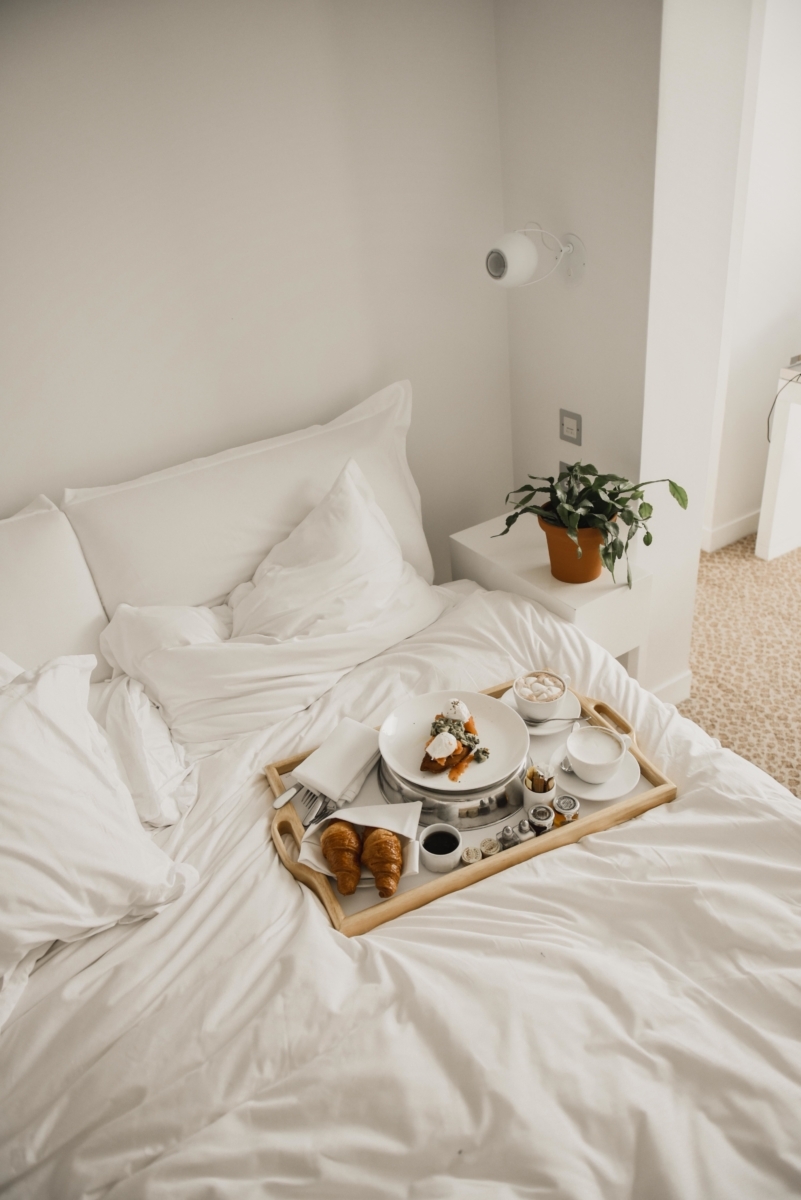 The Kensington Hotel
Quaint, charming, and as English as fish and chips. I treated myself to a night at The Kensington Hotel just because, and I didn't regret it. Since it is a part of The Doyle Collection, I had very high expectations, which, of course, were met by the hotel. The staff at the hotel were so warm and friendly. I felt at home as soon as I checked in!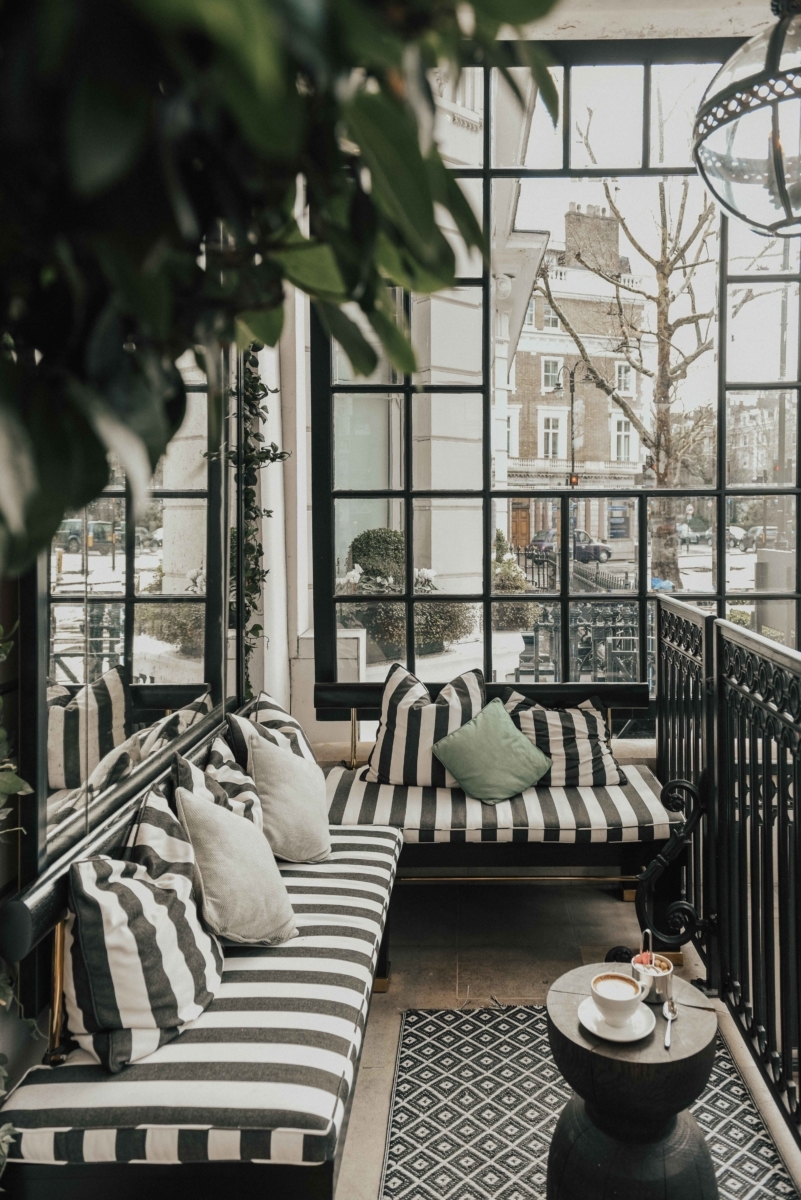 The hotel is located in South Kensington, a short walk away from the tube station but a comfortable distance away from the hustle and bustle. Although the hotel offers suites, I stayed in one the regular rooms, which was tiny and absolutely adorable.
A great option for a staycation or romantic getaway!
SaveSave
SaveSaveSaveSave
SaveSaveSaveSave
SaveSave
SaveSaveSaveSaveSaveSave
SaveSave
SaveSave