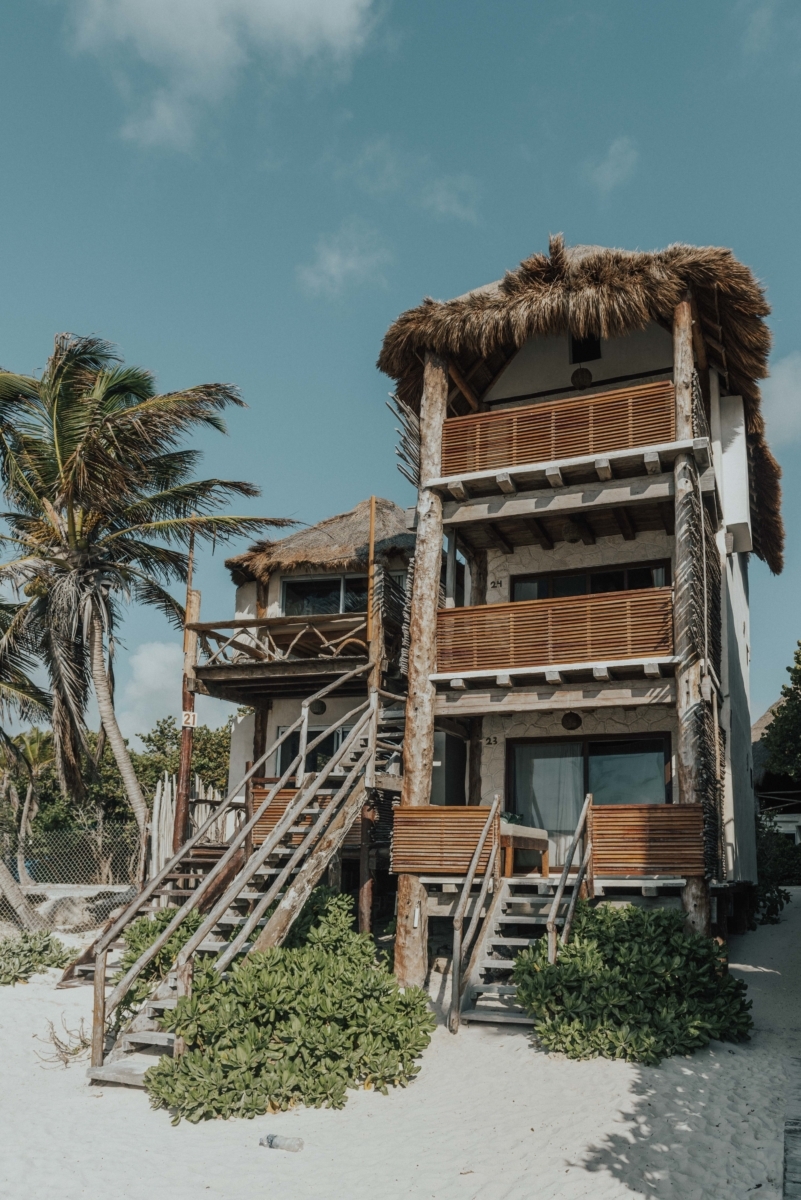 My third trip to Tulum was just as magical as the previous ones. I always tell anyone I know that it is my favourite beach destination in the Americas and that they should absolutely make a trip down here at least once (although I can bet money that if you visit once, you'll be itching to go back). However, a trip to Tulum is almost considered pilgrimage to anyone in the creative industry. You will surely feel inspired, happy, and overall excited about life while visiting this beautiful place.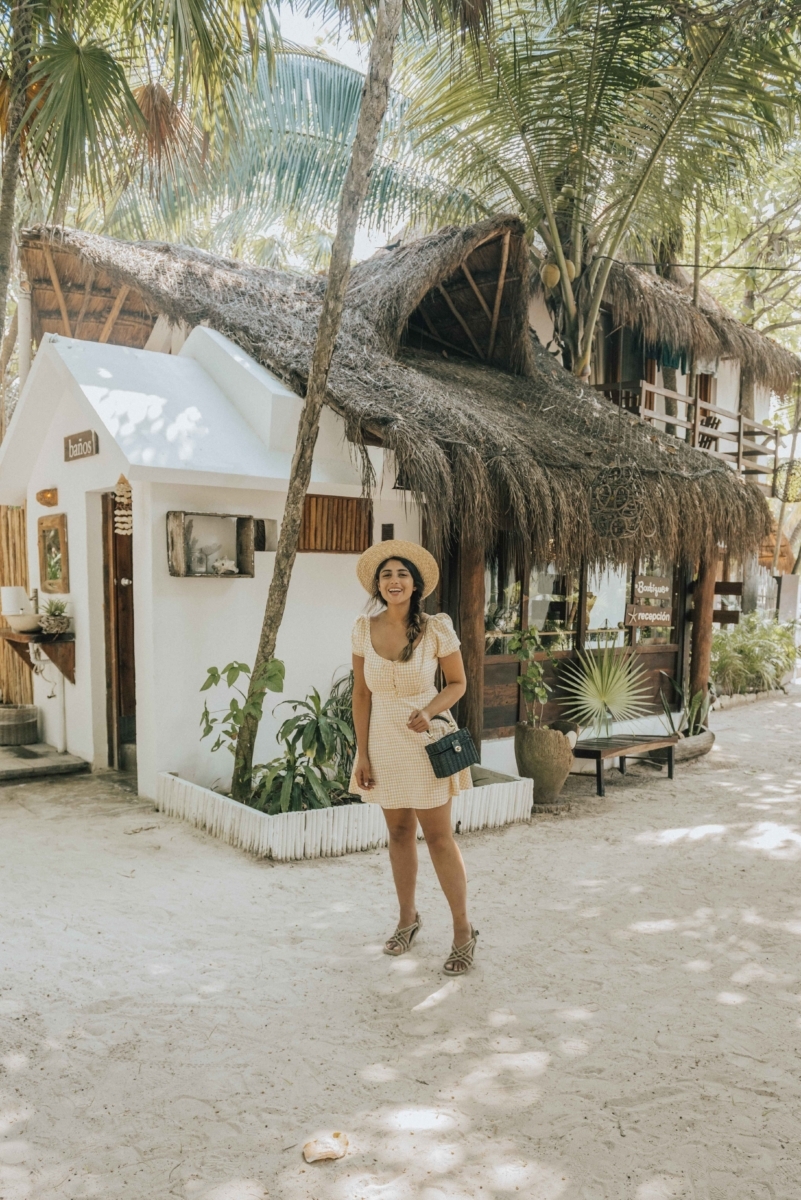 Since I started posting pictures of my trip, I've been flooded with messages asking for my tips, so this travel guide has been a long time coming!
Make sure you have cash on hand, a lot of places don't accept credit cards – the best place to exchange money is in Tulum itself
You will need to rent a car to get from the airport into Tulum, I had a great experience with Avis and highly recommend it
If you're used to having toothpaste and toothbrushes provided to you by the hotel, don't count on it here – make sure you bring your own
Yes Tulum is an expensive place, but in my opinion, it is absolutely worth it – it's why you'll never find drunk spring breakers anywhere (not that there's anything wrong with that!)
To anyone who's thinking of droning – it isn't illegal, but you should be careful about where you drone – ask in advance
Where to stay
During this trip to Tulum, I split my time in two hotels which could not be more different.
Casa Malca
You may have seen Casa Malca on Instagram. It is easily recognizable by its stunning courtyard, decorated with plush Persian rugs and a velvet couch suspended by chains from who massive wooden poles. Locals also say that this was Pablo Escobar's old home (even though there are no documents to prove it).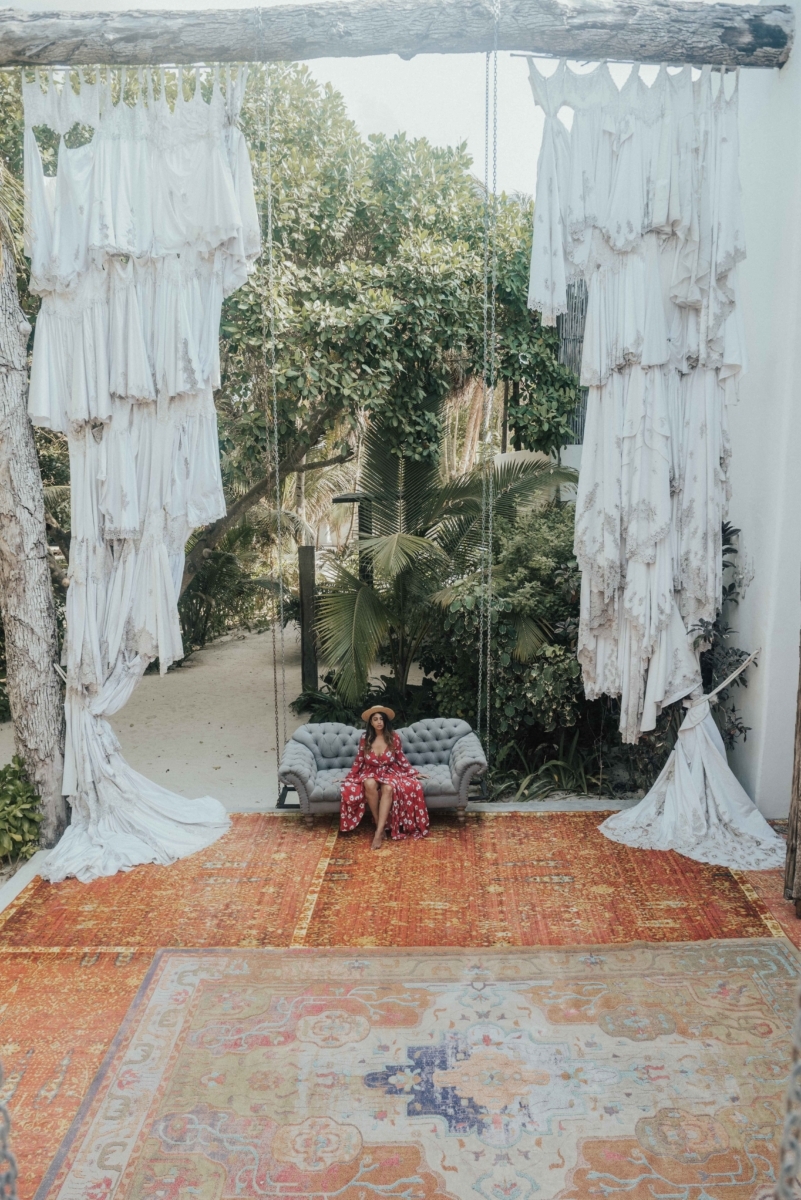 Dress: Vici (similar here)
I first visited Casa Malca last year to check out its infamous courtyard. I hardly need to tell you how beautiful it is, as I believe the pictures do that for me. Ever since then, I knew that the next time I came to Tulum, I had to stay here. Guys, it was everything I wanted and more. If you're someone who enjoys pure luxury, then this is the hotel for you.
Owned by art collector Leo Malca, the property is filled with eclectic pieces of art, and can be described as more of a house than a hotel… well a 40 room, incredibly luxurious mansion, to be precise. I stayed in the garden view suite (which is the smallest room in the hotel), and it was the size of an apartment. The bathroom was bigger than my bedroom in Toronto and had two toilets and a rainshower which could double as a steam room.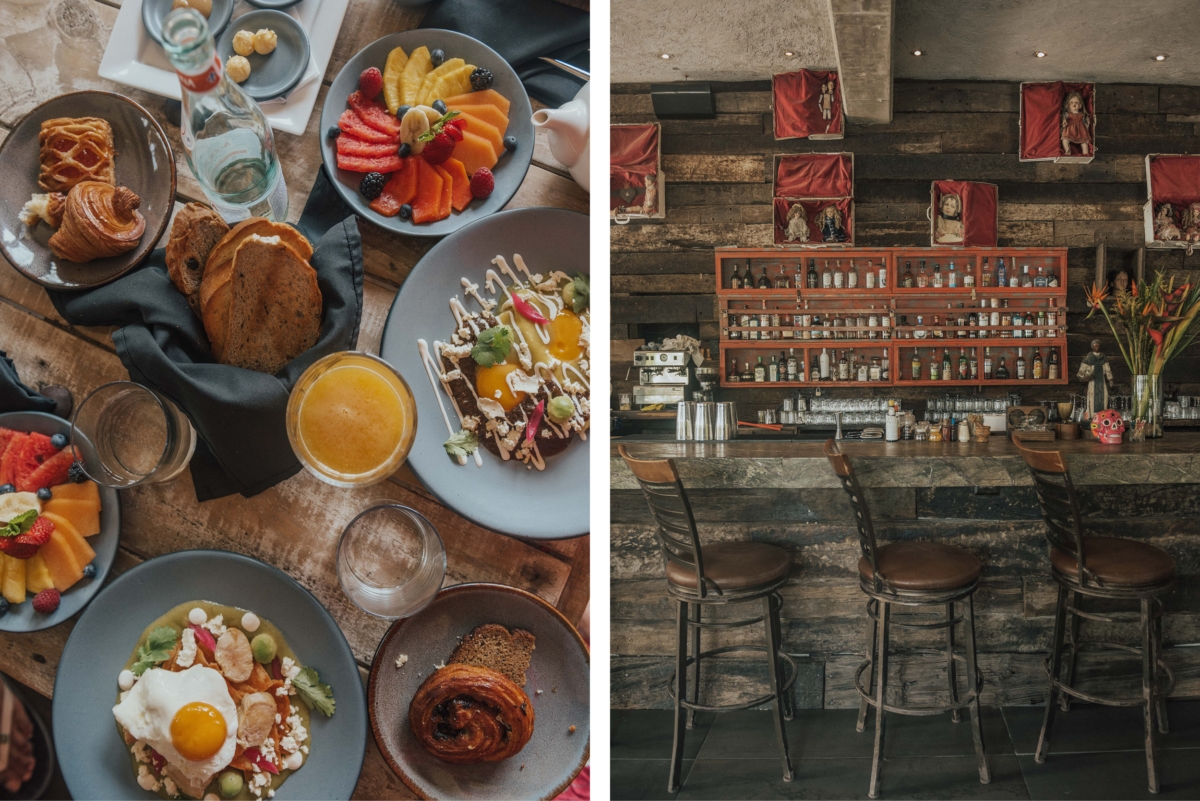 The thing about Casa Malca that struck me most is that it retains Tulum's eco-chic feel while prioritizing their guests' comfort. For example, the AC functions 24/7, which is a stark contrast to 90% of the hotels in Tulum. In most hotels, the AC runs just at night (yes, even luxury hotels). So it was really nice to be able to go to my room and take a break from the heat when necessary.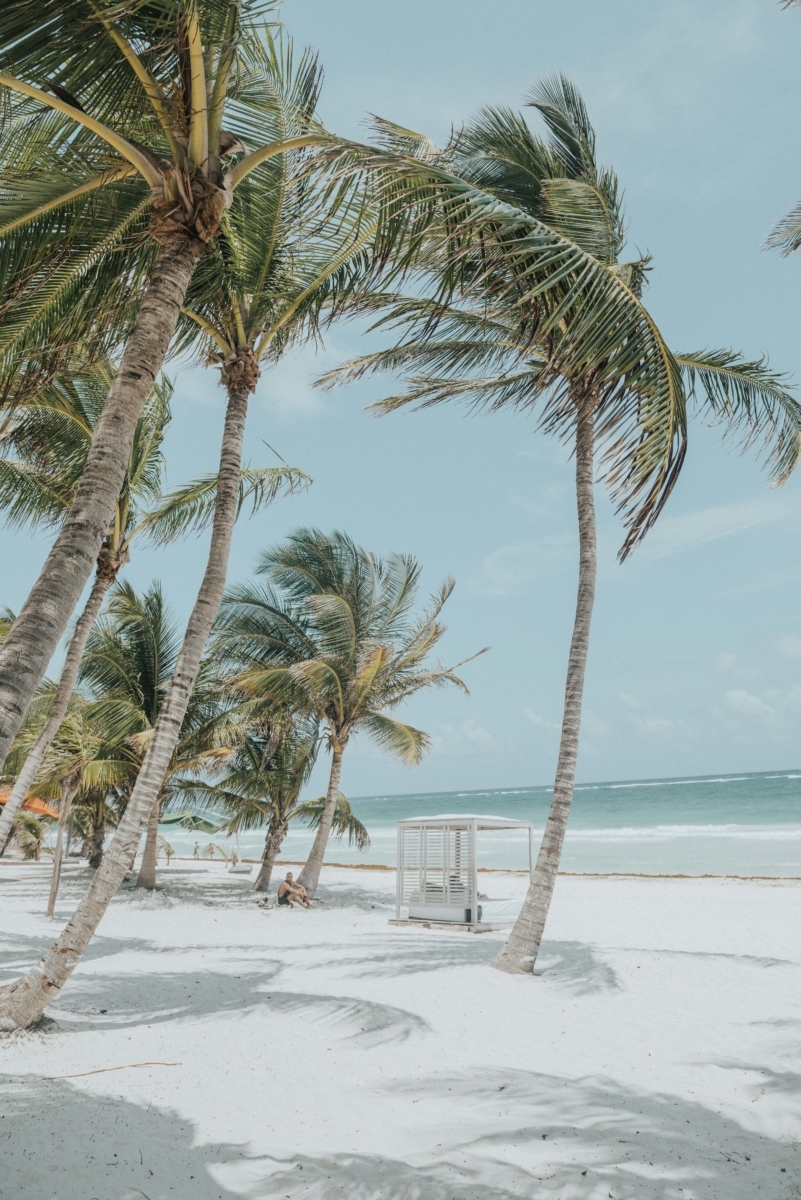 The hotel is located on the most beautiful private white sand beach with gorgeous beach beds and service all day. One of my favourite things about the hotel was being able to eat breakfast at Philosophy while enjoying the ocean breeze. And speaking of breakfast, can we talk about this spread? Guys, the food here is phenomenal! The most notable thing though is definitely the pastry selection. The pastry chef at the hotel is an absolute genius. I heard angels sing every time I took a bite of the perfectly flakey croissants.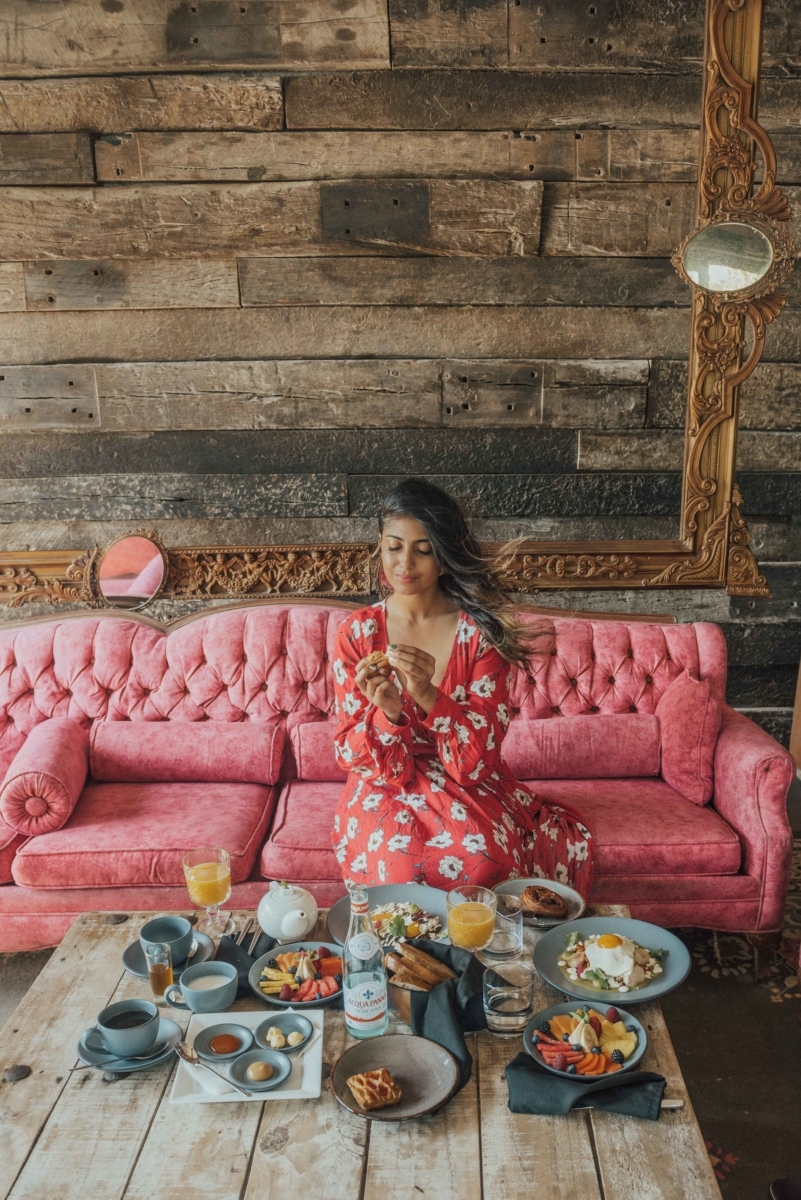 On my last night in Tulum, I went to Philosophy for dinner. And what a memorable last meal it was! The menu is small and specialized with a huge focus on the quality of dishes. There were, in total, about 12 items on the menu. I tried about 6 different dishes and loved them all. A highlight was the beet risotto, which was so good that it won me over. A tough feat since I hate beets!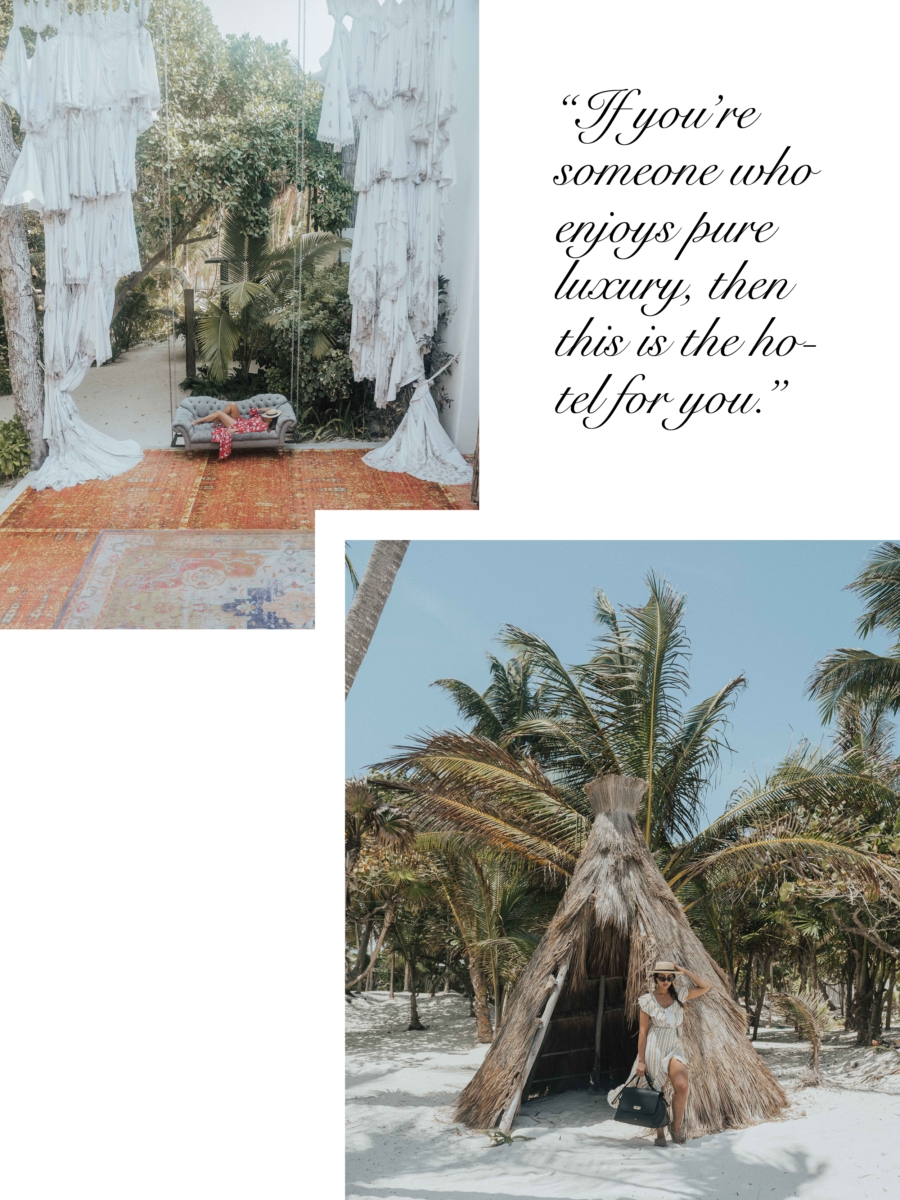 As you can probably tell from the length of this review, I cannot say enough good things about this hotel. And I'm not the only one who seems to like it. Leonardo DiCaprio also stayed here a couple of years back!
Amansala
If you're looking to unwind, disconnect, and truly experience the Tulum spirit, Amansala is the hotel for you. It's a gorgeous eco-chic hotel located at the heart of Tulum beach. The beachside abode is comprised of two sister hotels – Amansala and Amansala Chica, both of which are beautiful. I stayed in Amansala Chica, where my room had a gorgeous view of the ocean and felt very private.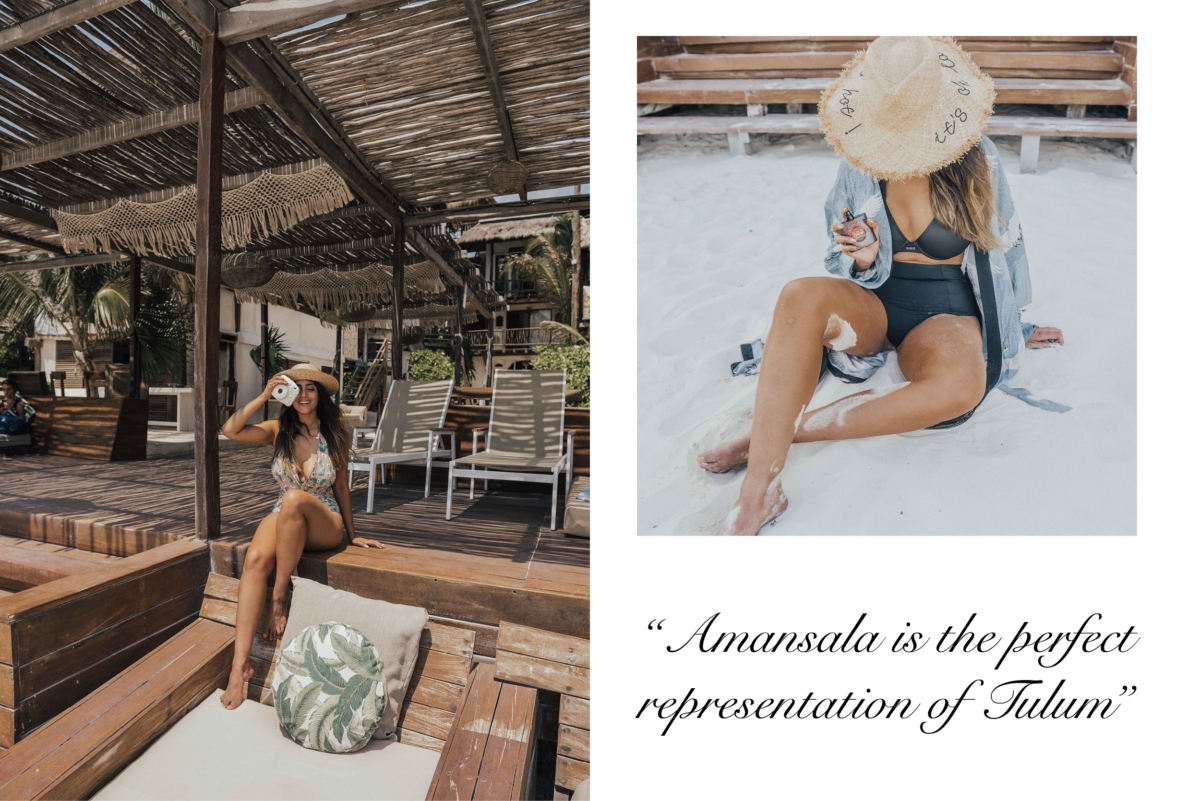 Amansala truly embodies the definition of eco-chic. Like most hotels, the AC operates from 9pm-7am to conserve energy. However, this is hardly a problem given that it's a beachside hotel where the ocean breeze is sure to cool you down. The internet at Amansala is on the slower side within the rooms. But again, I spent most of my time taking advantage of the fact that it was a beachside property, where the wifi was quite strong.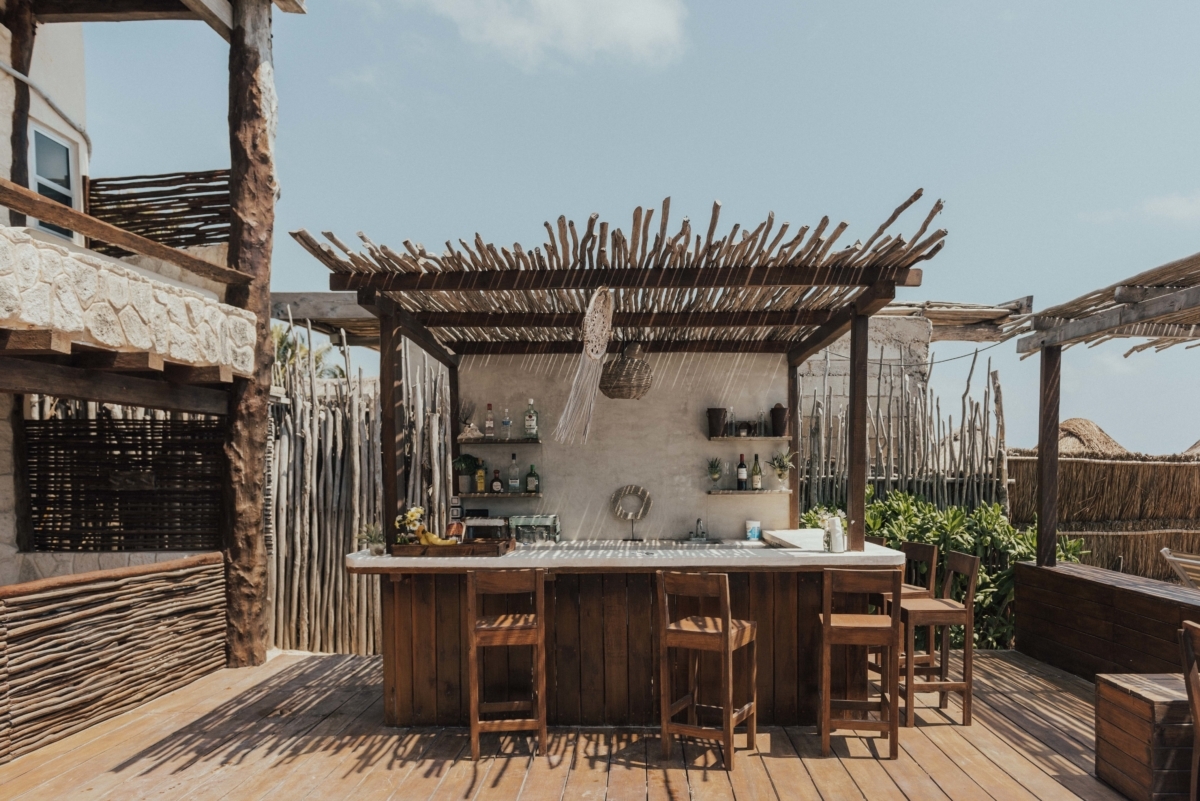 If you're looking to stay active, the hotel offers beachside yoga in the morning for, I believe $20. Because I was too busy shooting content, I was unable to take advantage of this, but it looked utterly blissful. If yoga isn't your thing, and you're looking for other ways to enjoy the morning, then fear not. You have the option to have breakfast on the beach or enjoy the beautiful pool.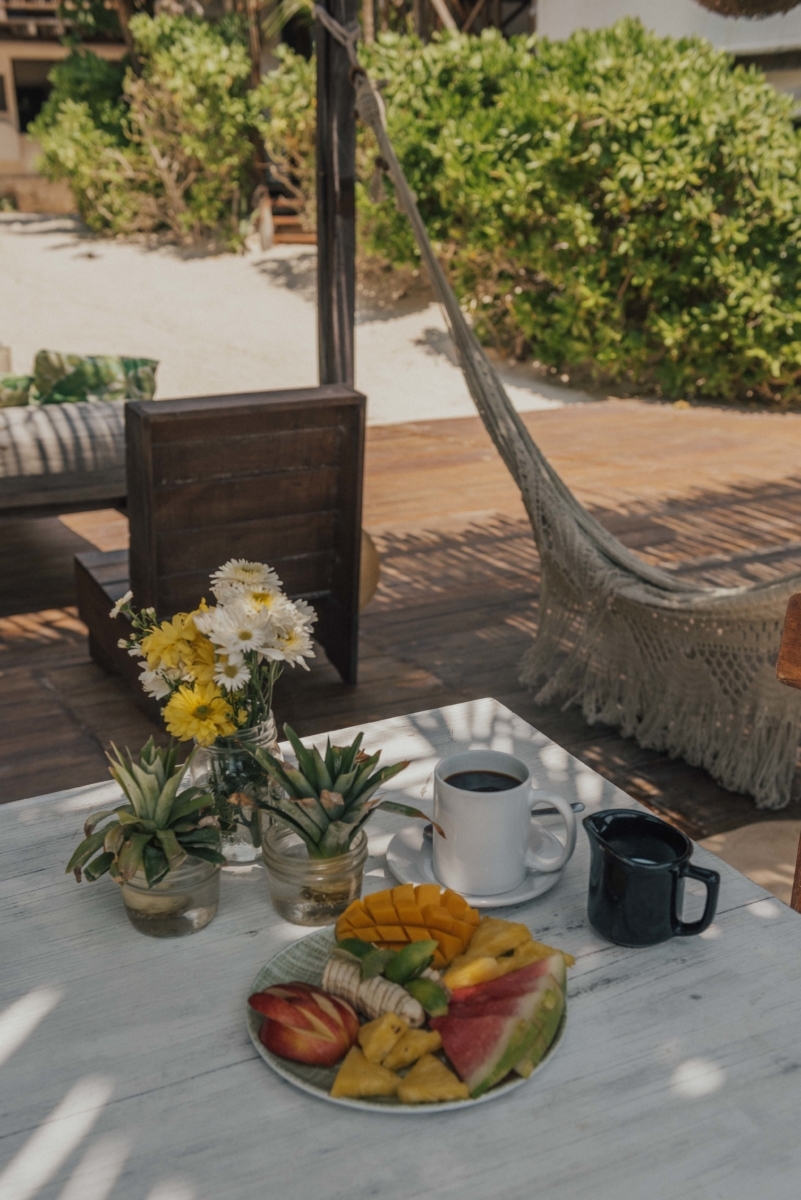 What I found really great about Amansala was the location. It's located right at the center of the Tulum strip, and is walking distance from some of my favourite restaurants including Juanita Diavola and Posada Margherita.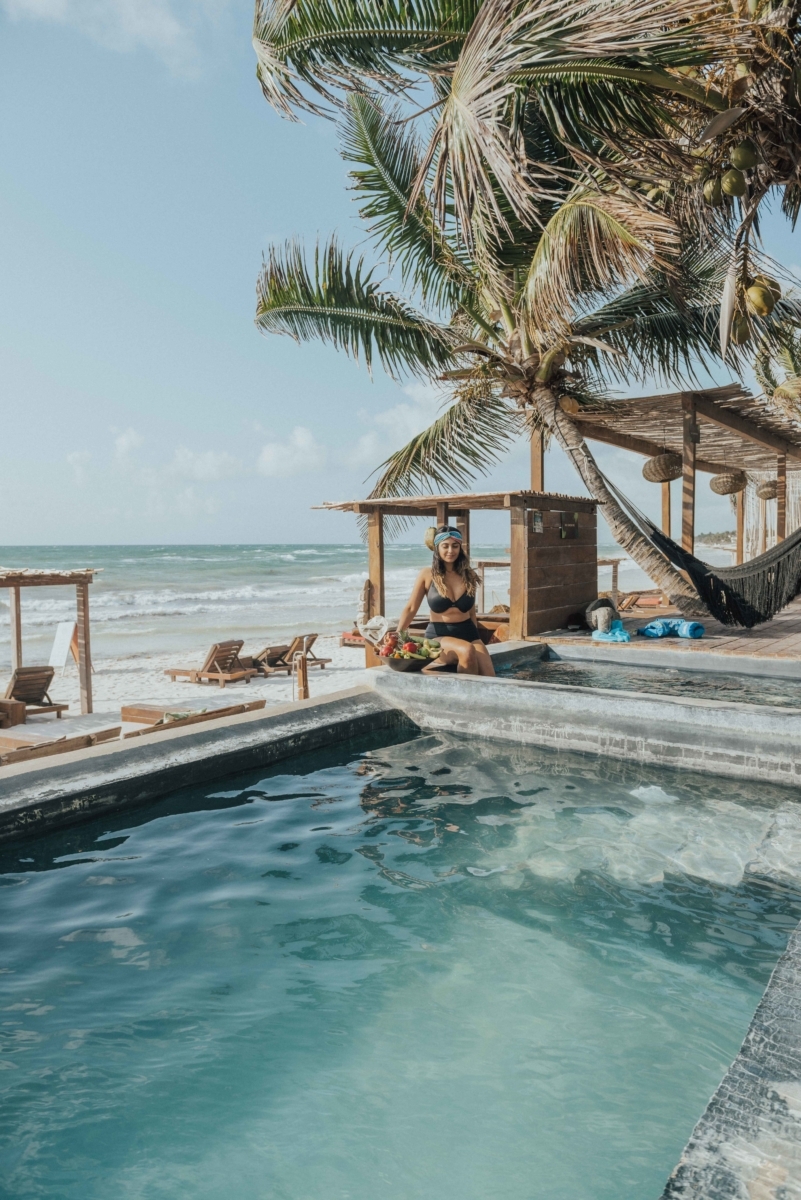 Overall, I would say that Amansala is the perfect representation of Tulum with its shabby chic decor, eco-friendly approach, friendly service and pristine beach.
Where to eat
The food scene in Tulum is most definitely a highlight. Everything is light, fresh, and bursting with flavour. Here are some of my favourites:
La Popular
Although I try so hard to go to new places when I'm in Tulum, there are a few old favourites that I simply cannot resist going back to. La Popular, at Nomade Tulum, is one such place. It's located right on the beach and serves up the most phenomenal seafood. Legit guys, you cannot go wrong with ANYTHING here!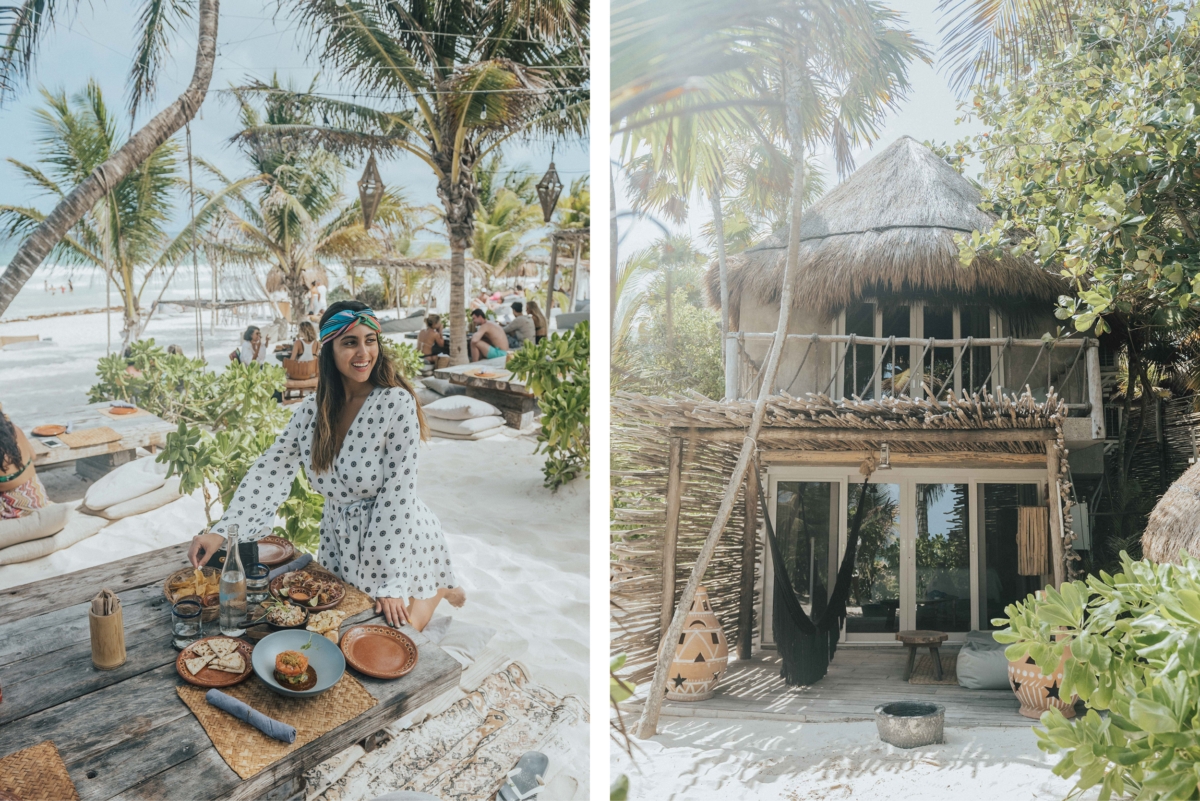 Dress: Revolve
Habitas
After seeing pictures of Habitas on Instagram and hearing friends rave about it, I decided I had to pay it a visit for lunch. And after my first bite, it jumped to the top of my list of favourite restaurants in Tulum. And as an added bonus, it is without a doubt, one of the most beautiful places in Tulum. Although we ate at the restaurant, it's possible to eat at the beach club and use its facilities as long as one orders 50 USD of food and drinks.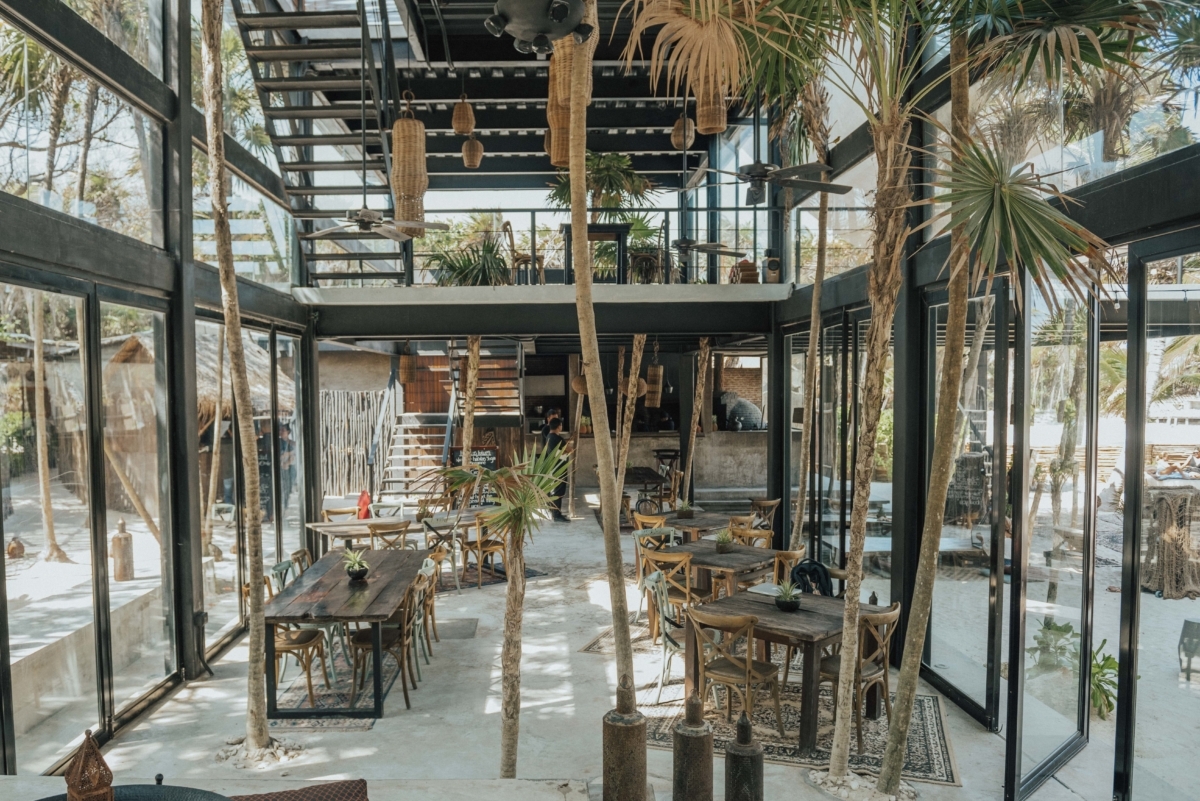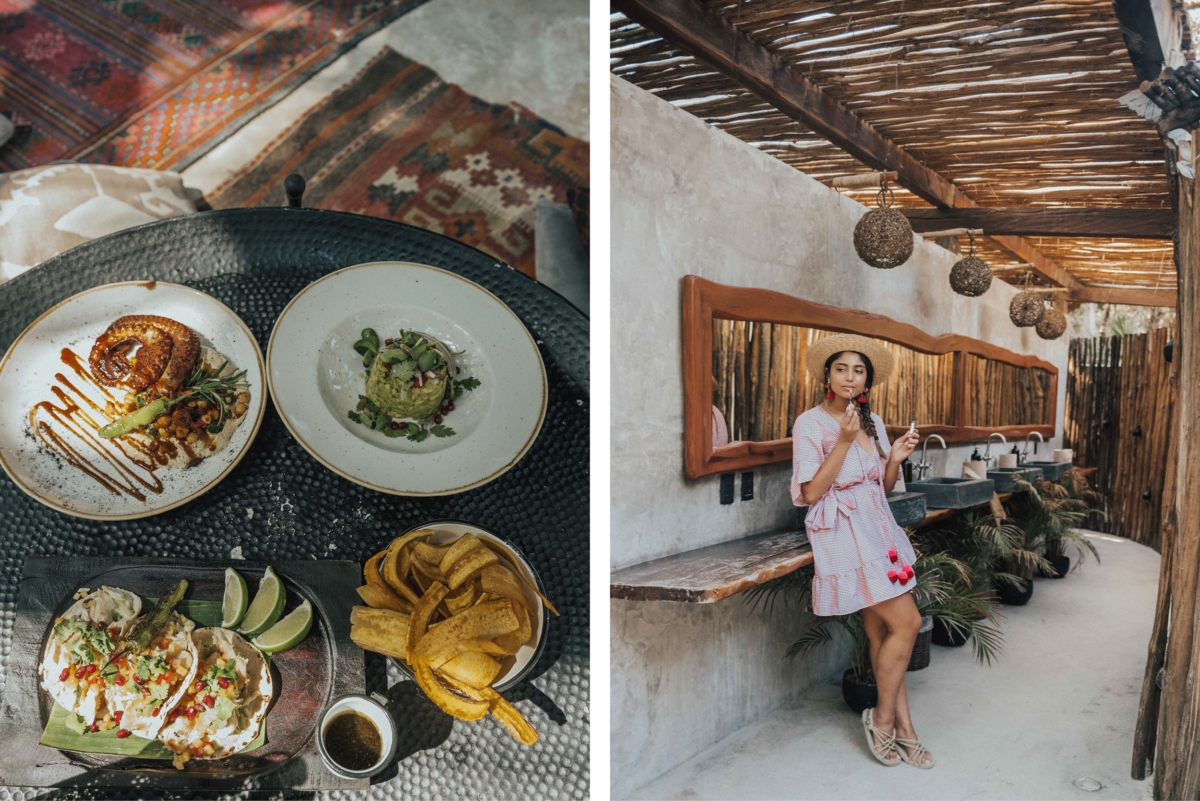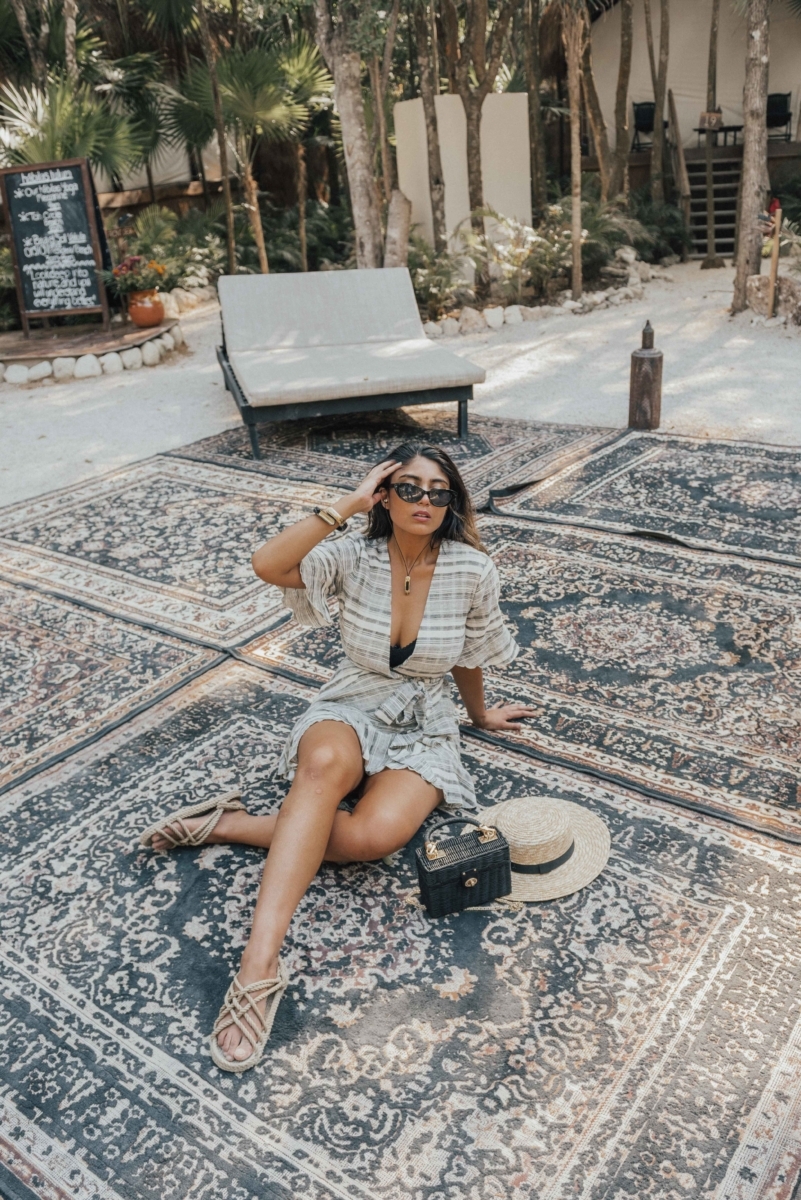 Dress: Majorelle
Maresias
Another old favourite! I visited Mareisas for breakfast last time I was in Tulum, and loved it so much that I had to stop by and try their lunch offerings. As I'd suspected, everything was incredible. The shrimp tacos are nice and light, but if you're looking for something a little more hearty, I highly suggest the Po Boy.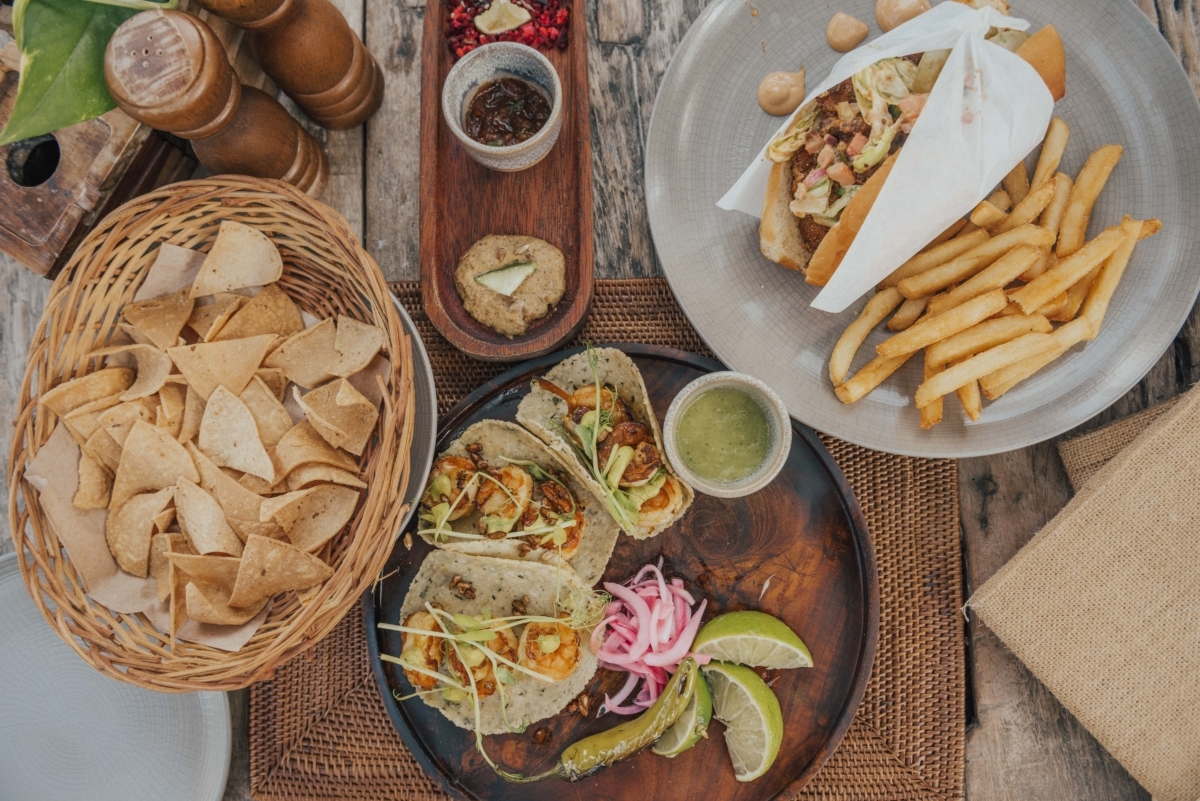 Casa Jaguar
A must-visit in Tulum. I'd heard so much about Casa Jaguar that I knew I absolutely had to go. And goddamn, it did not disappoint. Everything I ate was an explosion of flavours. But the stand out dish was most definitely the catch of the day which was grilled to perfection.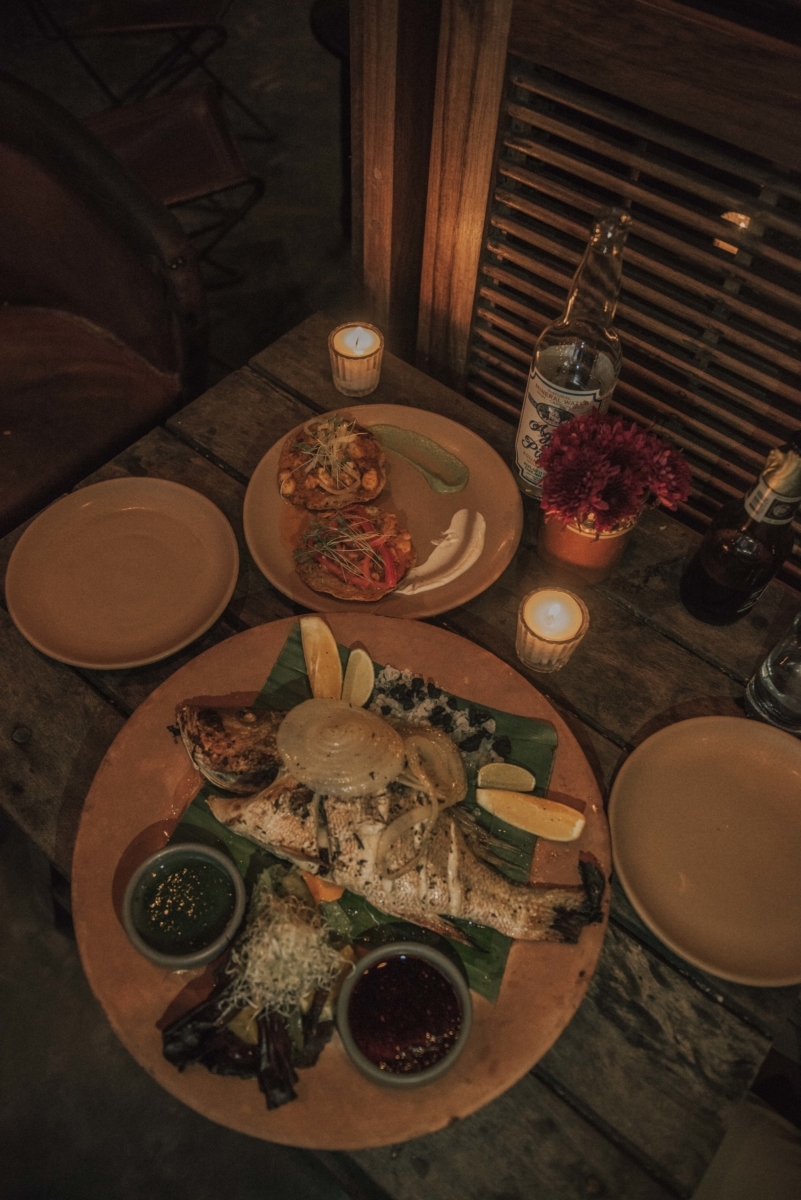 Matcha Mama
The cutest little matcha stand in all of Tulum. Don't miss out on the coocnut ice cream here.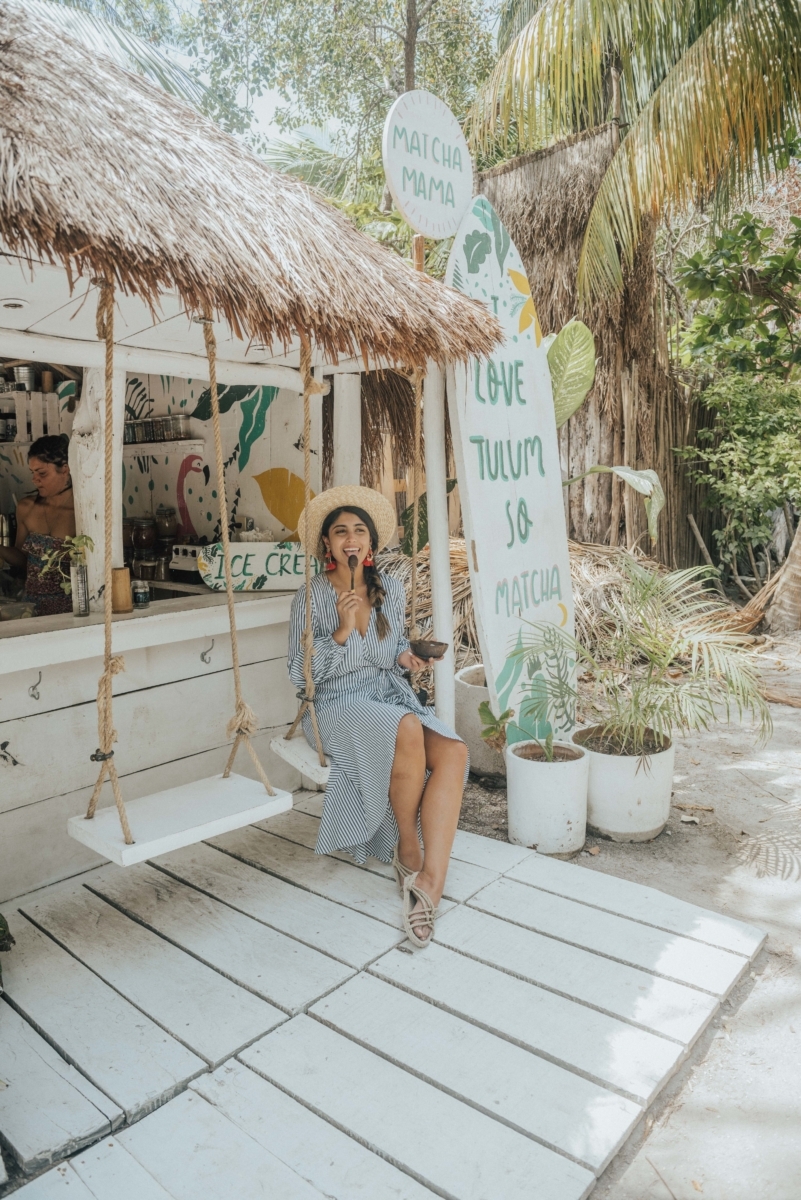 Dress: Shilla
Raw Love
It's a little embarrassing to think that it took 3 trips to Tulum before visiting Raw Love. The acai bowls here are absolutely incredible. An absolute gem if you're looking for healthy vegan options.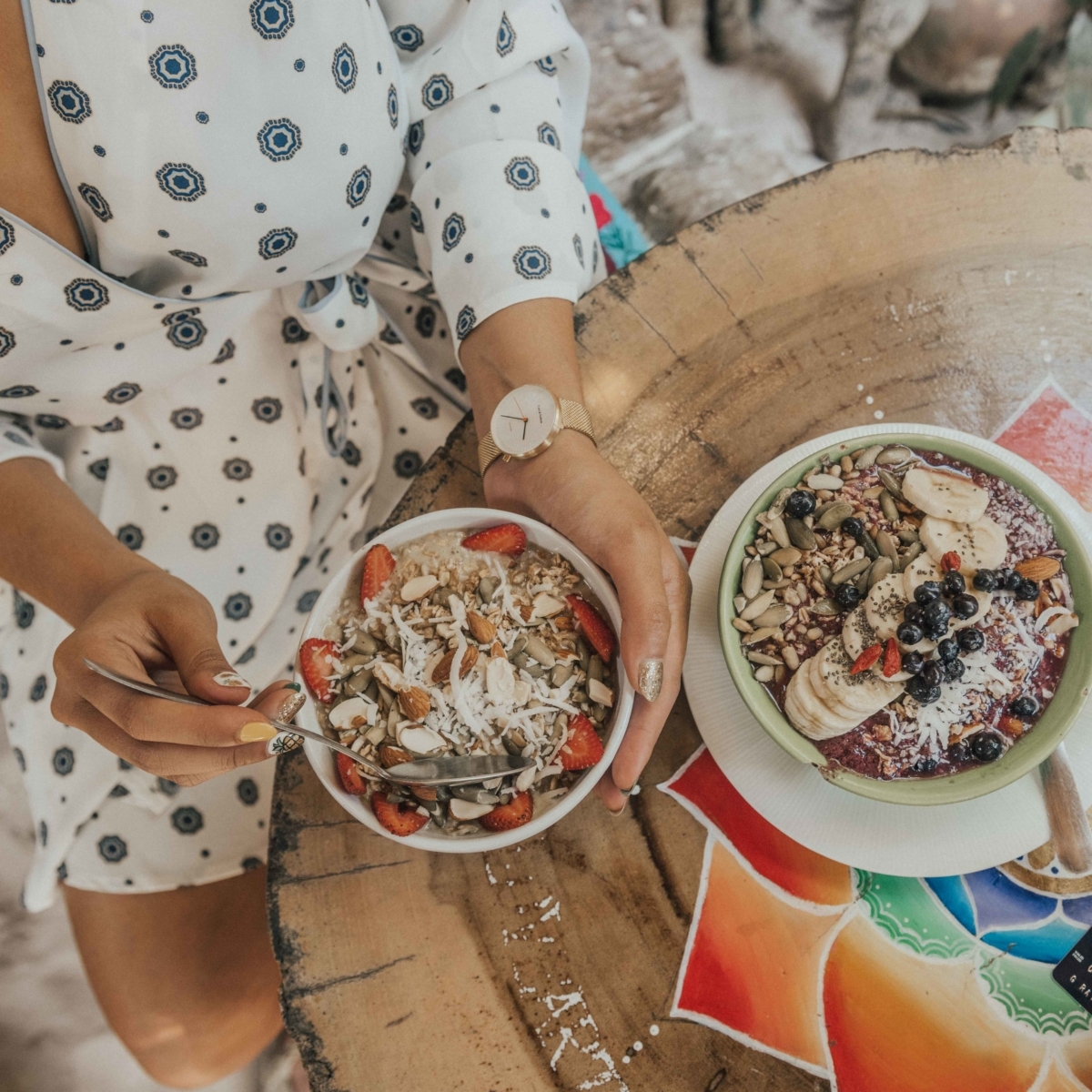 The Real Coconut
Once you eat at The Real Coconut, it's impossible to resist going back again. I went to The Real Coconut for breakfast last time I was in Tulum, and couldn't resist going back once again. Their offerings are all so healthy and delicious that it's impossible not to fall in love! I highly recommend their chia pudding and bulletproof coffee.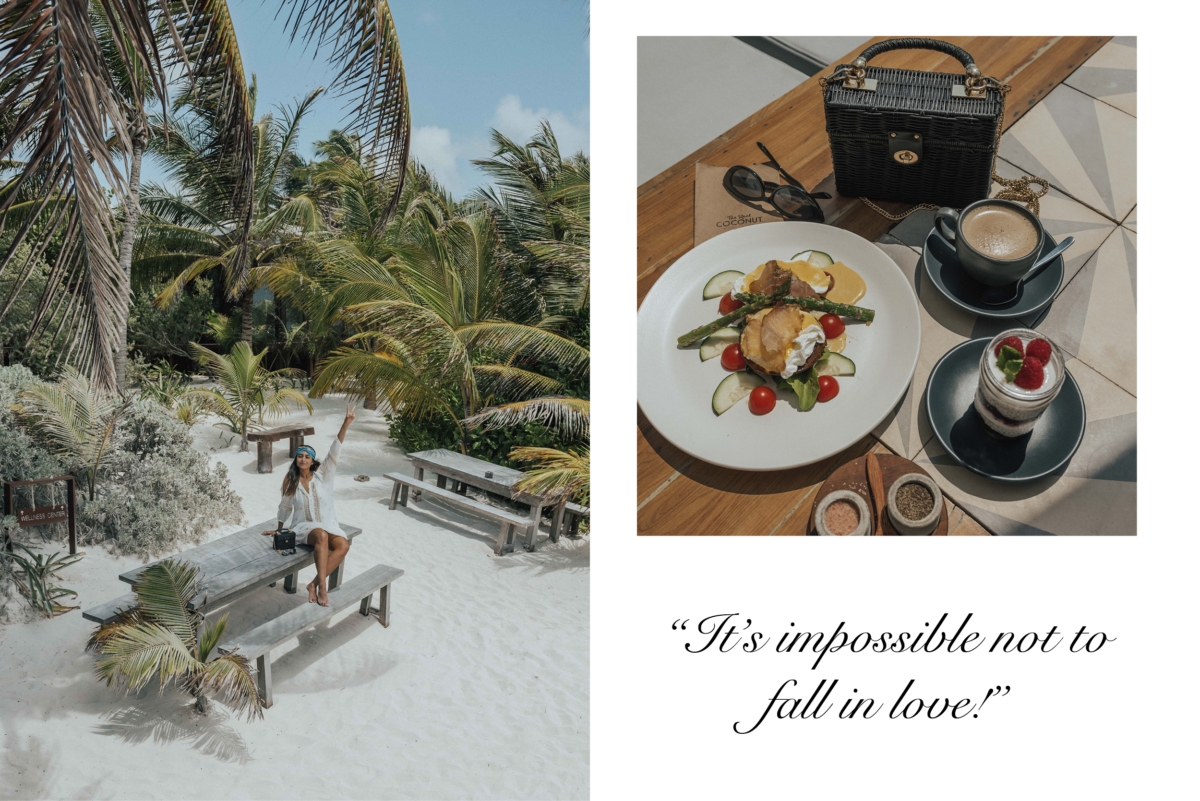 Dress: Miss June
Kin Toh
This is one of those places that just takes your breath away. Kin Toh is located in Azulik, the famous treehouse hotel. The restaurant has a very treehouse vibe with hammocks suspended over the jungle and views over the hotel's massive reserve. I highly recommend you reserve a table here for drinks and go in time to catch the sunset. There are tables outside which offer the most phenomenal view of the Tulum sunset which should not be missed. In terms of the food itself, I recommend small appetizers and drinks as opposed to a full dinner. I personally loved the truffle oysters.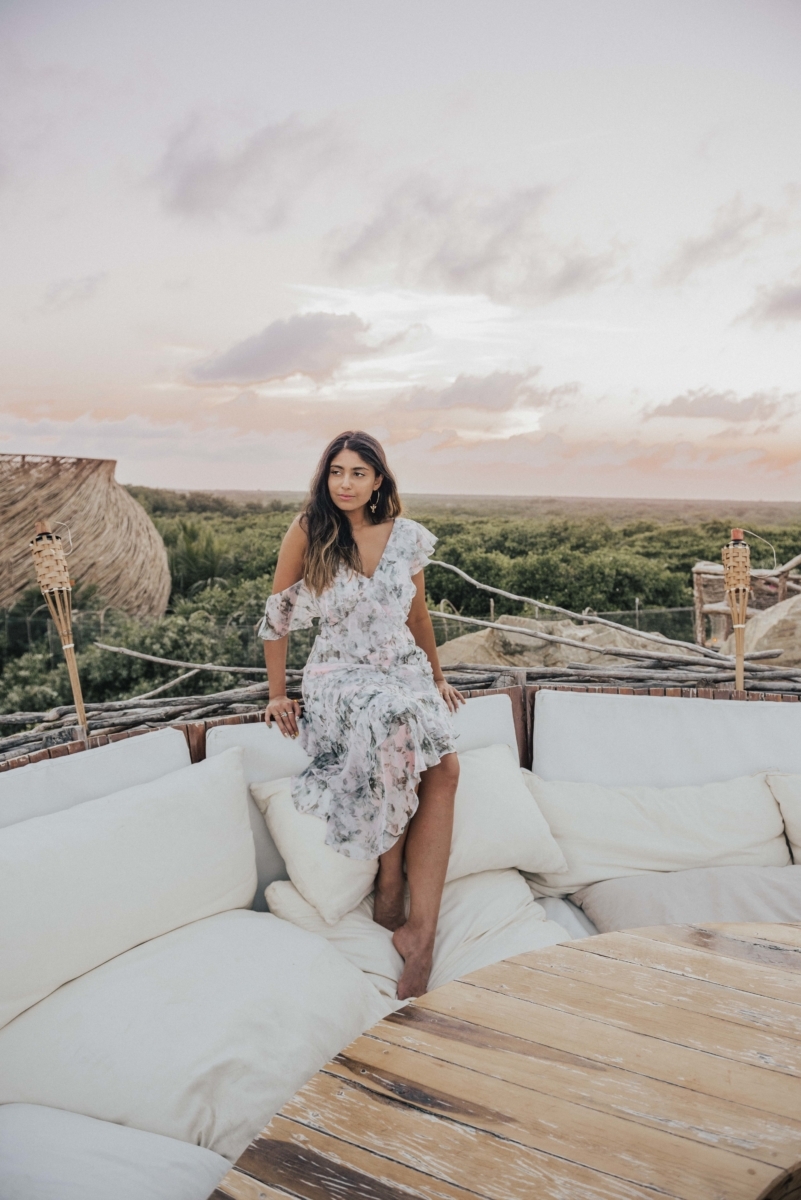 Dress: Keepsake
Juanita Diavola
It's almost laughable that the first meal I had in Tulum was pizza, but that's how good Juanita Diavola is! I fell in love with the pizza here last time I was in Tulum, and had to go back to try it once again. Needless to say, it did not disappoint.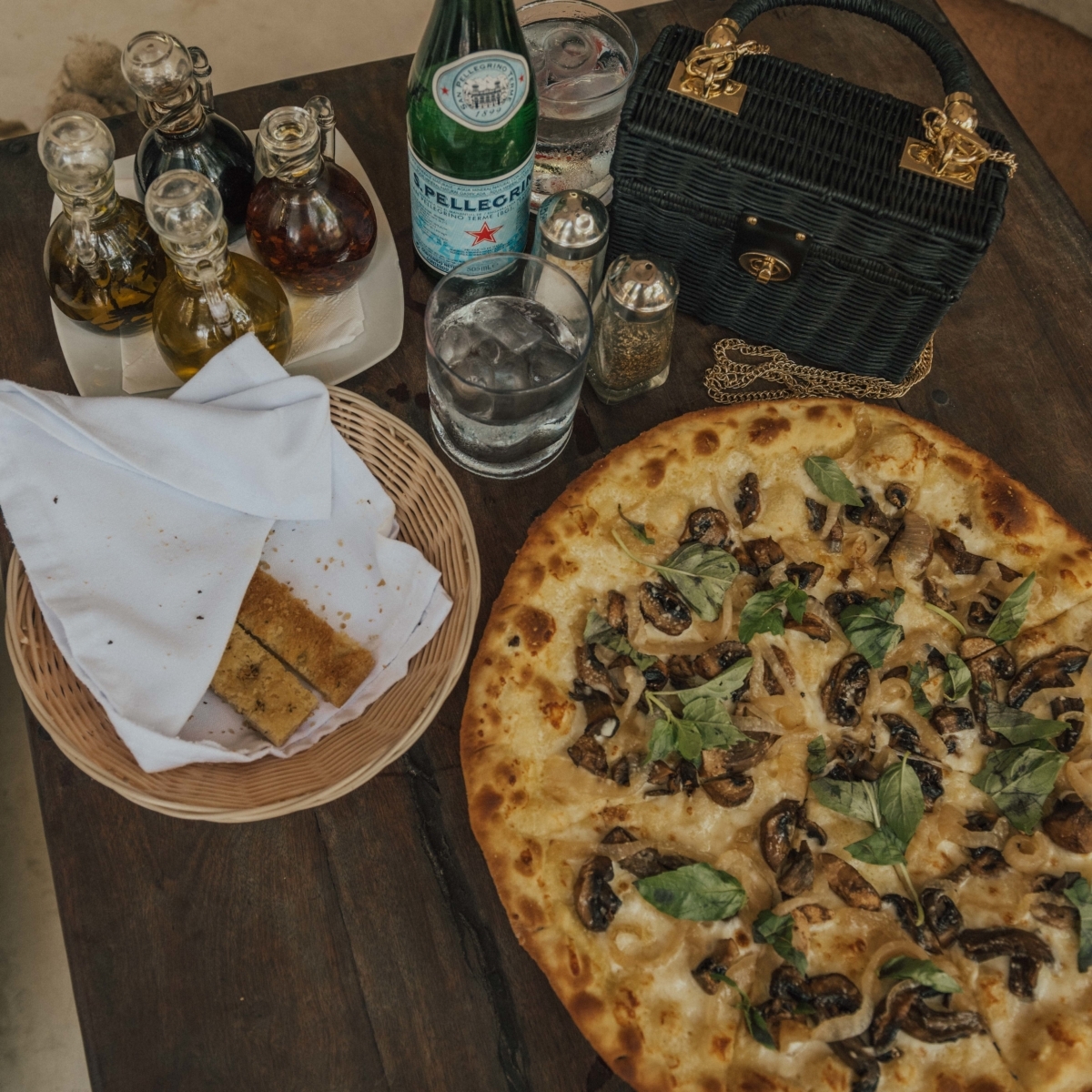 Bonus: Rosanegra
One night, we were looking for a great place to eat and drove past Rosanegra. When I saw how beautiful it was, I insisted that we eat there. This was probably the best decision I made. Guys, the food here is phenomenal and it is absolutely stunning. It's one of those places that is just pure magic. I still smile thinking about this wonderful place. Two things to note – the portion sizes are massive, so it's easy to over order. Also, I found dessert a little underwhelming in comparison to the food. I would skip dessert here and go to Habitas for their sticky toffee pudding instead!
Where to play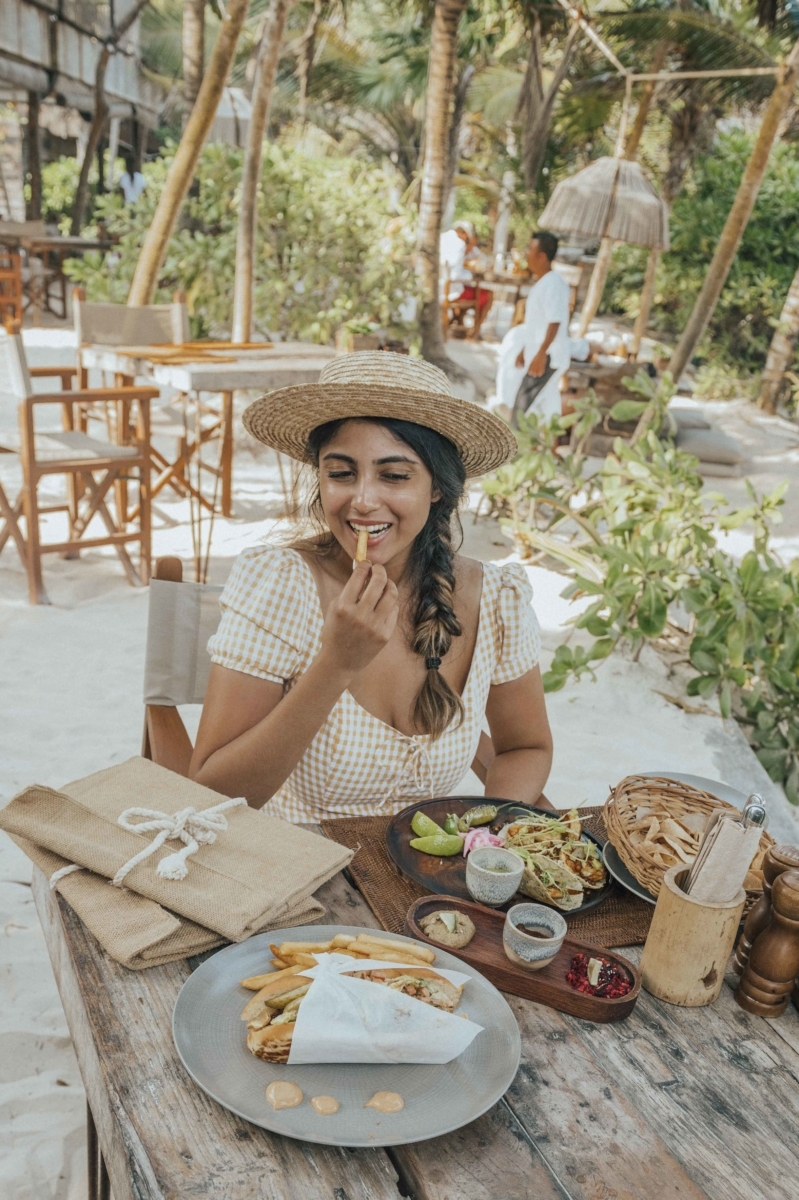 Every night, a different establishment in Tulum hosts a party with an amazing vibe and great music. On Tuesday nights, it's Casa Jaguar; on Friday nights, it's Gitano; on Saturdays it's Papaya Playa. I'm not familiar with the other nights of the week, but if you ask the concierge at your hotel or the staff at whichever restaurant you're eating at, they'll be able to tell you. I'm not a night owl, but whichever restaurant/hotel has a party has a great vibe from really early on in the evening and I always recommend people take advantage
Tulum is famous for its cenotes – my favourite so far is Cenote Dos Ojos
Whichever restaurant you're going to for dinner must be booked in advance or you won't get a table
I love spending my afternoons relaxing at different beach clubs – a great way to do this is have lunch at one of the hotels on the beach itself