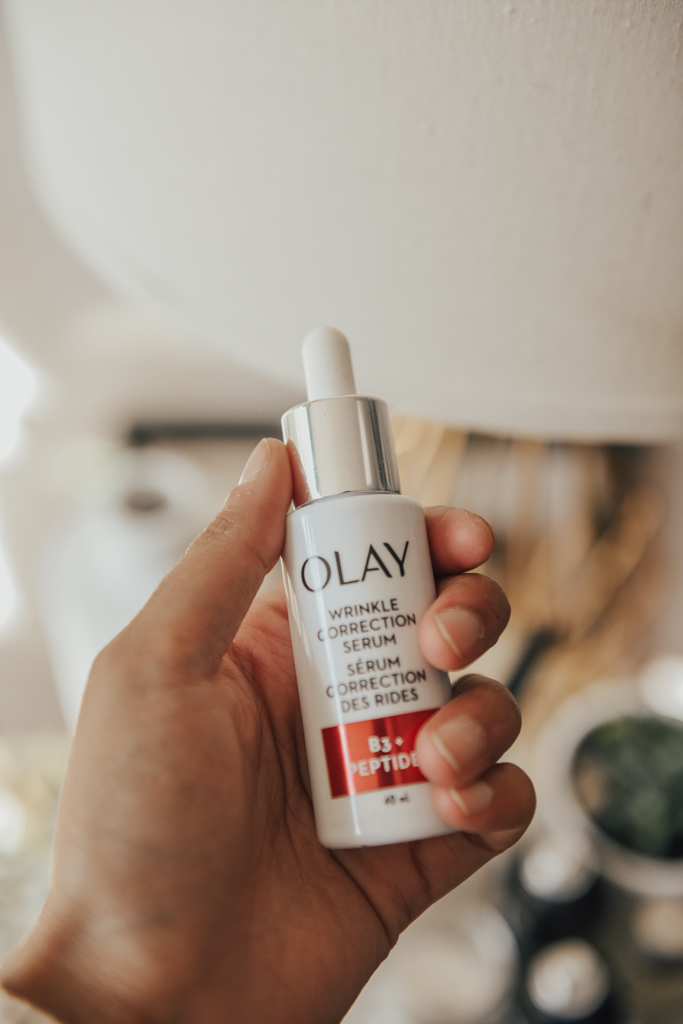 *This blog post is sponsored by Olay, all opinions are my own.
If you've read my skincare posts, you'll know how much I love serums. Here's a little refresher if you don't know what serums are: serums are skin care products which contain the most potent and concentrated form of ingredients that penetrate the epidermis and deliver the strongest results to your skin. They're typically much more viscous than creams and lotions, which is how they're able to penetrate much deeper into our skin. 
A few months ago, I started testing out a new serum from Olay – their Olay Wrinkle Correction Serum with B3 + Peptides – for a partnership with the brand. While chatting with the Olay team during our first conversation, I was told about their rigorous research process which was actually quite impressive. I think most of us tend to have a bias where we believe that if a skincare product comes at a lower price point, it may not be as effective as if it were a luxury product. This isn't necessarily true, something I've learned from multiple skincare experts on my podcast. So today, I'm chatting with Dr. Frauke Neuser, Principal Scientist & Associate Director Science Communications at Olay about the ingredients used in Olay's new serum collection, why they should be incorporated into your skincare routine, and the research process behind these formulations.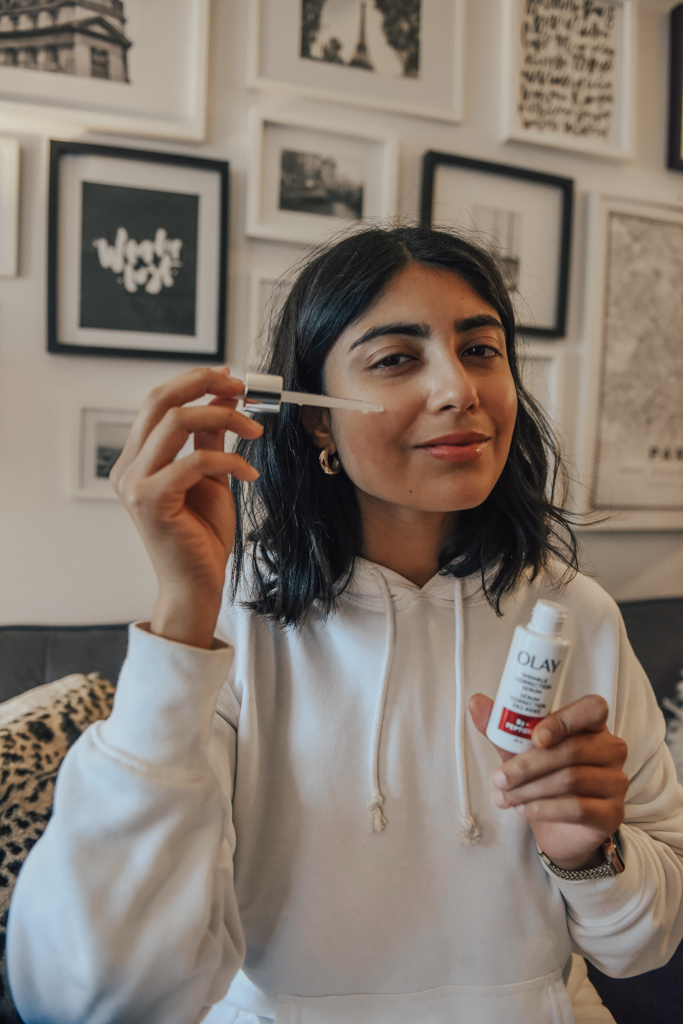 Can you tell me about the benefits of peptides for the skin? 
There are different types of peptides used in skincare, and the ones we use at Olay are called signal (or messaging) peptides. This group of peptides works like wake-up calls for skin cells, literally signaling them to accelerate regeneration and boost collagen production. In fact, Olay's peptides have been clinically proven to reduce fine lines and wrinkles and improve skin texture.
What about B3 – what impact does it have on skin health? 
B3 (or niacinamide) is a true multi-tasking skin vitamin. Most importantly, it strengthens skin's natural moisture barrier to lock in hydration while protecting against external stressors. B3 also accelerates surface skin turnover, making it a natural exfoliant. Through these actions, B3 delivers benefits both for skin health and appearance, helping to visibly smoothen and brighten skin.
Why these two ingredients together? 
Peptides and B3 are a great match, as they are compatible within the same formula and work well together. They compliment each other's benefits while both are suitable for a the majority of skin types and tones.
What makes the Olay B3 + Peptides serum special? 
Olay's Wrinkle Correction Serum is formulated with hydrators, two skin loving vitamins (B3 and B5), and two peptides, so really packs a punch when it comes to delivering noticeable results quickly. At the same time, it contains no fragrance, no parabens, no phthalates, no synthetic dyes and is a really affordable alternative to much pricier products.
Can you share a little about the research and development process that went behind the Olay serums? 
A lot of the initial research and development process was spend on selecting the right ingredients at the right concentrations to deliver visible results quickly as well as noticeable results overtime. Then, it was all about creating a formula that absorbs easily into skin and doesn't leave any residue or tackiness, so it can be layered with other products. Finally, we ran clinical and technical tests to confirm the efficacy of the final product.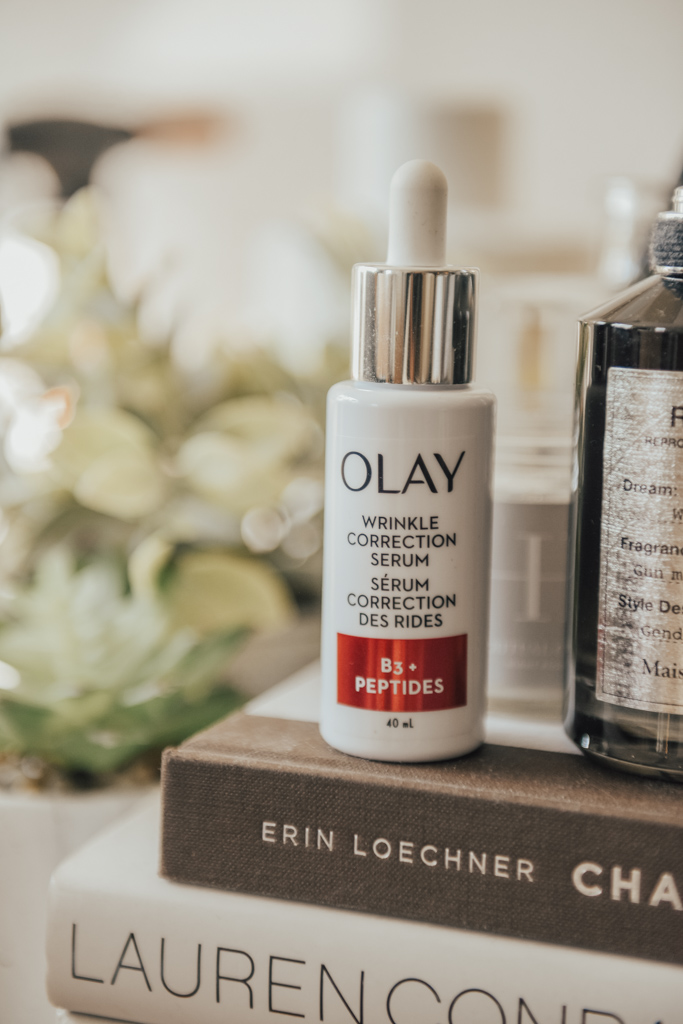 How are they effective at such an affordable price tag? 
Many of the ingredients we use have been used and researched by our scientists for many years, so there's a lot of internal experience in terms of optimizing the formulas and being very intentional as to what goes into the products and what doesn't. Also, because Olay is such a large brand, we have the advantage of scale when we buy ingredients and raw materials.
What other skincare ingredients can people combine with the Olay Wrinkle Correction Serum for optimal skin health? 
I think that depends a bit on your skin type and concerns. A good moisturizer is definitely something I would recommend you combine with the Olay serum. I like the Olay Retinol24 Night Moisturizer, which contains a retinoid complex and can be used on top of the Olay serum. It helps improve skin's brightness and diminish the appearance of dark spots and pores. If you have dry skin, a moisturizer with hyaluronic acid (like the Olay Regenerist Micro-Sculpting Cream) would work really well.
So there you have it, the details behind why this product is so beneficial. The Olay Wrinkle Correction Serum with B3 + Peptides is part of my evening skincare routine, as I like to pair niacinamide with retinol – so I apply this serum first and then use a retinol serum afterwards. The Olay serum helps prevent fine lines and wrinkles, and lock in hydration which is really important to me. My skin is definitely on the drier side, so the moisture retention that B3 is known for is extremely important to the overall health of my skin. While doing my research on the product, what I thought was really cool is the fact that one drop has the power to renew one million skin cells, which show how potent the product is, for such an affordable price! To learn more about the Olay Wrinkle Correction Serum, visit Olay.ca.