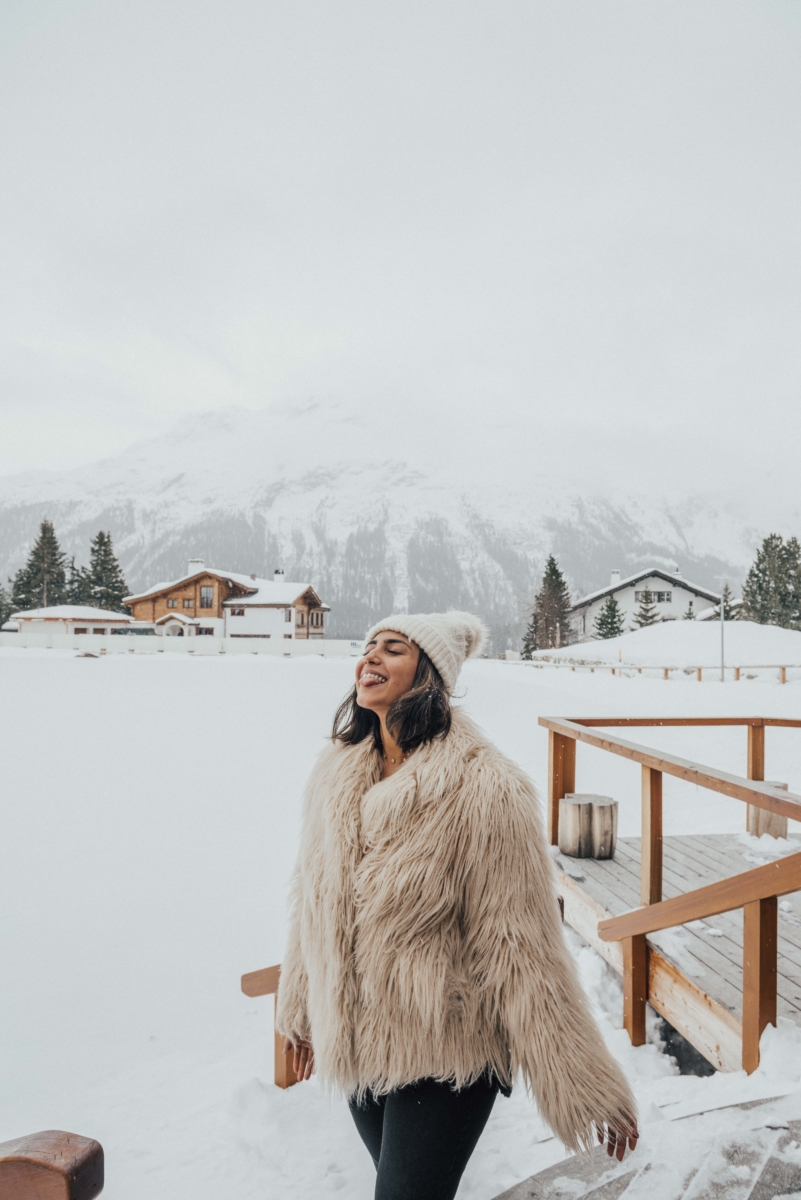 Something you should know about me: I hate the winter. I know I'm Canadian, but I reckon something in my brown genetics is inherently incompatible with the cold. So while I was excited to visit Switzerland in the winter, I didn't know if it would be as amazing as people claimed it was. Nonetheless, never one to pass an opportunity to visit somewhere new, I packed my heaviest sweaters and coats, and even bought a pair of Ugg snow boots for a getaway in the Swiss Alps. My time would be split between two cities: St. Moritz and Gstaad.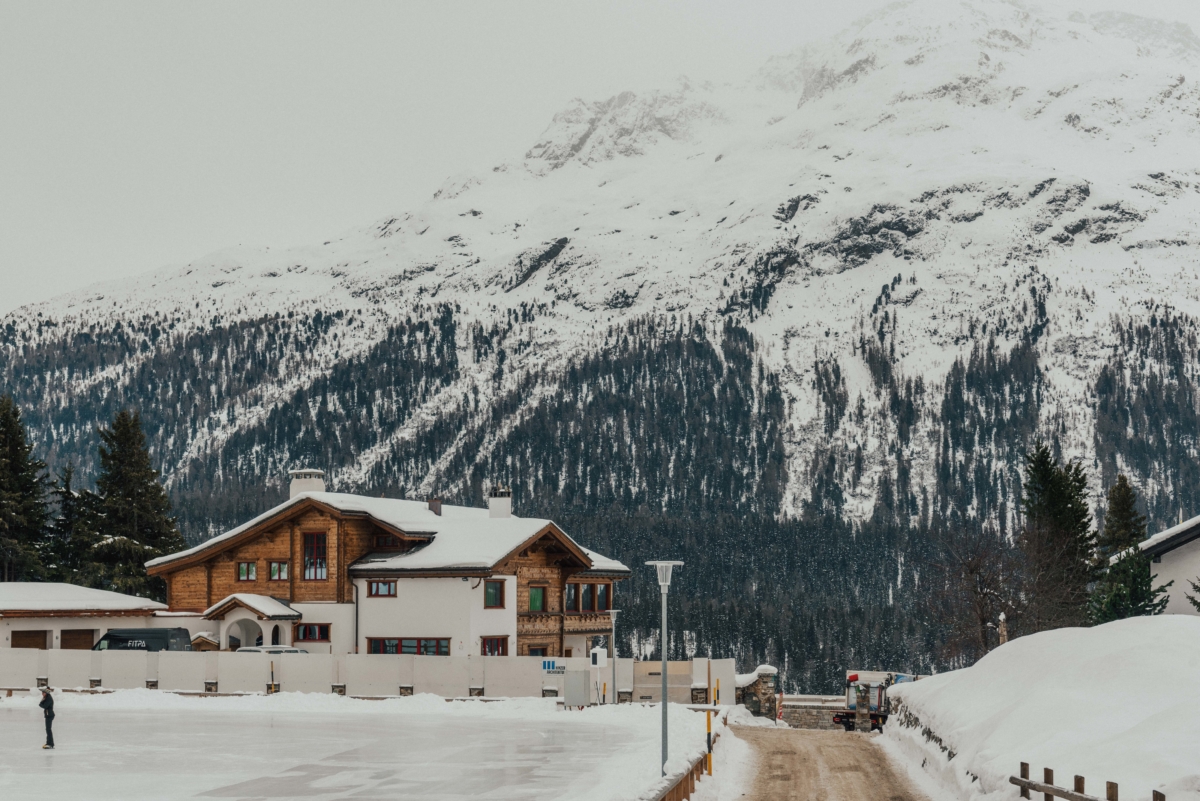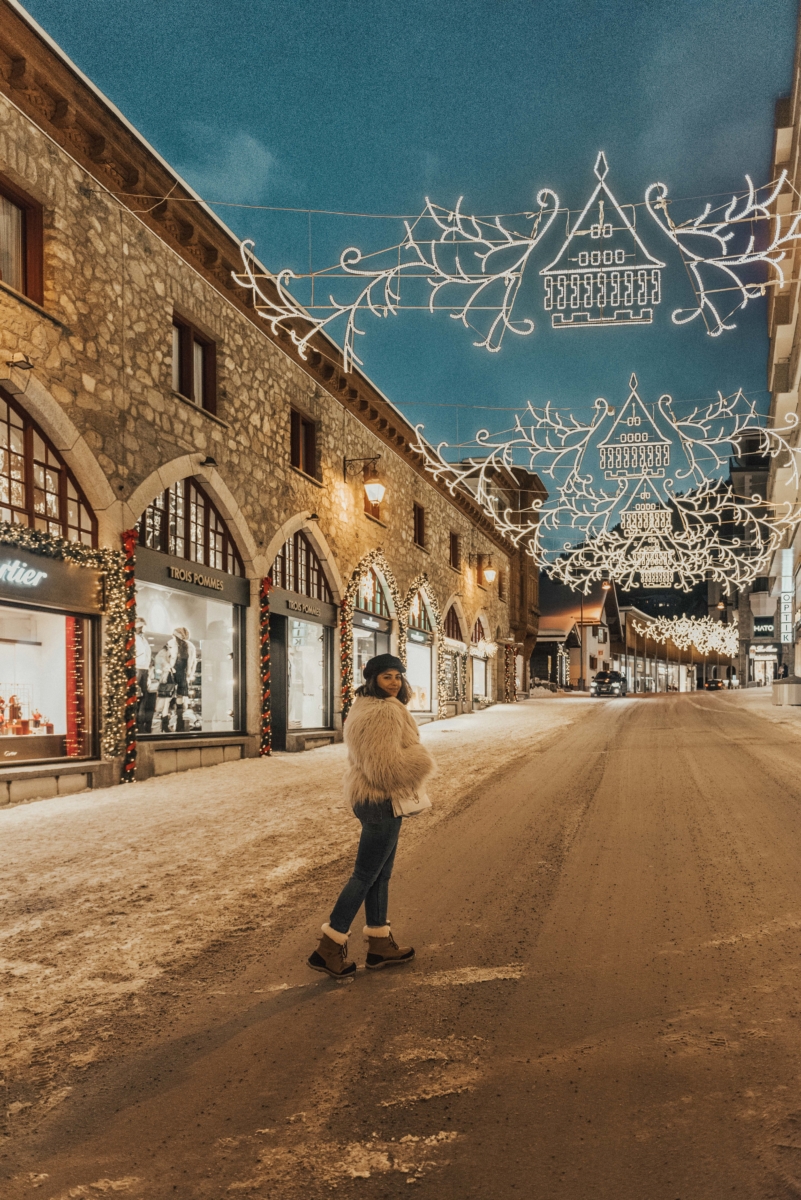 The first stop on my adventure was St. Moritz. I arrived in Zurich, got my beautiful car from Rentalcars.com, and began the 3 hour drive to St. Moritz. The drive started out beautiful, people don't lie when they talk about the natural beauty that is unique to Switzerland. However, as we drove out of Zurich and towards the mountains, the scenery began to change. It was nothing I'd ever seen before. Massive trees draped in snow and mountains that took my breath away. It was like I'd entered Narnia. I was mesmerized. I never thought I'd fall in love with winter until that drive to St. Moritz.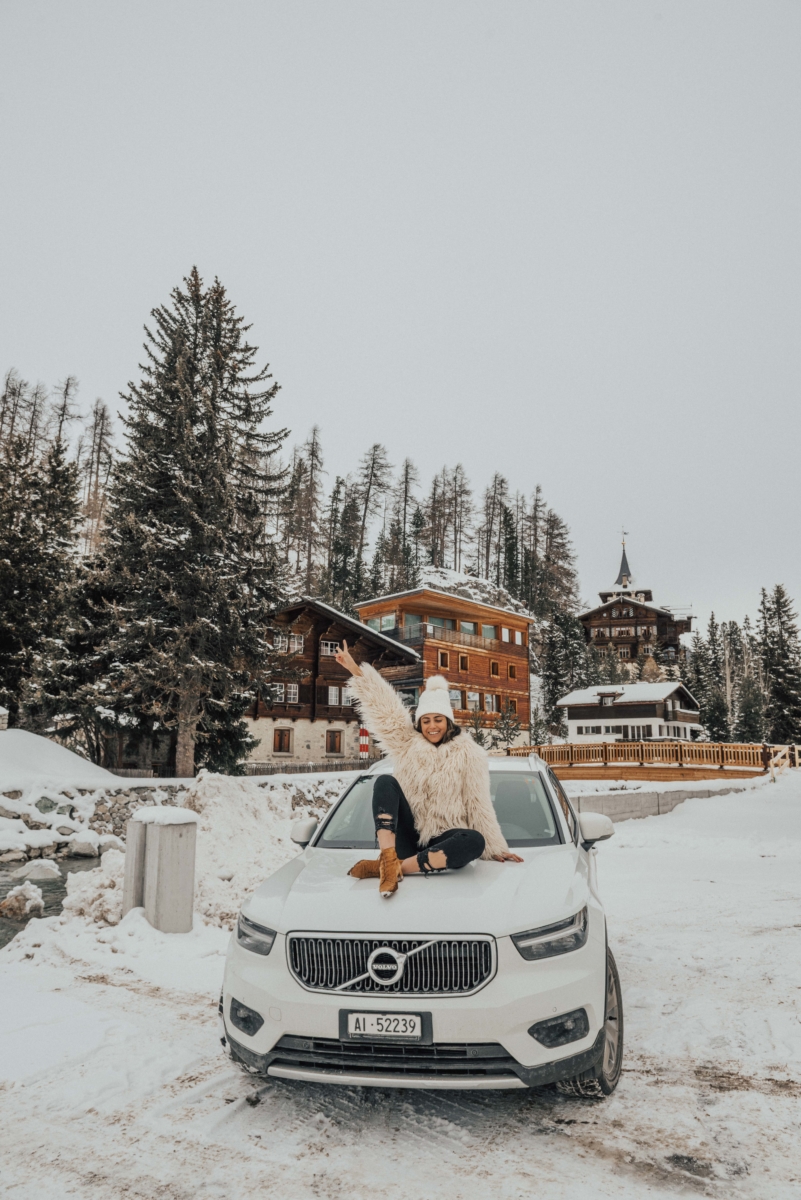 I spent 3 magical days in St. Moritz. The experience will forever be etched into my memory as one of the best travel memories of my life (so far).  Before I get into my guide, I'd like to preface by saying that if spending winter in the Swiss Alps is not on your bucketlist, it needs to be added to it immediately. Take it from a brown girl who loves nothing more than being barefoot on an island, under the strong Mediterranean sun – if it made me fall in love with winter, it'll surely do the same for you. Here are some things to note before going to St. Moritz:
Flying into Zurich and driving is probably your best bet for getting to St. Moritz (I used rentalcars.com and had the best experience – everything was so efficient and easy)
If you're driving, make sure you fill up gas outside of St. Moritz as it's just more expensive there
In Switzerland, they use Swiss Francs and not euros
Do not even think of traveling to St. Moritz in the winter without snow boots – the snow is super high
St. Moritz is amazing for skiing/snowboarding as the mountains are very private
Where to stay
In St. Moritz, I stayed at Kulm Hotel, which honestly, I don't even have the words for. I feel like it was some kind of castle, plucked from a fairytale, and put into the real world. Everything from the service to the food to the hotel itself meets a standard that is just on a league of its own.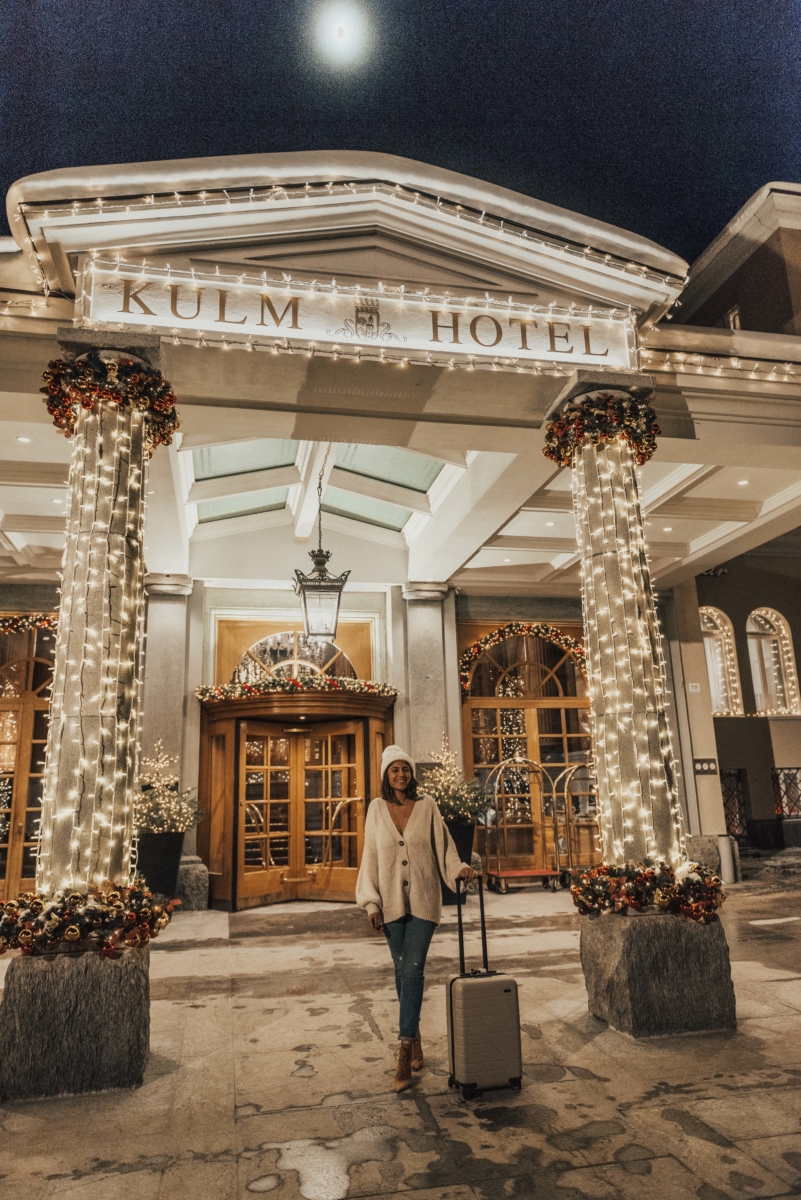 Guests have the option of booking full or half board, full includes all meals, whereas half includes breakfast and dinner. The food here is absolutely phenomenal. They have 7 different in-house restaurants, and I dined at 3 of them, which were all blew me away (more on that later). The breakfast at the hotel is next level. I mean they have 2 drawers full of like 20 kinds of cheese. There's gluten and dairy free options. Plenty of salads. Every different kind of egg dish imaginable. It's major.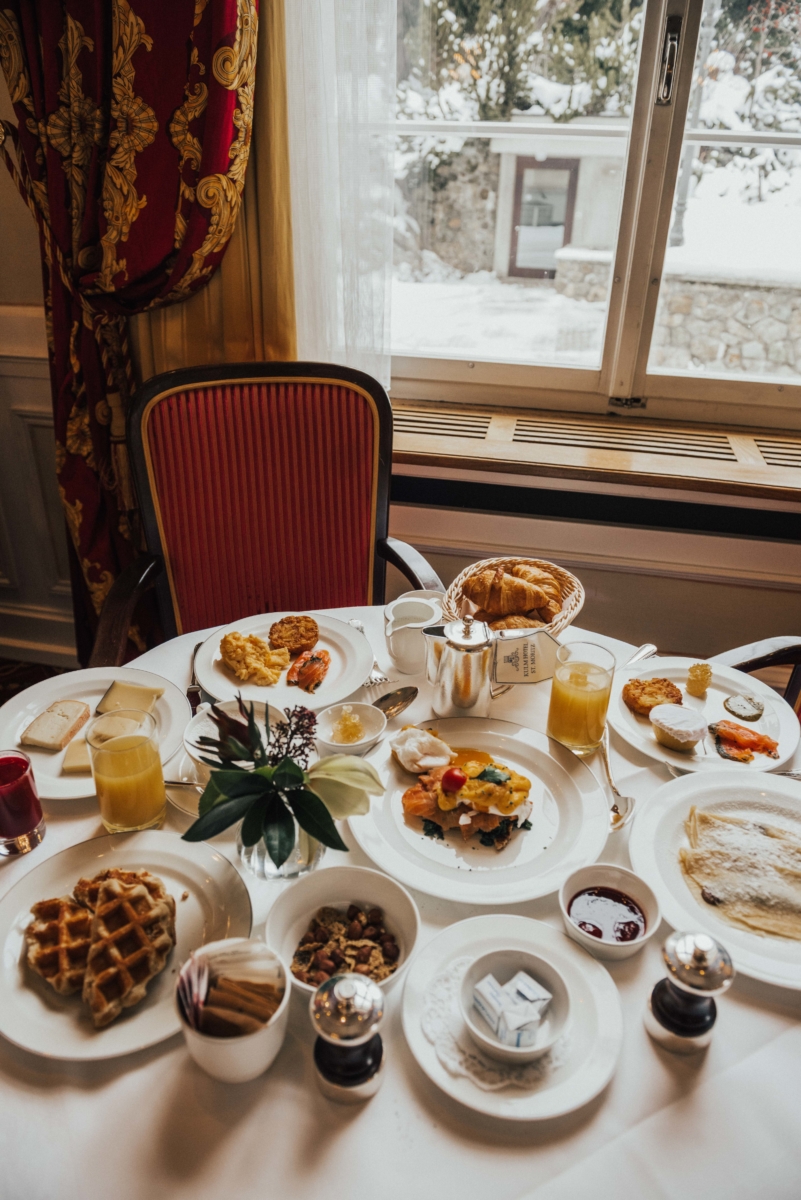 Let's talk about the rooms. So Kulm Hotel is a historic hotel, built over 160 years ago. It's obviously been expanded and renovated, but the cool thing is that you can still go to the original part of the hotel which has been preserved. Since this is such an old hotel, many families have been coming for generations, so the hotel is home to some rooms which are older (for families which prefer that style), and others which are super chic and modern. But every single room is very cohesive and elegant. I stayed in the newest part of the hotel, and my room was beautiful. It had a balcony with a view of the mountains that was breathtaking. The rooms are also super spacious and just feel home-y, honestly, I feel like I could have happily stayed for a week.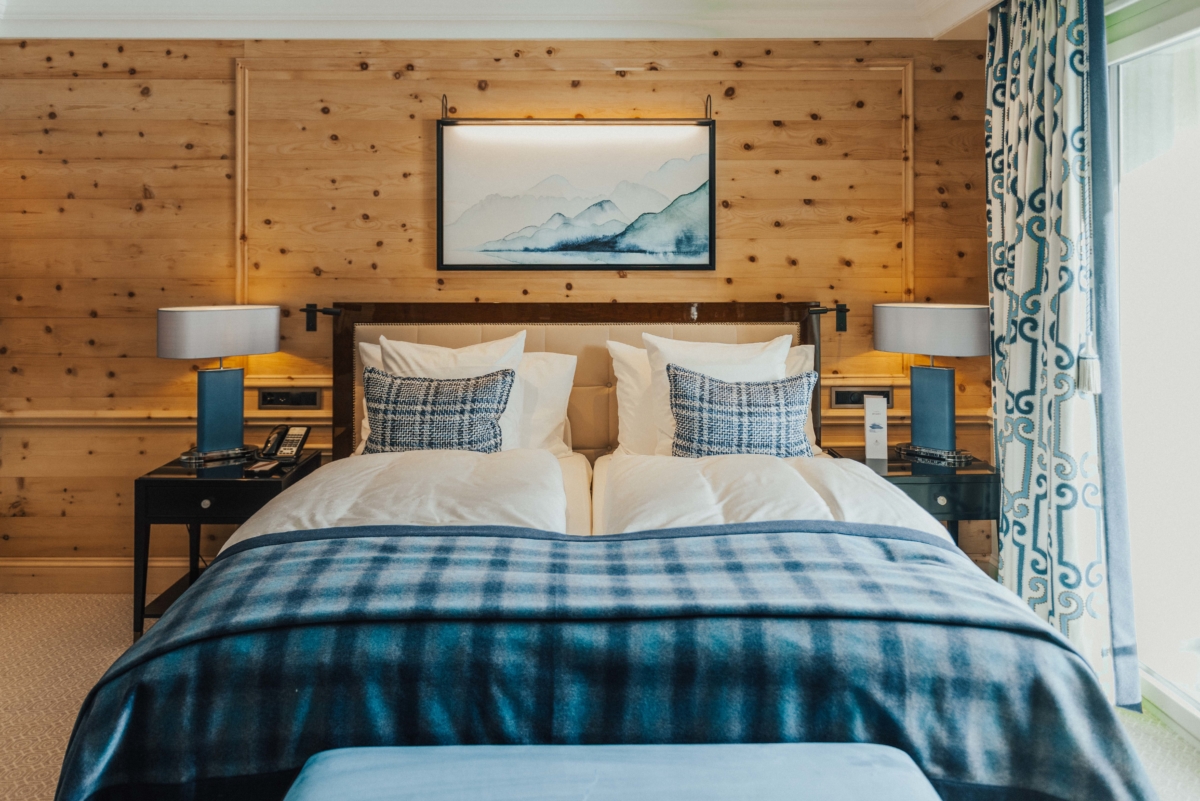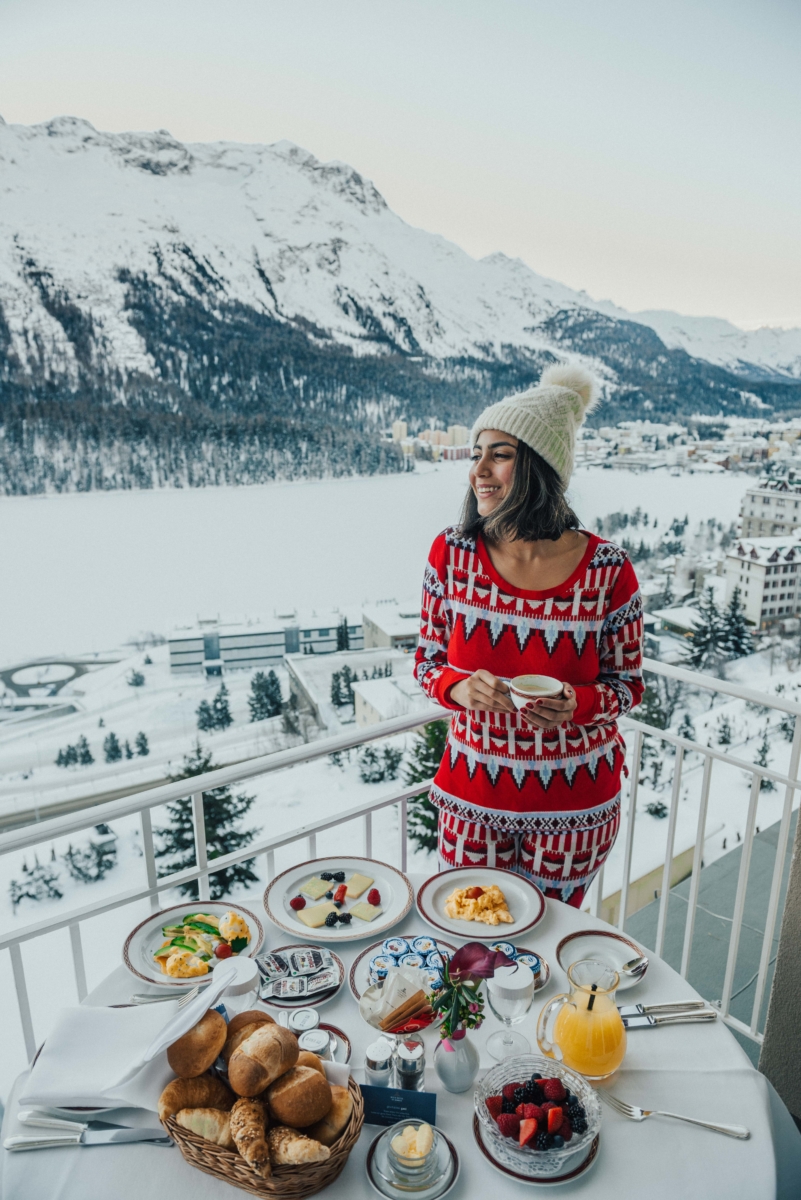 I'm convinced after my trip to Switzerland that no one does spas quite like the Swiss. Case in point, this picture from the Kulm Hotel spa. The space is huge, it has a pool, sauna, infrared cabin, whirlpool, relaxation area, and most importantly, an open air pool. Basically, the pool is super nice and warm, and you get in, open the door and go out into the cold but don't feel it because the water is warm. The view is magical, and I've never felt more relaxed.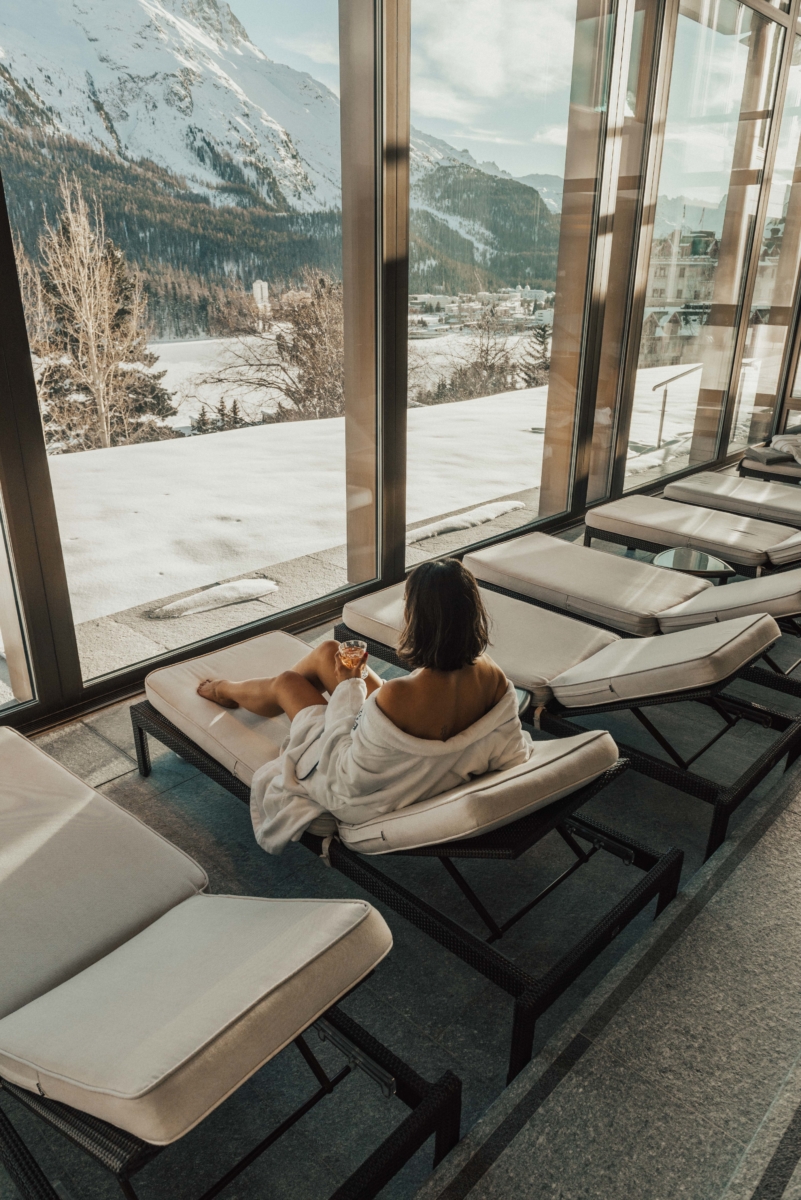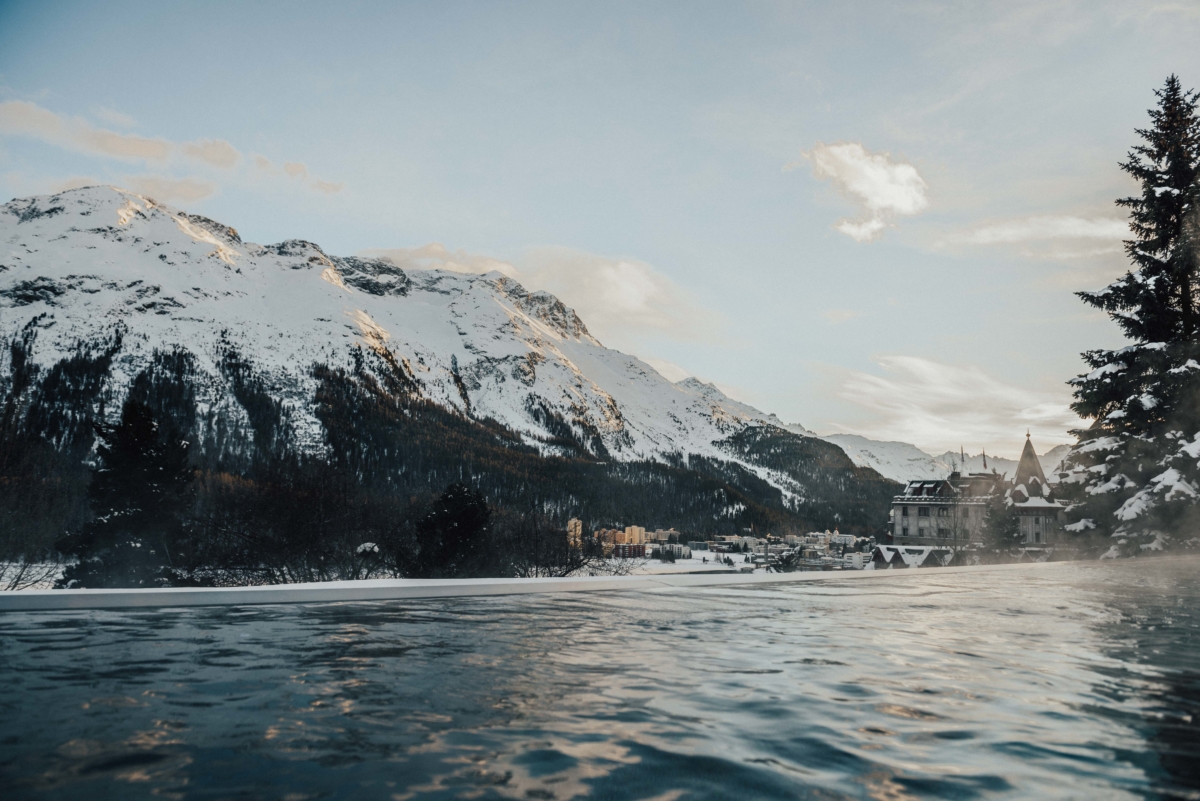 If you're interested in facials, a massage, working out, there's an upstairs level which has all of that. Their gym is stunning and they even offer private classes. It's a very wellness-centered hotel, so it has all the facilities you need for a very rejuvenating holiday.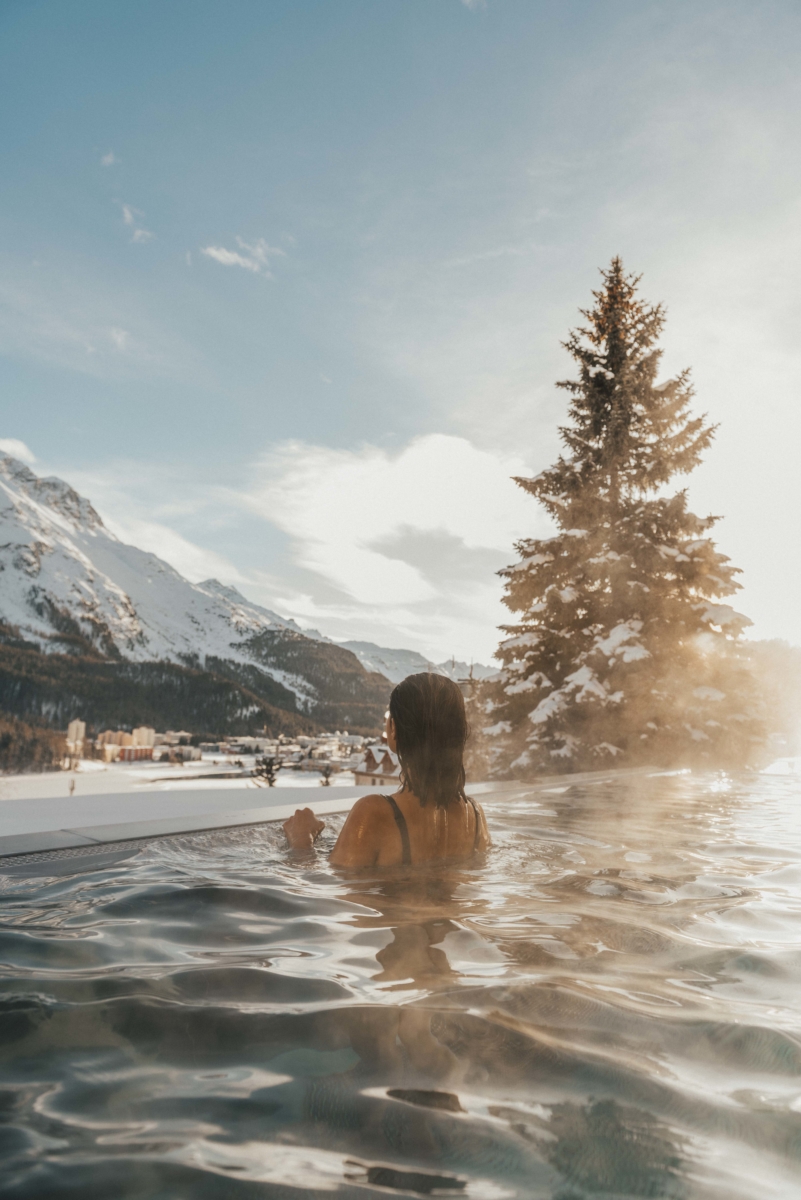 I know so many of you may be wondering about skiing/snowboarding. So you can rent equipment at the hotel and buy passes there too. A shuttle then takes you to the mountains and brings you right back. The process is easy and totally seamless. Which brings me to location. So St. Moritz is a very small town, and everything is accessible by foot. Kulm Hotel is right at the edge of the town, but everything you need is about a 5-7 minute walk away.
Guys, book a stay here, you will thank me.
Where to eat
Since St. Moritz is one of the premier ski destinations of the world, their restaurant scene is killer. I was so full the entire time I was there because the food was all so delicious!
If there's one place you need to visit in St. Moritz, it's definitely the Kulm Country Club. Everything from the interior, to the view, to the food, to the service is perfect. On my last day in St. Moritz, just an hour before I was supposed to head to Gstaad, I foolishly thought I'd stop by for a quick lunch at Kulm Country Club. The quick lunch stretched to 2.5 hours and I regret none of it. I was mesmerized by the view while stuffing my mouth with food so delicious, I didn't want to stop eating it even though I was full!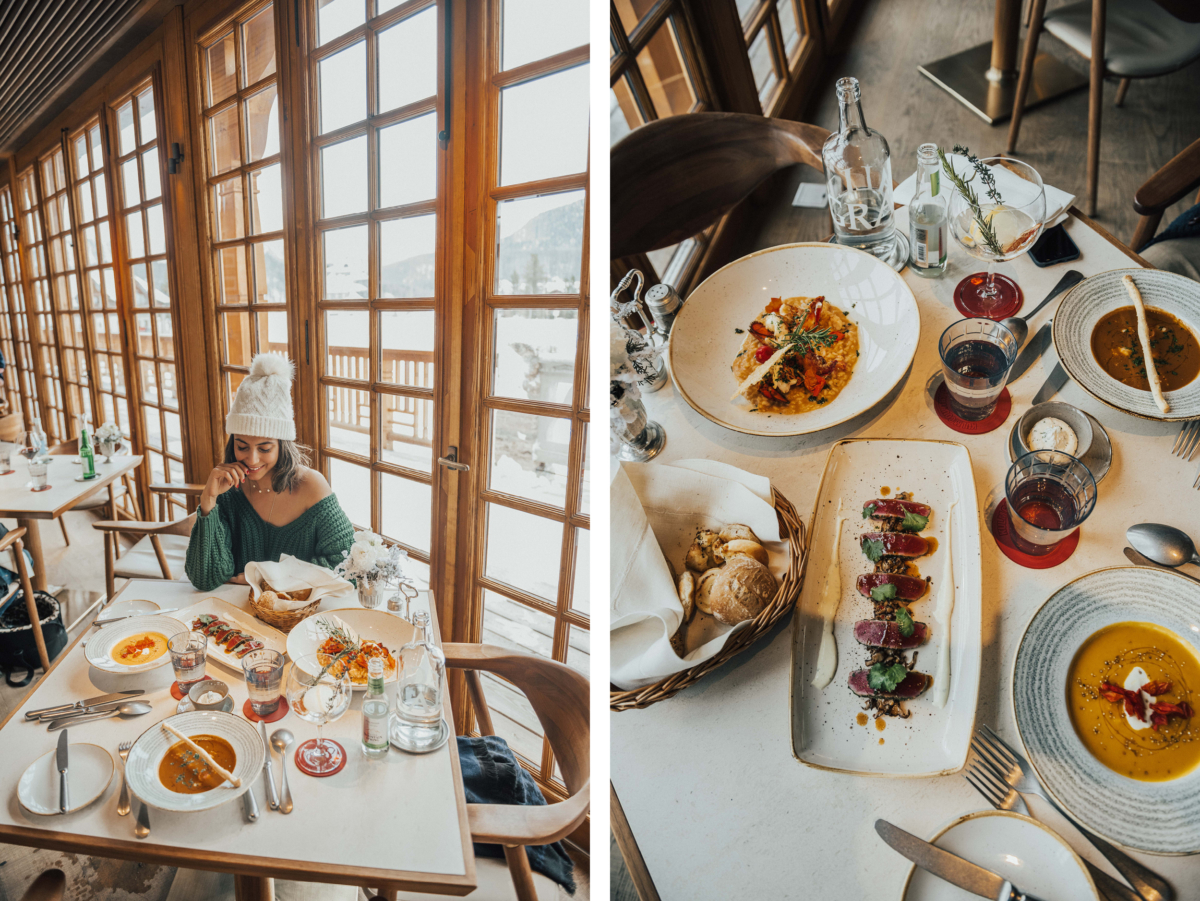 K guys, there's chocolate and then there's Laderach Chocolate. This is, without a doubt, the best chocolate I've ever had. Stop by here to buy some, and don't forget to get extra to take home with you. But be warned, I can almost guarantee that you'll end up eating 500grams of chocolate in one sitting.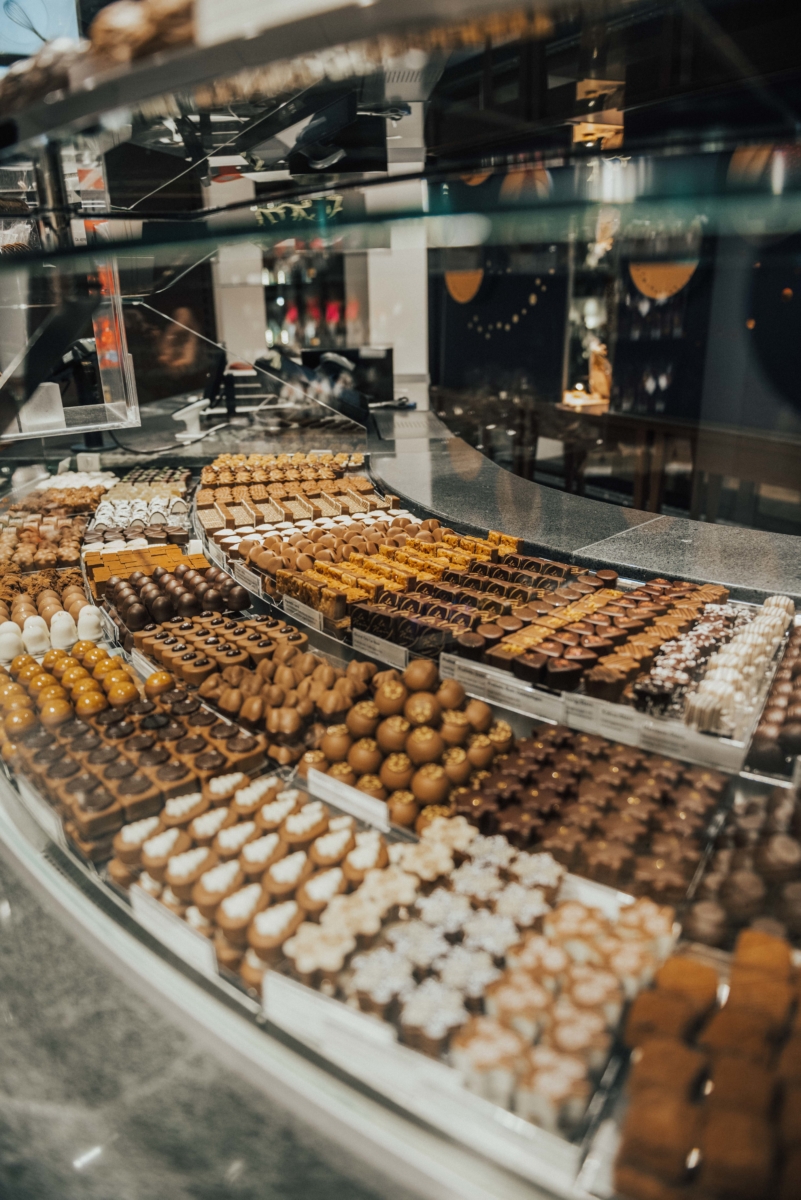 My very first fondue experience was at Lapin Bleu and it did not disappoint. Get the classic fondue, SO good.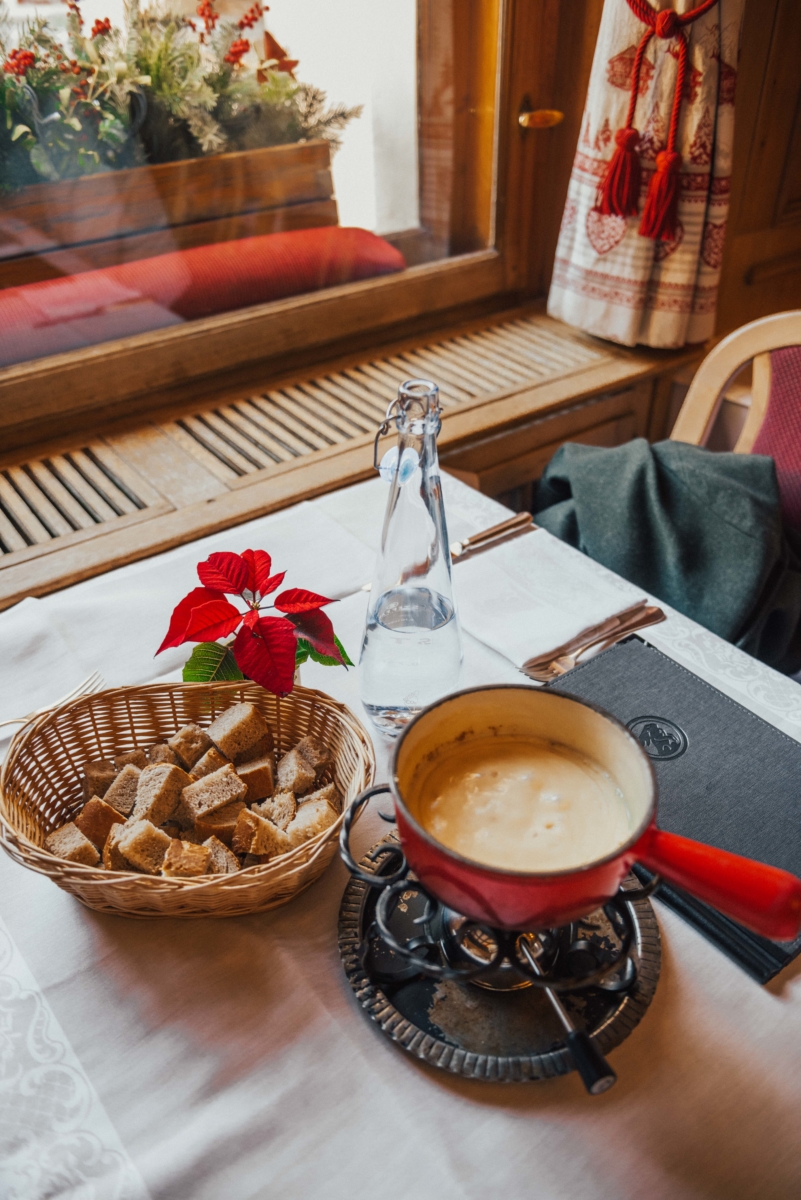 I stopped by here for dessert and coffee. I recommend sitting outside so you can take in the view which never seized to take my breath away.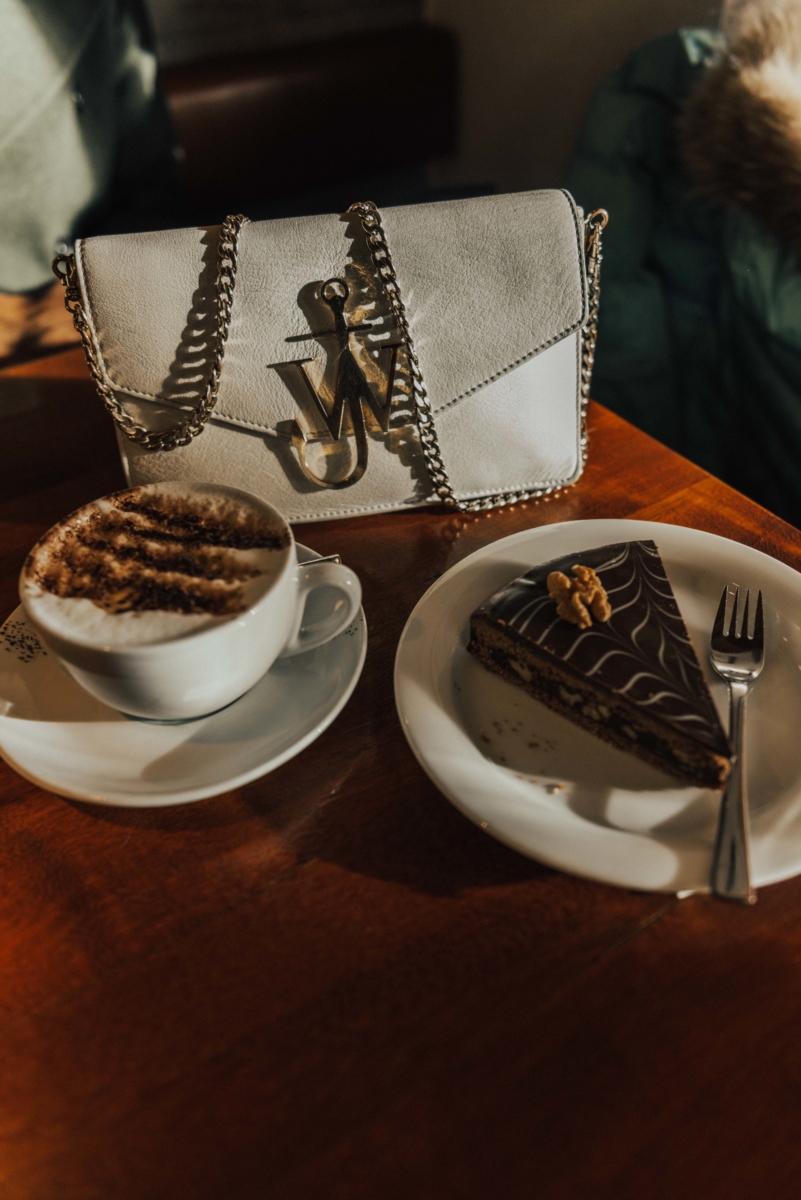 The last thing I expected was to eat Peruvian food in Switzerland. Sunny Bar is located inside the Kulm Hotel, and is run by the extremely talented Claudia Canessa. The food is Peruvian street meets chic. And it is seriously good. Guys, even when I was full, I found myself wanting to try more dishes because it was all so delicious. I cannot recommend this restaurant enough!
What to do
St. Moritz is a winter wonderland which will surely take your breath away. Whether you visit for 3 days or 1 week, there's plenty to do!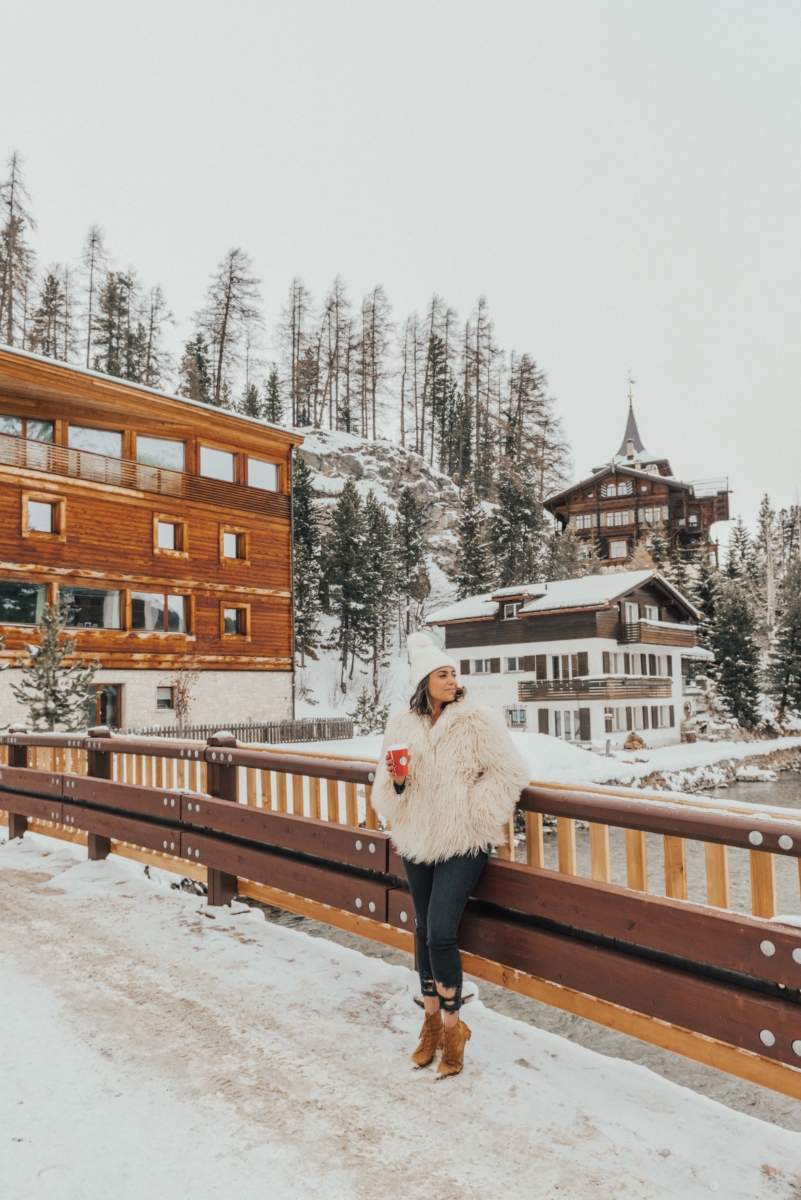 Explore the town by foot, hopping in and out of the many boutiques
If you're into skiing or snowboarding, this is the place to do it
Go ice skating – there's a beautiful rink just outside the Kulm Country Club – and after, grab lunch/drinks!
An afternoon at the spa is an absolute must, take a dip in the open air pool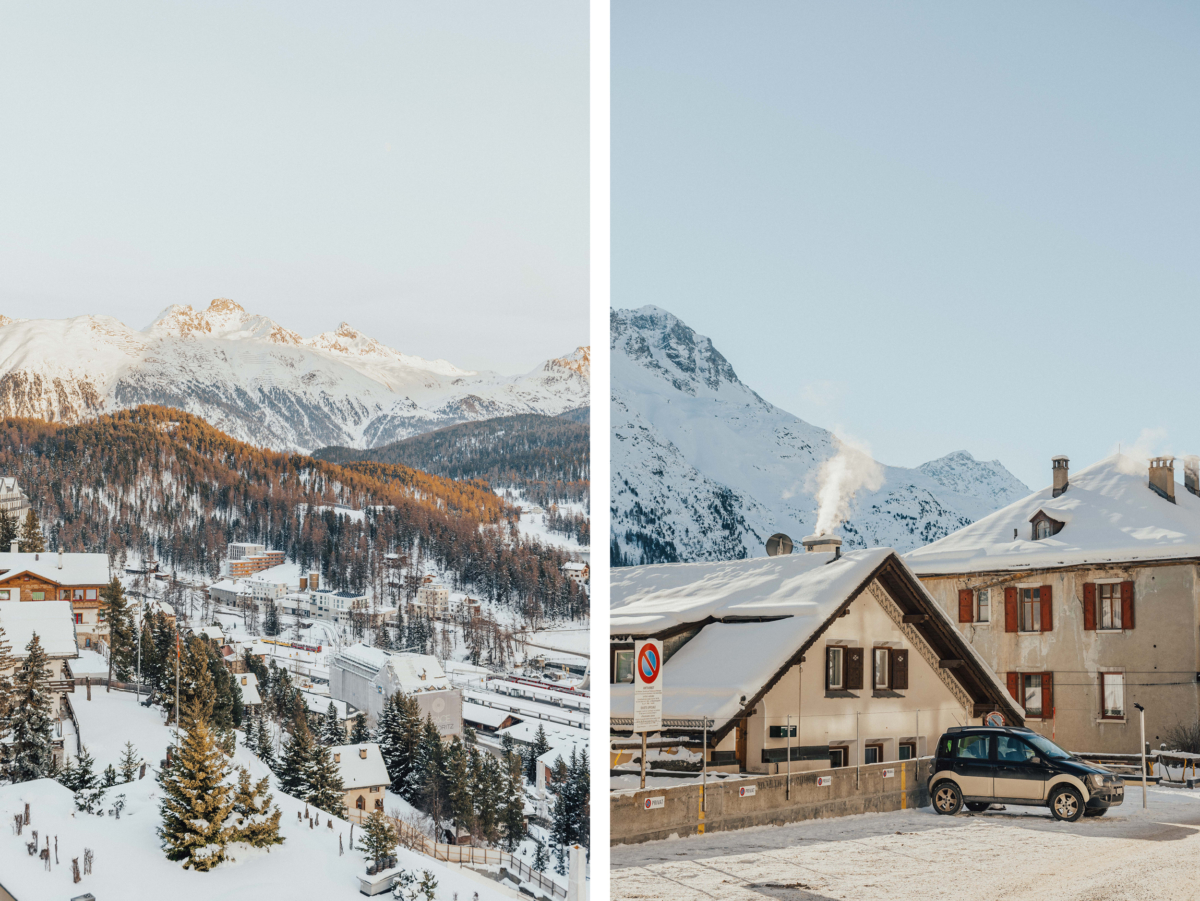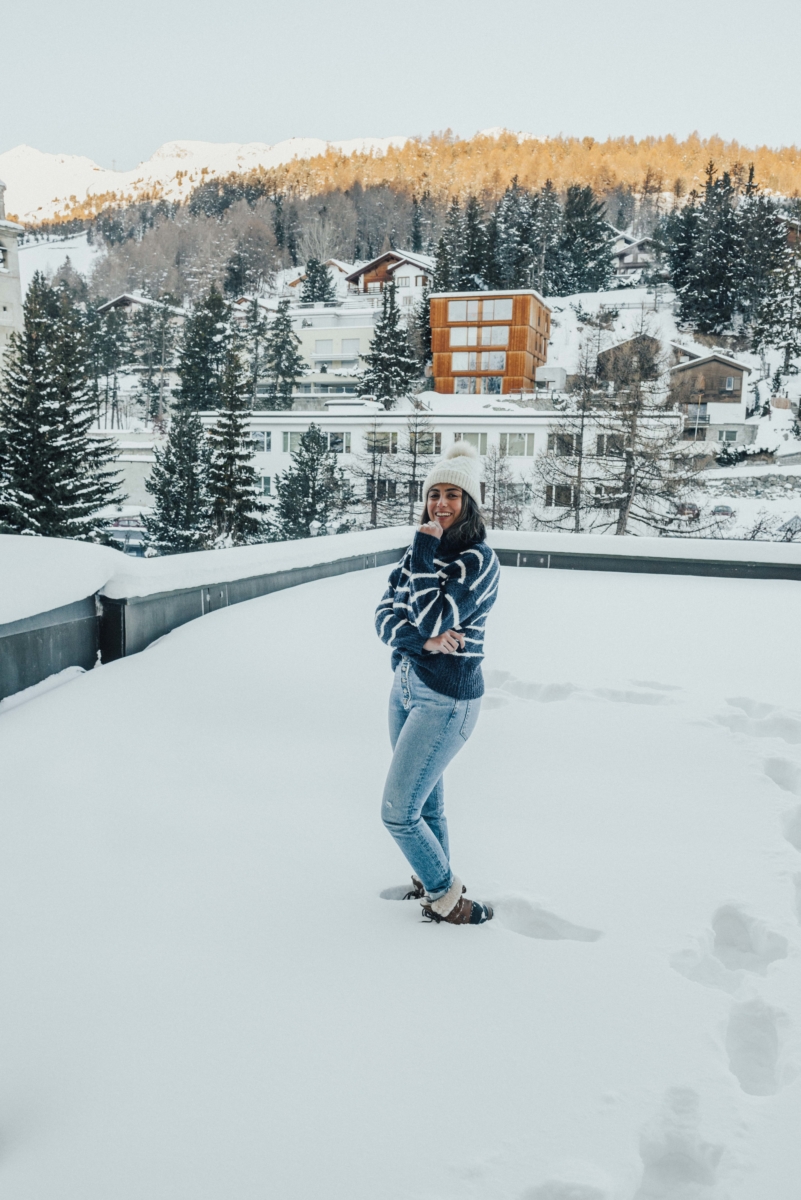 PS- have you checked out my weekend guide to Paris?