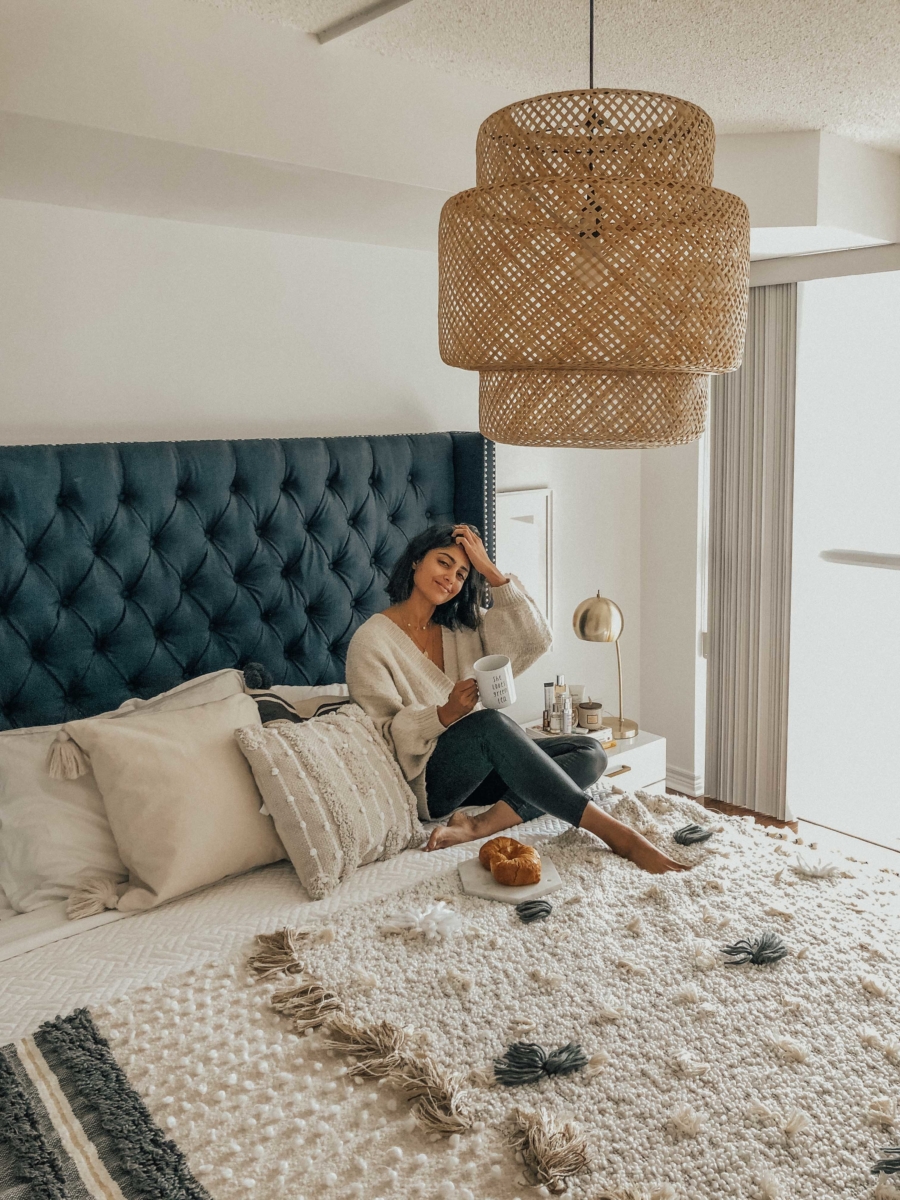 I've been working on my bedroom for the better part of the year. I started working on it in March, and all these months later, it's finally come together. In fact, I'm proud to say that my bedroom is exactly as I'd envisioned it to be. The reason it took so many months to complete is for two reasons.
First and foremost, redoing any room is expensive. I didn't want to rush the process and end up regretting any of the spending decisions I made. Secondly, it takes a lot of time to find the right pieces. I was super intentional about every element of the bedroom, and didn't want to compromise. One of the things that set me back, time-wise, was the labour that needed to go into it. Things like painting the walls, electrical work, and handy work like putting up the floating shelf, and installing handles on the drawers. I wish I was someone who had the inclination to do any of these things, but I'm just not a DIY person and that's totally fine. I outsourced everything. While finding a painter and and handyman was pretty easy, the electrical job was a massive project and it took a lot of tries to find the right person to do it.
But I'm getting ahead of myself. Let's start from the beginning, shall we? This is the space that I was working with. These are the before images, which are ghastly.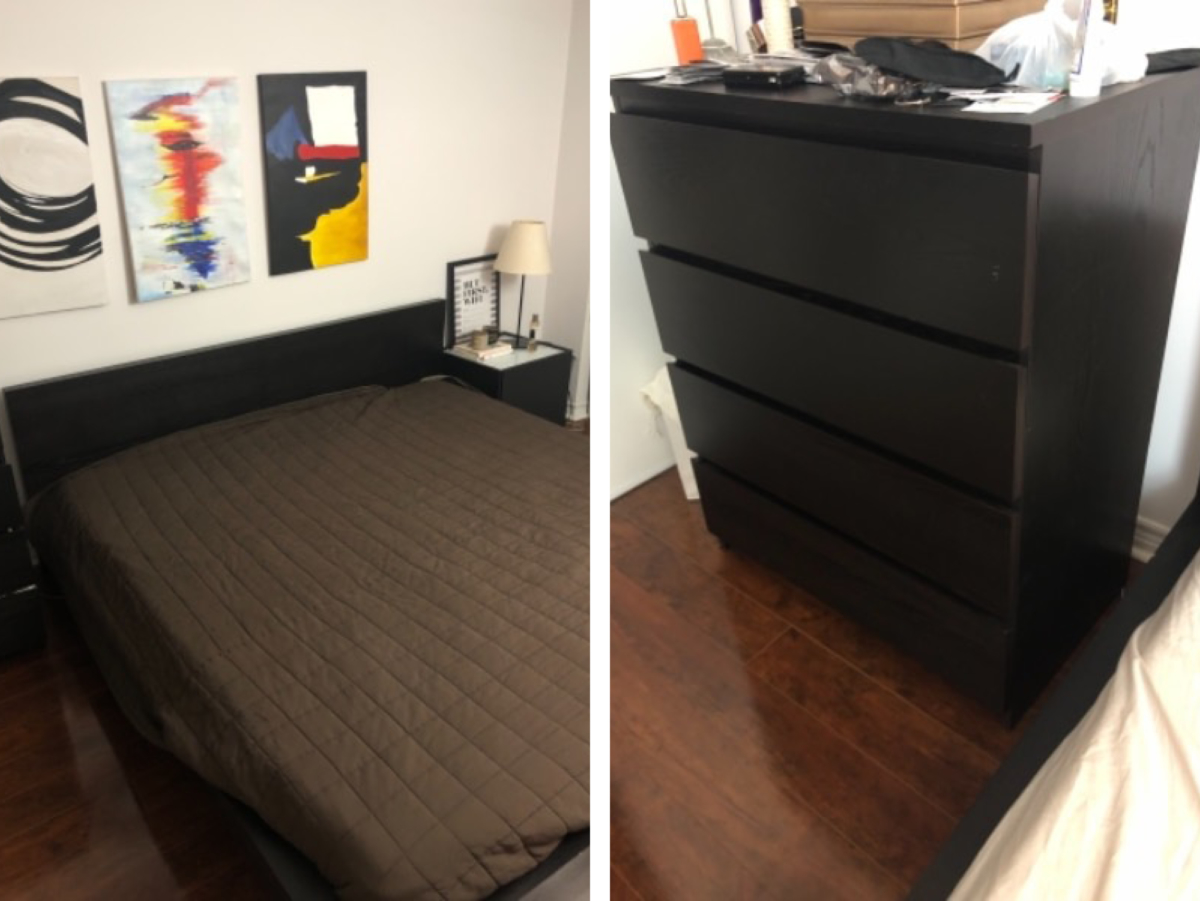 I mean could things look bleaker? I think not. The furniture was all Ikea. White light, makeshift paintings, just awful. Please don't ask me why I had a brown duvet, I don't really have an answer for you.
So when it came to redecorating the room, I was really particular about my vision. I break it all down on my bedroom update post, which I did a couple of months back. But essentially, I wanted boho meets contemporary. I partnered with Structube on the furniture, which included the bed, side tables and a chest of drawers, which all came up to $1450.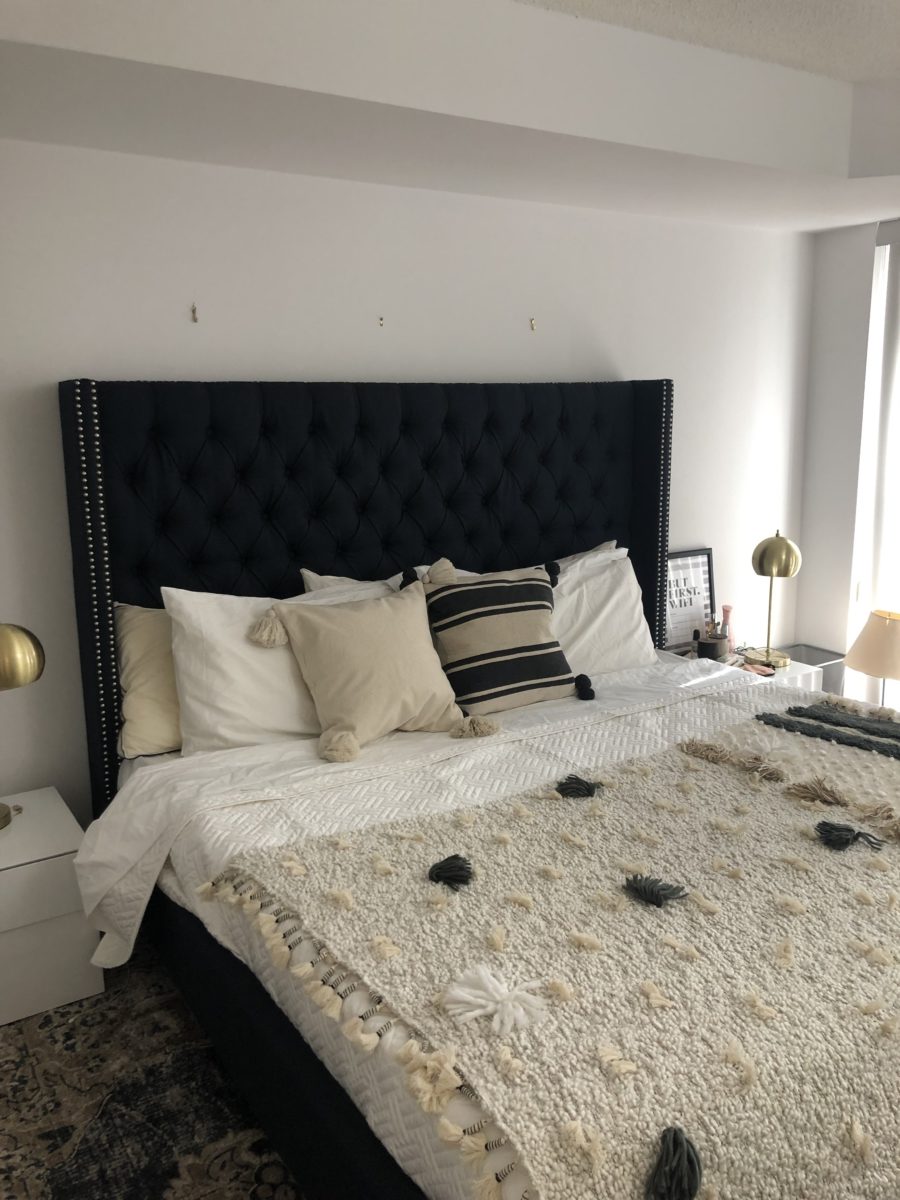 This is what the room looked like when I changed the furniture and added in a rug.
As you can see, the room looked quite cool with all the blue tones. The bed frame as well is far from boho, but the idea was to add loads of textures and wood to warm up the room. Another thing that I did to warm up the look of the room was paint it. This was a suggestion from my friend Autumn Hachey, an insanely talented interior designer who helped me figure out all the details to really pull the room together.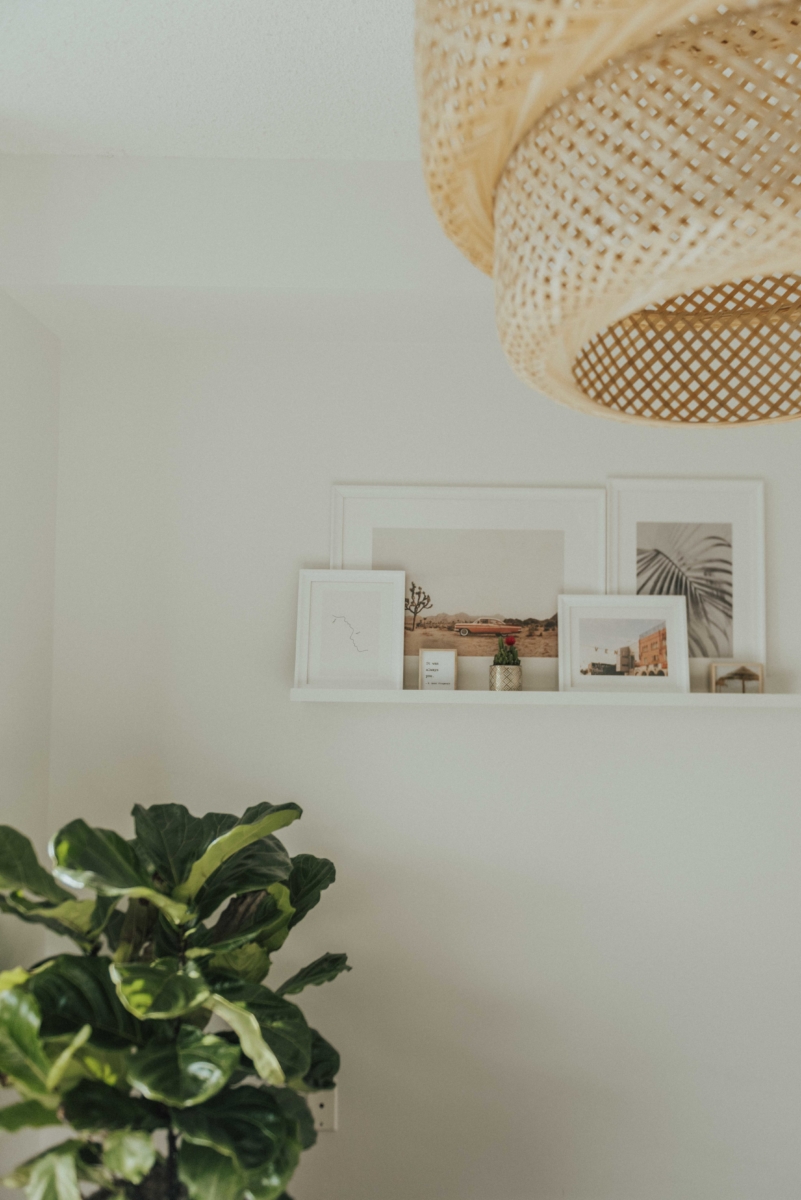 Autumn suggested the color Chantilly Lace by Benjamin Moore. I went to Canadian Tire for the paint, and while they don't carry the exact shade, if you tell one of the reps, they mix it for you on the spot. I used Jiffy to hire painters, and it was the easiest thing in the world. Essentially Jiffy is like Uber for housework. You're matched with someone according to the kind of work you need done. The painters who did my bedroom were so professional and quick. If it's your first time redoing your home, it's hard to find the right people to do it, and so it's so nice to have a service like Jiffy that matches you to trustworthy professionals.
I added wood and rattan touches to bring in that boho element. The blanket ladder, which is one of my favourite pieces, is from a boutique interior store called V de V. It's one of the places I frequented the most for inspiration. It's hard to leave the store without picking up a little something.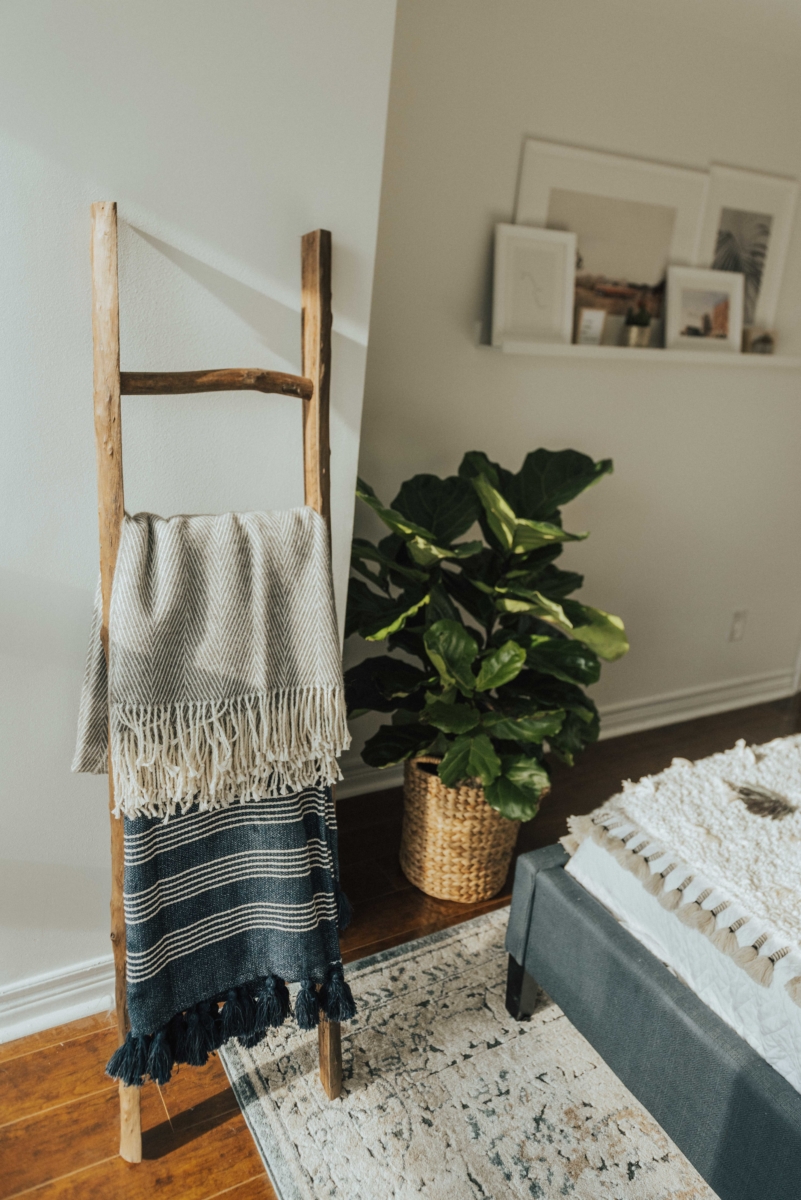 Another way I added a boho touch to the room was through loads of texture. And the bed itself is a great opportunity to do that. The front cushion is also from V de V and really ties the look of the bed together. I also decided to get a Moroccan wedding throw from Anthropologie. The sheets and duvet are from Boll & Branch, and are honestly the softest sheets I've ever slept on. I opted for this particular duvet as it also lends texture to the look of the bed.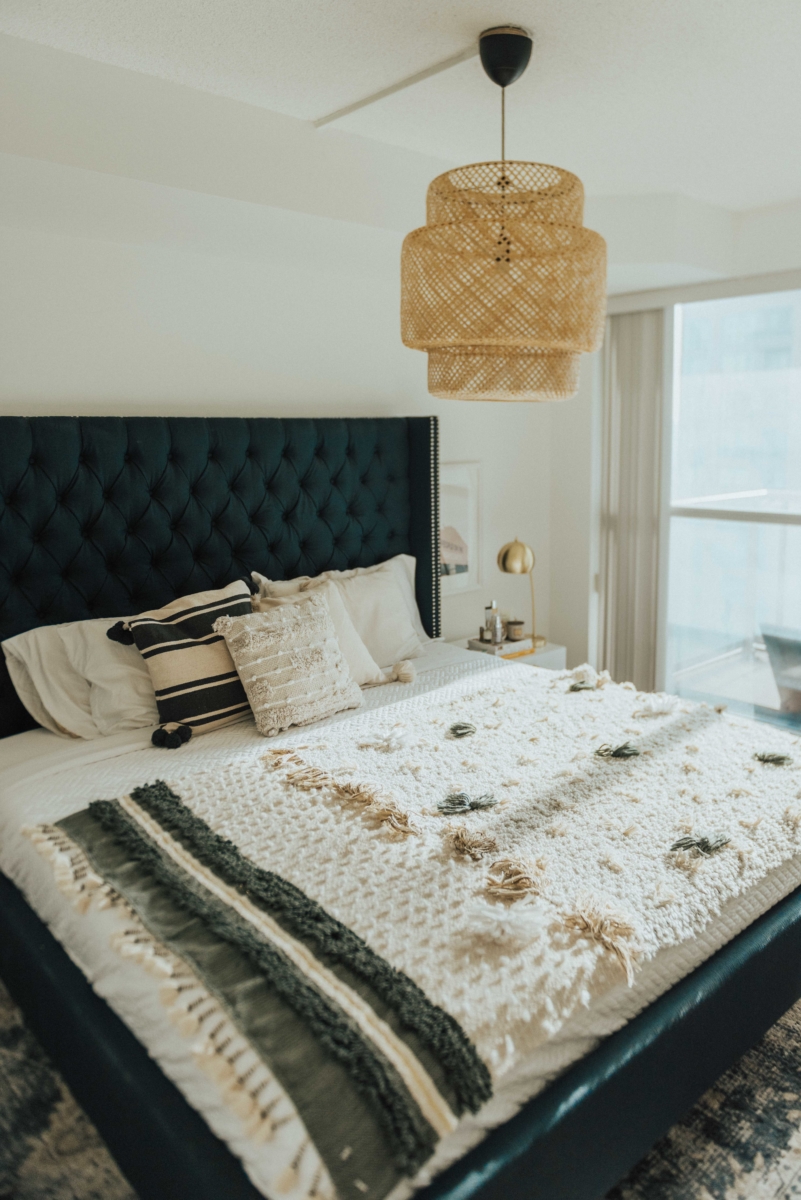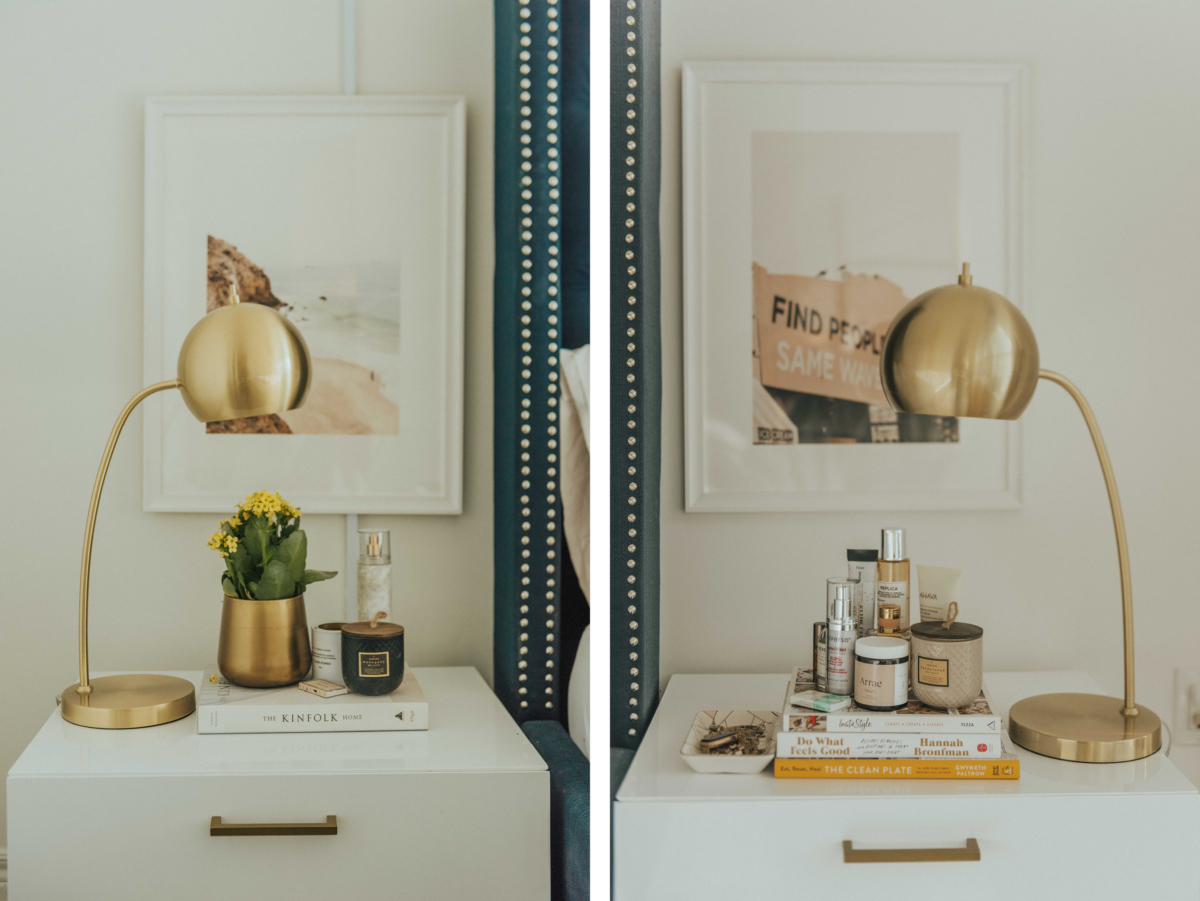 Plants are a great way to add life to the room. I opted for a fig tree which I put into a super cheap woven basket from H&M home. I also added a potted plant to one of the side tables. The pot is also from V de V.
Then there's the ledge with prints. This was Autumn's idea. The concept was to continue the California boho beach house feel, and so we opted for prints that screamed that. I also love the beach one I have on the side of the bed. The prints are from Society 6 and came framed which honestly makes life SO easy.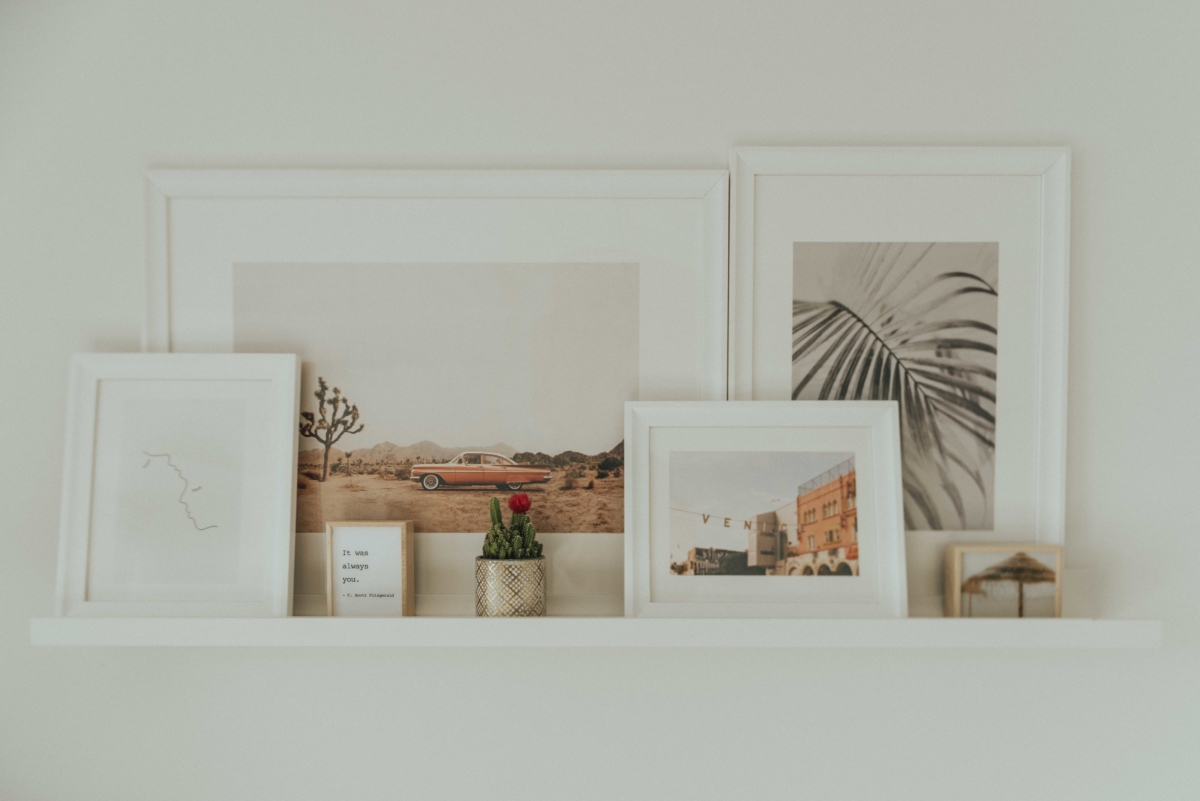 I wanted to make the side tables my own, so I added gold drawer handles. A job which was done by my wonderful handyman, Daniel. He also went on to install the Ikea light fixture, which was the finishing touch the room needed. If you're in Toronto and need a good contractor, he's your guy. The electrical job was very complex, which he executed so well. Plus when it comes to contractors, you want to ensure you can trust the person you're letting inside your home. I honestly can't say enough good things about him.
So there you have it! My finished bedroom! Kitchen reno coming early 2020 😉
PS – if you enjoyed this post, check out my top 3 tips for the best sleep of your life and my travel skincare tips.