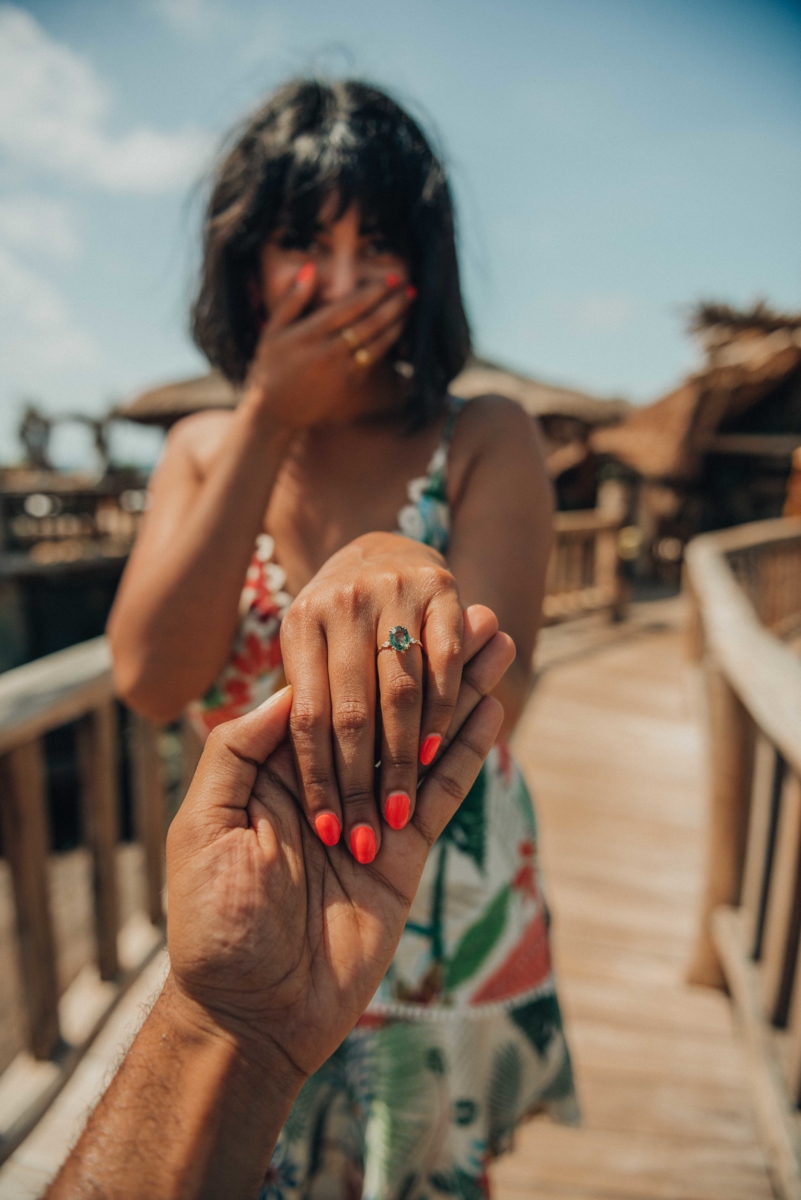 Big news: I'm engaged!
If you follow me on Instagram, chances are you already know but I still wanted to do a whole blog post. I always say that you guys feel like my friends, so I obviously wanted to give you all the details. So let me start from the beginning.
First off, I very consciously decided to keep Nish off my channels for the most part because I didn't want my blog and Instagram to become completely saturated with couple content. But over the past year, he's been making a gradual appearance on my Instagram stories, which is my way of introducing this huge part of my life to you guys. Turns out you guys find him as amusing as I do, so for now, you can expect to see him on stories and perhaps the odd appearance on Instagram.
But I digress. Nish and I met 8 years ago in university. We lived in the same residence building and became friends because our friends groups merged. Just an FYI: he hated me when we first met. He thought I was really dumb and full of myself. He now knows I'm much smarter than him.
Now that you know a bit about our background, let's talk about the proposal. I was in Tulum, working with a hotel group, unsuspecting as can be. Marriage has been a pretty open discussion between us for the last little while, and while I knew a proposal was coming (on a trip, I specifically told him I would say no if he did some bullshit proposal in Toronto), I wasn't sure if it was going to be in Tulum.
Anyway, I won't bore you with the ENTIRE story, so let's skip to the juicy bits. What you need to know is that he decided to park the car at Kanan, the hotel I'm staying at the next day. He can be kinda neurotic when it comes to certain things, so I didn't think much of it. Anyway, after the parking situation, we're having tacos. I'm still on my last bite when he starts complaining about a stomach ache. He keeps insisting he needs to get the car so he can go to the hotel to use the bathroom. And he needs me to come with him. It's a whole scene. Anyway, I'm obviously annoyed because I was having a nice time at the restaurant, but whatever. Off we go to get his stupid car.
When we get to Kanan, he starts acting like a shady piece of shit. He asks for the car keys, tells me he needs to check something and stares into the distance. What you should know is because Nish is so neurotic and dramatic, I never think much of his behaviour. I figure he's probably worried that the car got stolen (from a luxury hotel, mind you), because this is just the kind of psycho he is. At this point I'm just getting angry. Anyway, so I'm trying to tell Nish that the car is in front of us when the hotel manager shows up. He asks if he can give us a tour of the property since I'm staying there the following night, and I obviously agree. Kanan has this sick nest/treehouse vibe on the roof with the most amazing sunset view, so I'm secretly plotting how I can take a picture for Instagram.
Off we go on the tour. Hector starts telling us about the different kinds of wood used in the hotel, what the architecture's thought process is, the whole schpeel. We get to the rooftop, and Nish (his stupid stomach ache has apparently subsided at this point), asks to check out the sunset nest. "Great", I think. I'll definitely get a cute picture now. The light is great, the sun is just setting, the nest is empty. It's basically waiting to be photographed.
Side note: I have bad vision, and can't see things in the distance unless I wear glasses. For the most part, I don't wear glasses. I am DEFINITELY not wearing glasses in Tulum. Also side note: I should probably get contacts.
We're walking to the nest, and right when we GET TO IT, I notice this sign that says "will you marry me?" and rose petals everywhere. I'm in shock. Mostly because I didn't see it coming. Clearly I'm not as bright as I thought I was.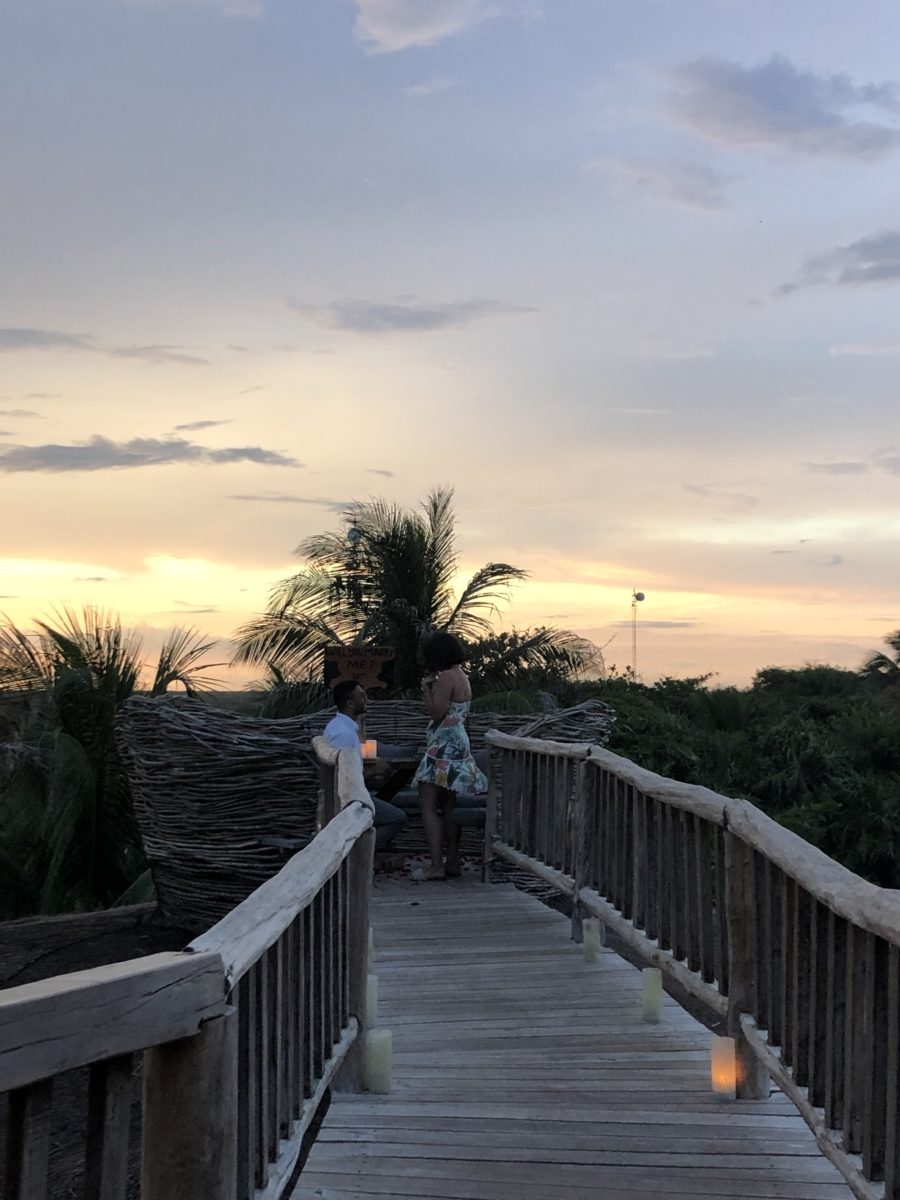 And then he proposed. He said some really wonderful things, put the most stunning ring on my finger, made me ugly-cry, and proceeded to tell me he had to hack into my email to coordinate with PR to make the proposal happen. I got pictures in the nest, but not the kind I was expecting. He basically pulled off the most on-brand, Icing & Glitter proposal I could have dreamed of.
Hope you guys enjoyed reading this super personal post! This won't be turning into a wedding blog, but I'm excited to share parts of the planning process with you. You should know that we're having a destination wedding, so please pray for my sanity. I'm a notorious micromanager, so knowing I won't have hands-on control over every detail freaks me out a little, but it is what it is.
PS – the ring is from Bluboho, a Canadian jeweller that creates some of the most beautiful rings I have ever seen. This one is a one-of-a-kind sapphire with diamonds on the side. I didn't want a traditional engagement ring, so I honestly can't think of one that's more perfect for me.